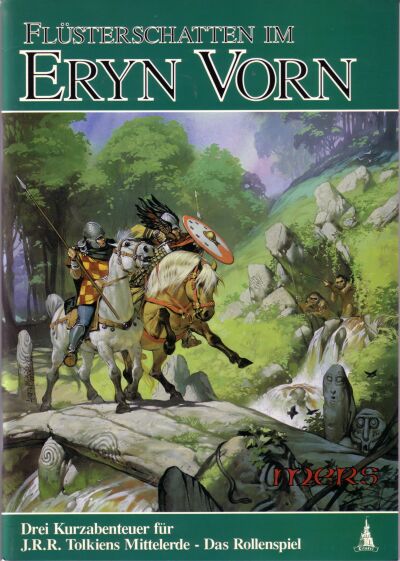 "Woses of the Black Wood"
German translation
October 1988
Published by Citadel Verlag, Hamburg
Author: Jeff McKeage
44 pp.
Am Rande des Eryn Vorn, jenes uralten Waldes, der das gesamte als Rast Vorn bekannte Vorgebirge im südlichen Minhiriath bedeckt, liegt das Dorf Bor Leath. Wie der Alte Wald, so ist auch der Eryn Vorn ein Überbleibsel jenes Urwaldes, der einst ganz Eriador überzog. Allerdings gibt es hier keinen Schutzgeist wie Tom Bombadil und der Wald ist nach wie vor wild und gefährlich.
Im Laufe der Jahre haben sich die Dorfbewohner an viele Gefahren gewöhnen müssen: tobende Trolle, plündernde Gesetzlose und bösartige Dumbeldore. Seit Wochen jedoch werden sie von einem unerwarteten Schrecken heimgesucht, dem sie machtlos gegenüberstehen - dem Hivesla-Scedu, wie sie jenes geheimnisvolle Wesen der Nacht tauften - dem Flüsterschatten ... Flüsterschatten im Eryn Vorn enthält drei komplette MERS-Kurzabenteuer, die schon nach kurzer Vorbereitung gespielt werden können. Die drei Abenteuer sind voneinander unabhängig. Ihre Geschichten aber werden durch einen gemeinsamen Hintergrund zu einem weiteren fantastischen Abenteuer in der berühmtesten aller Welten:
J.R.R. Tolkiens Mittelerde.
Abenteuer:
Der Spuk von Bor Leath
Die Kräuterfrau
Unter den Kahlen Hügeln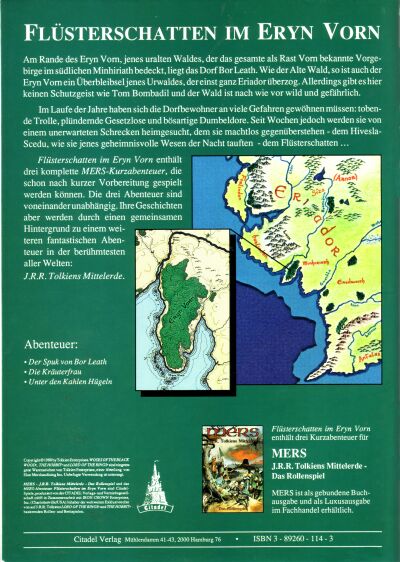 (Images and text used with kind permission of www.icewebring.com)