Back to Auctions Home

161093458605
Seller: 3in! (441)
100.0% positive
Ontario, California, US
Completed
:
Ended Sep 1, 2013 12:40:45 PM
Category: Books:Nonfiction
$13.00
[10 Bids]
Buyer: j***h (1662)
Viewed 62 times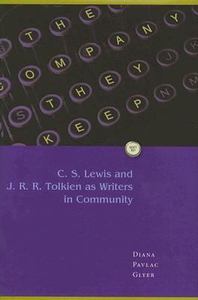 Condition: Other than very minor shelf-wear, the book is in like new condition.
Up for auction is a like new, signed copy of Diana Glyer's seminal work on the Inklings: The Company They Keep: C. S. Lewis and J. R. R. Tolkien as Writers in Community. The book will be shipped in a box with bubble wrap. "Diana Glyer's is the best account we have, not only of the friendship between Lewis and Tolkien, and the other Inklings, but also of the practical help and support they offered to each other: as critics, editors, collaborators, motivators. For both Lewis and Tolkien, the spark came from flint and steel, and Diana Glyer shows the many ways they struck it. Her book is an indispensable account not just of friendship, but also of the paths of creativity." —Tom Shippey, Author of The Road to Middle-earth and J.R.R. Tolkien, Author of the Century "I found myself captured by her engaging writing style, the breadth of her research, and the cogency of her argument. Her work will influence the texture of Inklings scholarship for years to come. It's good, very good indeed." —Verlyn Flieger, Professor of English, University of Maryland at College Park, Author of Splintered Light, A Question of Time, and Interrupted Music PLEASE CHECK OUT ALL THE OTHER TOLKIEN BOOKS AND ITEMS I HAVE UP FOR SALE RIGHT NOW; ALL AUCTIONS START AT 99 CENTS WITH FREE SHIPPING WITHIN THE US. ALL OF THE PROCEEDS GO TO CHARITY!!! Feel free to contact me if you have any questions.