Back to Auctions Home

231048745457
Seller: tobyp (810)
100.0% positive
Santa Fe, New Mexico, US
Completed
:
Ended Sep 13, 2013 7:00:34 PM
Category: Books:Antiquarian & Collectible
$1,999.00
[0 Bids]
Viewed 197 times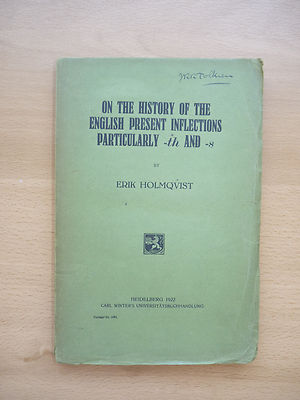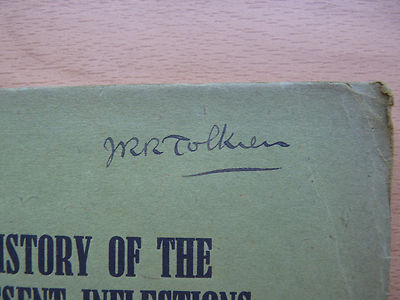 This is a truely rare collector's item, a book that has not only been signed by J.R.R. Tolkien, but was also owned by him at one point in time. As a professor of English Language and Literature in Oxford, Tolkien had a huge library. Most of these books were on philological topics. It is known that Tolkien had a tendency to sign some of these books on the title page, probably the ones he kept in his office at the university to remind his colleagues and students to return the books. Since his collection of books was so big, a couple of auction houses have sold books from Tolkiens library in the past, but needless to say, books that were signed by him are very rare. I bought this book in 1998 from a renown ABAA bookseller. I was told that this book was owned by Tolkien until he died in 1973, so he presumably had it for a very long time. I was also told, that it then went to the library of J.R.R. Tolkien's second son Michael H.R. Tolkien and that, when Michael Tolkien died in 1984, the whole library had been bought by one bookseller who than sold the books in smaller lots. One of these lots had then subsequently been aquired by the antiquarian bookseller I bought the book from. The book here is also on a philological topic "On the History of English Inflections particulaly -th and -s". It was writen by a Swedish author "Erik Holmqvist" and published in 1922 in the German university towm of Heidelberg, my guess is that is was a dissertation. Tolkien has signed the book in the top right corner with a fountain pen. The condition of the book is very good, the paper of the cover is very thin, still the signature is in perfect condition. I can mail this item from the USA between September 16 and 21 or from Germany. A personal pickup in London could also be arranged at the end of October. As I don't know what shipping options the US postal service offers, I am asking for a flat amount 20 USD for postage. I plan to mail it as safely as possible. European bidders can pay me through Paypal or a bank transfer, American bidders please use Paypal. ---- As I have now been asked a couple of times, let me mention that I bought this book from "The Fine Books Company", Rochester, MI.