Back to Auctions Home

282060304372
Seller: peeta84 (116)
0.0% positive
Lubbock, Texas, US
Completed
:
Ended Jun 8, 2016 6:19:46 PM
Category: Books:Antiquarian & Collectible
$0.01
[0 Bids]
Viewed 48 times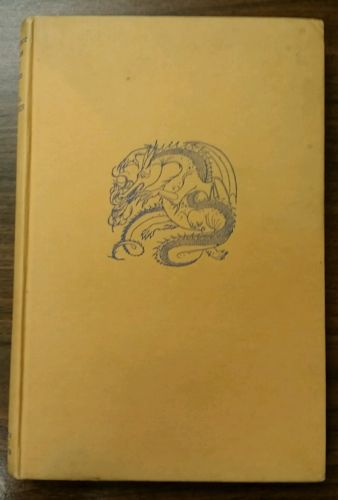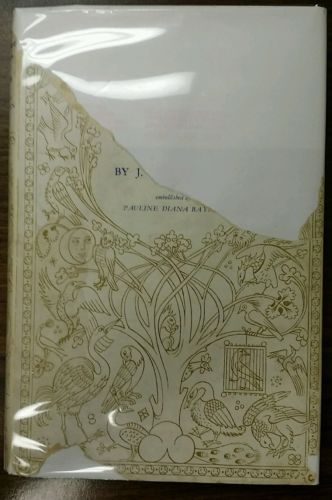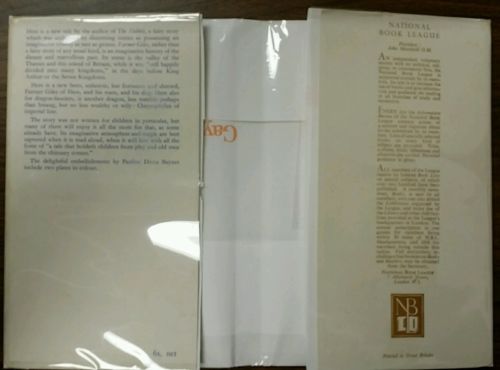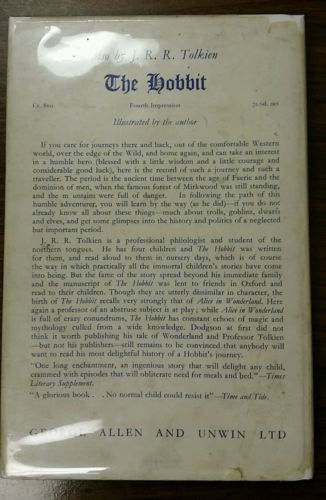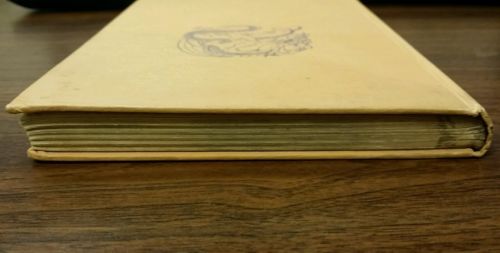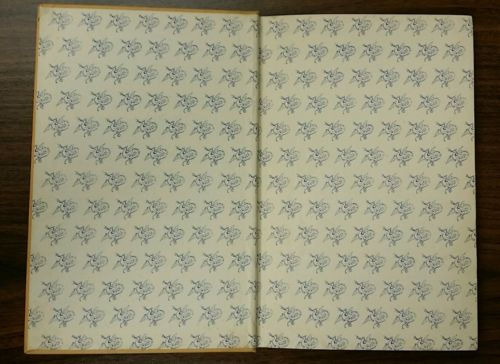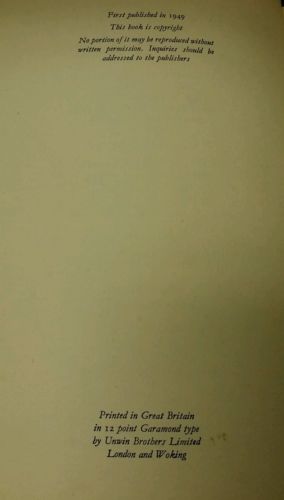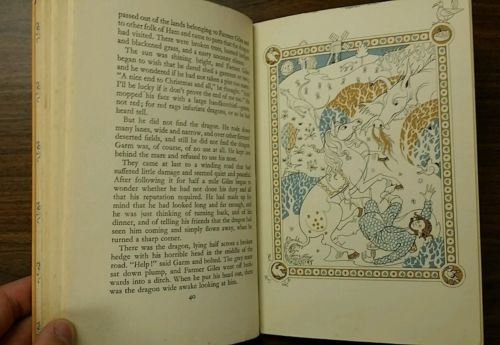 Offered For Sale is the First edition First Printing of J.R.R Tolkien's Farmer Giles of Ham! This book comes with the correct first edition first printing dust jacket that is missing the top half of the front and the front end flap is torn at the fold but is now completely protected in a mylar jacket. While I could have presented this edition with a dust jacket from even the second edition of the same book, it needed to be sold with the piece of history that it was originally sold with. The dust jacket shows the correct price of 6s. net and has a promotional listing of The Hobbit on the back showing the correct fourth Impression and price of 7s.6d. net. The second impression, which I also have for sale, shows The Hobbit as ninth impression with price 12s. 6. net. And it was not until the fourth impression of Farmer Giles of Ham that The Lord of the Rings was even promoted along with The Hobbit, because it was not even in print until 1954. This means that Farmer Giles of Ham was published 5 years prior to the first publication of The Lord of the Rings!!! If you are like me about collecting Tolkien, this is a truly amazing fact about the publication history of J.R.R. Tolkien and makes this book a true piece of history! There are issues with the book, including some discoloration at the top and very mild foxing at the bottom of the pages (when looked at with the book closed) and the book has a slight lean and a bumped top left corner. But the inside of the book is very clean with only slight discoloration to a couple pages. There are no library stickers or marks and no writing whatsoever. I have tried to take the best pictures I can to show exactly what condition the book is in, but please ask if you would like additional pictures! All offers will be considered so don't hesitate to contact me! I am also offering FREE SHIPPING, so the final bid is what you will pay!!! Anytime that I buy a book I like to know exactly what condition it is in prior to getting it in the mail, and I would expect nothing less from anyone else! So I have tried to note all issues or defects and accurately picture all aspects of every book I am listing. I believe a picture is worth a thousand words and will be more than happy to send additional pictures or answer any questions you might have, so please do not hesitate to send me a message! I have been collecting Tolkien books for years and have a decent collection of rare and first edition books that I have decided to sell in order to pursue other interests, so check out the other items I have up for sell! Also, I have worked very hard to take care of the books in my collection. I have placed a mylar dust cover on all of the dust jackets and have kept all of the books free of dust and in a smoke free environment. All the books I am selling are in the same condition that I bought them in, and the ones that came new in packaging were only unwrapped and placed on my shelf for admiration.On Jun-07-16 at 07:03:46 PDT, seller added the following information: Note to International Buyers: I am only offering free shipping within the United States. After reviewing the listing I noticed that this was not as clearly stated as I would like. I apologize for any inconvenience and will be happy to provide a quote to any prospective international buyers!