---
Amazon stories... the things I have seen could be used to make an interesting read! If you would base a bibliography on Amazon info it would really be a pain to look at.

By the way... now that you are around... congrats on the site being back online and the tons of info! No collector ever wishes to live without it again. I hope one day you get some kind of reward for all the hard work. As for now I can only thank you and give you my deepest respect!
By
Deagol


---
My mistake at TolkienBooks.net. Thanks for pointing out the error.

The first printing of 1938 gives no indication of a previous edition in the bibiliography, so I would presume that some sellers list the second printing as a second edition.

Amazon is not entirely reliable as a source for publication dates of old books. There is a copy on there published in 1000!
By
Trotter


---
If any of the failed bidders do not get this wonderful book, they are welcome to my copy at the same price



(I'd buy another copy for a fraction of this price)
---
o well... why does this not surprise me?
By
Khamûl


---
Anyone any suggestion as to what's going on here?
Tolkien, The Hobbit, Guild Publishing 1978, 1st Ed.
BH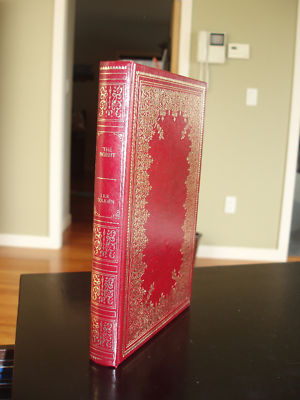 _________________
BH
You drive a hard bargain – you can have it for £10 all-in – one consolation (for you) is that you do not have to hear the cries of my children, for bread...
By
dunedain


---
Hey Elwe,

I have a set of "lightly tanned" dustjackets that just came in from Chernobyl or another slightly 'Hot' spot. You can almost distinquish the black print from the "light tanning". Let me know, an even swap might work out. You know you could also go buy a can of black and a can of gold spray paint and turn them into "DeLuxe" Editions. Slap them in reproduction slipcase, and no one would ever know......

LOL!!

dunedain
---
Greetings, everyone. I have listed for sale on ebay, the unabridged audio books for The Silmarillion, The Hobbit, and The Lord of the Rings. They are all CD format. They are in great shape, as they were only listened to once and well cared for during that time. The shrink wrap is still on them, but it has been opened just enough to get at the cd's. I have them listed as 'buy it now or best offer.'
http://shop.ebay.co.uk/alpinebooks/m. ... from=&_ipg=&_trksid=p3686
---

laurel wrote:
LOL
Now that would have been a good deal. Are you sending back?

No, Laurel, I am not sending them back. They came from the UK and I am in the US. The way the postal system has been operating due to US Homeland Security over the last six months or so, everything I have purchased from the UK has taken a minimum of 30 days to arrive (even airmail packages). As I said, the books themselves are in fantastic condition, and I think well worth the money.
Great rewards of bargain hunting always come with inherent risks. All part of the fun!
P.S. Anyone looking for a nice set of laminated dust jackets?

---
Confirm
I have a 1944 5th impression
_________________

---
LOL
Now that would have been a good deal. Are you sending back?
This is the problem with ebay - you are relying on sellers description and sometimes forget to ask the obvious. I have just brought two items - both were sent but itturned out someone elses photo was used ! Pleasingly seller refunded in full on one immediately and waiting ebay judgement on other one today.
Keep looking for those bargains
_________________

1 ... 1027 1028 (1029) 1030 1031 ... 1501