By
Red


---
He doesn't seem to make much of a distinction between the written works of Tolkien and the paraphernalia generated by jackson's films.
---
I, as well as some other members, have a profile on tolkienlibrary.com, but I don't have Twitter, Facebook and even a spot on Australian TV about my collection and I would never state some of the claims that Peter Kenny has, not below but to the press

---
Interview: Tolkien and Wales - Dr Carl Phelpstead
Caleb Woodbridge interviews Dr Carl Phelpstead, author of 'Tolkien and Wales: Language, Literature and Identity', recently published by the University of Wales Press. Tolkien once wrote: 'I love Wales - and especially the Welsh language'. In this episode, we discuss with Dr Phelpstead how Welsh influenced Tolkien's ideas about language and his fiction, especially The Hobbit and The Lord of the Rings. We also discuss Tolkien's place in the university today, and what the future might hold for the academic study of Tolkien. Dr Phelpstead is a Reader in English Literature at Cardiff University. His areas of research include Old Norse and Medieval English literature. Dr Phelpstead has published widely on Norse sagas and other medieval literature and has contributed to The J.R.R. Tolkien Encyclopaedia and Tolkien Studies. Length: 20 minutes
http://impossiblepodcasts.blogspot.co ... en-and-wales-dr-carl.html
By
Khamûl


---
Never noticed a video in a listing before...
eBay VIDEO listing
BH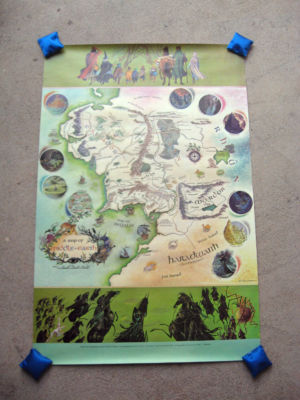 _________________
You drive a hard bargain – you can have it for £10 all-in – one consolation (for you) is that you do not have to hear the cries of my children, for bread...
By
Stu


---
Looks very nice. Really looking forward to this one!
1 ... 1857 1858 (1859) 1860 1861 ... 2845