---
I checked a handful of copies and mine are all fine. Sounds like you have a printing error, which (in general and here specifically) makes the book pretty much worthless. If you keep an eye out on eBay, you can probably replace your book with a correct one for a few dollars, in my humble opinion.
_________________
- Jeremy
---
Sounds great Beren! Looks great too.

I did note (after digging around a little) that your items are not visible on eBay.com or eBay.co.uk - a user has to be on ebay.be in order to find your items in search results. (It also prevents me from putting up a dynamic widget here listing your auction items). Is there anything you can do on your end to get your items listed more internationally?
_________________
- Jeremy
---
_________________
- Jeremy
---
On the Gwaihir print, a little more description from the original sale:

"The giclee depicts the flight of Gandalf the Grey from Isengard over the stone fortifications of Helm's Deep. Gwaihir, the Lord of the Eagles, bears the Wizard to freedom and onward in his quest to protect the freedom of the people of Middle-earth. This is a scene which was cut in the early days of the scripts' development and, can therefore, only be seen in the conceptual art by Alan Lee."

I suppose he could have flown over Helm's Deep on this trip....
_________________
- Jeremy
---
Hi Morgan,

I have a spare copy. Drop me a line and we will work something out.
_________________
- Jeremy
---
Not quite sure what the naked lady painting in the background has to do with Hobbits...
http://cgi.ebay.com/ws/eBayISAPI.dll? ... r_id=251042285678#vi-desc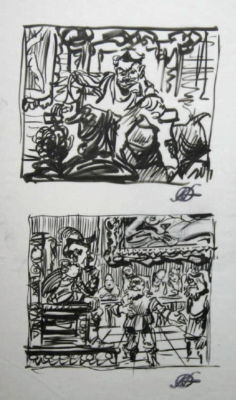 _________________
- Jeremy
---
_________________
- Jeremy
---
_________________
- Jeremy
---
_________________
- Jeremy
---
Thanks! That worked. They don't show up (even on international search) from the .com site, I had to be on the .uk site to see them. Probably means he won't ship to me. :(
_________________
- Jeremy
1 ... 95 96 (97) 98 99 ... 169