---
Great photos to show off this very rare book, what a numpty (
http://www.urbandictionary.com/define.php?term=numpty
)

From the pictures it appears to be missing the dust-jacket, but from the description it may be included, but even so one of the best entries to
The Wonders of...
for a long time

Have a look at this listing from ebay, one book seems to be a lot more expensive than items that you "
can't find this edition anywhere: eBay, WorthPoint, etc. No where. The only other one that came close was selling for $999. Mine looks the same as that, and is in better condition
". I can see two US copies in the listing both of which have dust-jackets.
http://www.ebay.com/sch/i.html?_sacat ... +alan+lee+hardback&_sop=3
---
I have not seen these two sold as a pair
http://www.ebay.co.uk/itm/The-Lord-of ... ction&hash=item4ac0e931d5

---
I think it was Shill bidding



---
And an opportunity for all the
Betamax
(
http://en.wikipedia.org/wiki/Betamax
) users.
The
Lord of the Rings
on
Betamax
, the seller does not have a
Betamax
player (I think he might find 99.999999% of the population are in the same boat), but if you do then I'm sure you will want to snap this one up.
http://www.ebay.co.uk/itm/RARE-VINTAG ... rmats&hash=item3a7dcbc839

---
This one is unusual, I was looking at the pictures and the white box at the bottom looked strange, price-clipped means removing the price, are there words for deleting bar-codes?
This could be a printing error and the bar-code was not applied



http://www.ebay.co.uk/itm/The-Return- ... ction&hash=item3f217319b5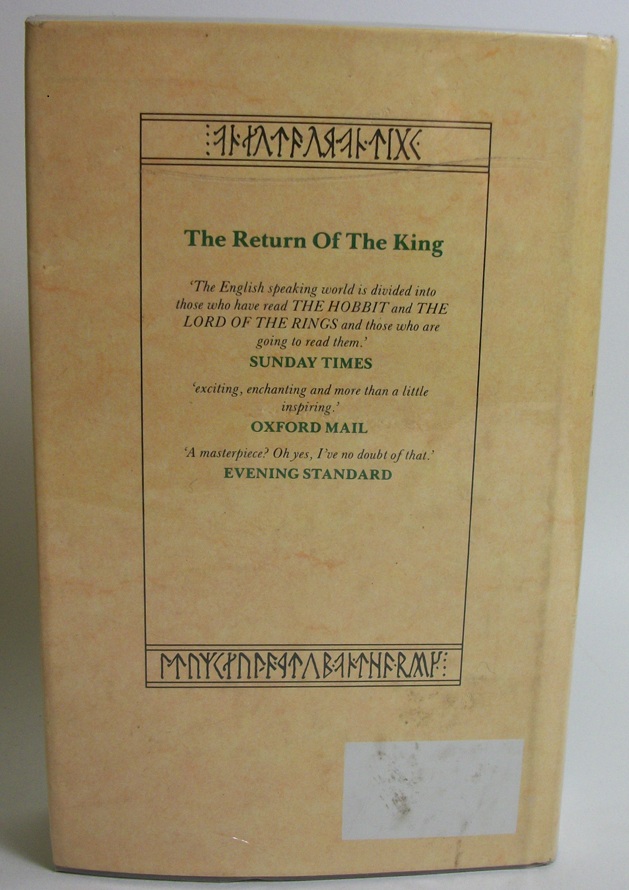 ---
This looks to be a very good example of a very scarce box-set (US copies and not the even rarer UK copies)
http://www.ebay.co.uk/itm/RARE-J-R-R- ... Books&hash=item3f2150a349

---
More bargains
£179.99
http://www.ebay.co.uk/itm/TOLKIEN-SIL ... ks_UK&hash=item1e7676f1d1
Initially described as "TOLKIEN: SILMARILLION & HOBBIT - 1/1 LEATHER DELUXE EDITIONS- LORD OF THE RINGS", later on mentions the word Faux.
£17.99
for both would be more like it




---
Thanks a lot for posting these



http://www.tolkienguide.com/modules/n ... t_id=11331#forumpost11331
I was comparing the first printing of
The Hobbit
with the pictures shown here, and even though the limitation numbers do not appear, the ISBN number is different, so must be a later printing.
2004
1st Printing ISBN 0 00 711835 X
2012
Later Printing ISBN 978 0 00 711835 9
---

Findegil wrote:
It's the 1979 Unwin Paperbacks edition ('reset third paperback edition') but specially bound for Canadian sale, with a price of $2.75 on the upper cover. I made too brief a note about it under A3s in my bibliography (p. 57).

Wayne
Wayne, thanks for that, probably should not have been included in a UK HarperCollins facebook posting on Hobbit paperback editions

---
At least 10% of the 100 are being sold through this company on ebay, at a large markup on HarperCollins price or Amazons.
http://www.ebay.co.uk/itm/The-J-R-R-T ... ction&hash=item5651c7642f

Description: This lavish gift box of Tolkien's seminal works comprises five deluxe slipcased editions - The Hobbit, The Lord of the Rings, The Silmarillion, The Children of Hurin, and Tales from the Perilous Realm. With an individual retail value of GBP340, this quintet represents a saving of GBP90, and only 100 sets have been made.
My mathematics is not very good, I can't reconcile £340-£90=£397.69

1 ... 96 97 (98) 99 100 ... 203