---
This item has been listed before on ebay, and was listed and I believe sold by a Canadian ebay seller, cavorite51, who offered a lot of Allan's items for sale.
---
This ebay auction item can be traced back to Allan Formhals signature and not J.R.R. Tolkien.
http://www.ebay.com/itm/271112719520? ... _trksid=p3984.m1423.l2649
""The Hobbit" movie is being released soon, and there has been a lot of interest in this book, so I decided to put it up on Ebay.
This item is being sold AS-IS as Tolkien's SIGNATURE is extremely rare, and there are forgeries out there. I don't have the provenance on this SIGNATURE so I will let the higgest bidder determine if the signature is legit.

If you compare this SIGNED signature by Tolkien, it looks identical to genuine signatures on the net selling for $10,000 and up. I have scanned a HIGH resolution of the siganture seen in the pictures.

This book appears to be Signed by J.R.R. Tolkien on color plate from a drawing by him of The Hill, Hobbiton, inserted before the half-title. It is from another copy, being slightly taller and a bit narrow than the text block. The jacket states Fourteenth Impression. Any early dustjackets by Tolkien are collectable.

This ORIGINAL Jacket with some wear to the spine ends, corners and edges, with slight insect damage to top and bottom of the flaps. The cloth is slightly bubbled on front cover, faint faded horizontal streak to cloth, ink name to front endpaper.A nice copy

There is NO Reserve on this auction, as I will let the market determine the price.

A wonderful gift copy for any Tolkien fan.

Buy this book now, and receive it in plently of time for Christmas.
"

It sold for $1,026.01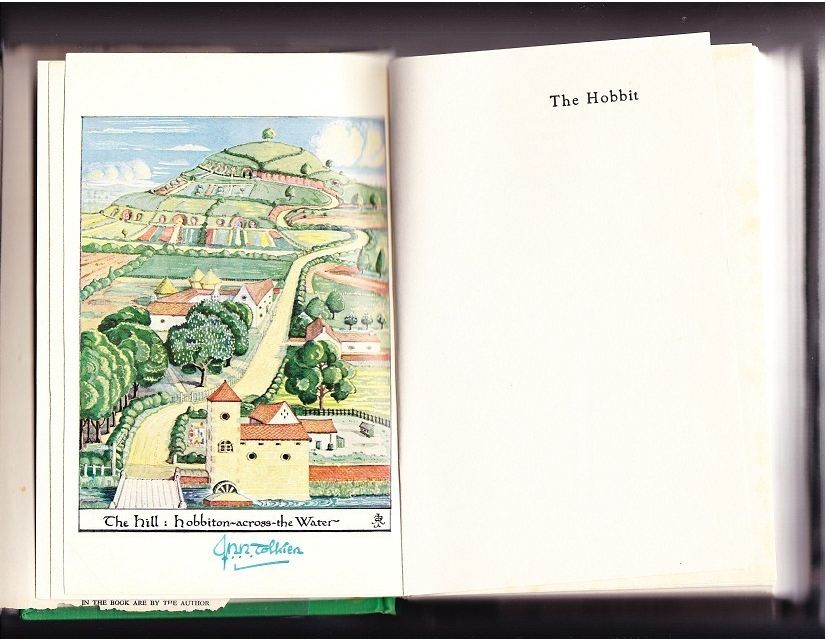 ---
But it is a "
Rare chance to own a piece of history!
"

---
I like the Rankin - Bass book but they are not that uncommon, I would have thought £40-50 would be more the correct price at the moment.
1 ... 193 194 (195) 196 197 ... 391