---
Happy New Year everyone,
Has anyone else noticed the above edition being currently sold as pre order for £17.31 from their stated price of £25? ISBN seems to be same as Book Depository ed but BD states initial price as £40.
Have placed my preorder presuming that they will honour the price if they have cocked up....

---
Found a boxed set LotR and Guide from ABE, 50th anniversary editions for £60, and a nice 2nd edition of JRR Tolkien: Artist and Illustrator from Alibris for £20. The latter I was especially pleased to get as been trying for a while to get any copy of it and was failing miserably.
_________________

---
Thanks chaps, good advice. Unfortunately not Gilraen Bullock...
Was taken with the 2,2 set as it was my birth year... and can't stretch to 1,1's ! Will go back to the wish list and see what I was really wanting last time I wrote it down.
Always fun spending someone else's money !
_________________

---
Been too much of that, this is for MEEEE!
Am thinking of a 2,2 set from ebay but wary re seller....
eBay Item #230769086613
Any opinions?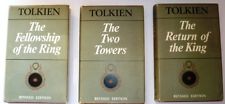 _________________

---
What would you buy if you had a spare £300 ? Have a little bit money and wondering what everyone thinks is a "good buy" !
Haven't got a first or second edition 3 vol set of LoTR yet, any ideas there?

_________________

---
Add "deluxe" and up it pops. £51 so Bk depository still better so far...

---
You can pre order through amazon.com, but not amazon.co.uk
I make the price on .com £51 including P and P so book depository still better.
Wonder why Uk amazon not on pre order???
---
Anyone else found the end map of the 2007 edition deluxe Hobbit bound in upside down? ISBN 9780007118359 1,1
Just noticed it the other day after perusing the copy after seeing the film.... the book was definitely the best option!

---
.. is life affirming, essential like breathing and totally addictive...
_________________

---
Well someone took the plunge! What was the price, it doesn't show it now it has been sold...
(1)
2
3