---
My take on it is that Americans really embraced the mass-market book, and that quality of construction or design was never that important, whereas the Commonwealth countries - for whatever reason - put more emphasis on well made and styled books, so we just have a bit of a historical legacy which makes the British stuff a bit more appealing for some.

I've also noticed that American style can be quite gaudy (e.g. Easton press, which takes tacky to extremes), whereas that hasn't really been a "thing" in the UK for a long time. I guess it was maybe the Americans trying to emulate the gaudy styles of European royalty. The better quality (in constructiuon) American books tend to be very tacky because they are pretending to be something they are not.

We simply have different histories and it has shaped the products we like. I must admit, I do like the American first impressions of HoME, and I have a set (albeit I have only a couple of other American editions).
---
Tolkien.co.uk seem to have the FF Hobbit back in stock, which may imply that it is a second print.
http://www.tolkien.co.uk/product/9780 ... +Facsimile+First+Edition+
If anyone happens to get a copy, would be interested if (a) there are any changes to the book, and (b) where it is printed, and by whom.
Edit: Book Depository has it back in stock, so I think we are definitely onto the second impression.
---

Morinehtar wrote:



Velmeran wrote:
For me, I'll typically go with HC over HM/HMH because typically the quality is better - at least with first printings anyway.



This is true when HC first prints are made in Italy or the UK. However, this does not apply to anything made in China.

I do tend to favor books printed and bound by LEGO.
With Tolkien, we are somewhat lucky - as the majority of the work was printed back in the days when quality was very high, so as collectors we have many high quality books to collect, without having to pay too much attention to the current releases (many of which are basically filler anyway).
---

Morinehtar wrote:
Just heard about this. Stay safe Stu.
Will certainly try! Have just boosted the earthquake supplies of food and water (and most importantly -- cat food).
---
Yes, it is important to keep the 4 people in the world who care about these things informed!
_________________

---

wellinghall wrote:
If I might be permitted an off-topic post - I gather from friends and family in Christchurch that there has been a major earthquake in New Zealand. Stu, I know you live some way from the epicentre, but I hope that you and yours are all safe.

- wellinghall
Thanks, wellinghall. All good here for the time being. Most of the people I work with are up at Christchurch, but fortunately appear to be safe -- I think people will be avoiding the office today because of the tsunami risk.
---
I finally got around to doing a comparison of the facsimile first Hobbit flaps with the real thing (or - more correctly -with a tidy up of a scan of the real thing which retains correct sizing and positioning). HC actually did a reasonable job here; Just a bit of additional proofing would have helped (and they needed to use a couple of additional fonts for specific characters -- when I did my 4th impression, I ended up using characters from four different fonts).

Alignment is difficult, so various words don't align as original from one line to the next (I've just pointed out a couple of obvious ones, as it would be a sea of red ink otherwise). Particularly with italics, there are problems with the level of slant between capitalised characters and lowercase. This is particularly evident on "Hobbit" and "Alice". Uppercase "M" characters are a problem. Other than that, the sizing of the "continued.." and "Drawings by" sections have issues.

Like I say, I don't think it was a bad job (re-typesetting this stuff is very time consuming), but equally, we need to be careful not to allow it to become the 'bibliographic truth'.'

Left Side is Facsimile, Right side is tidied up scan of genuine jacket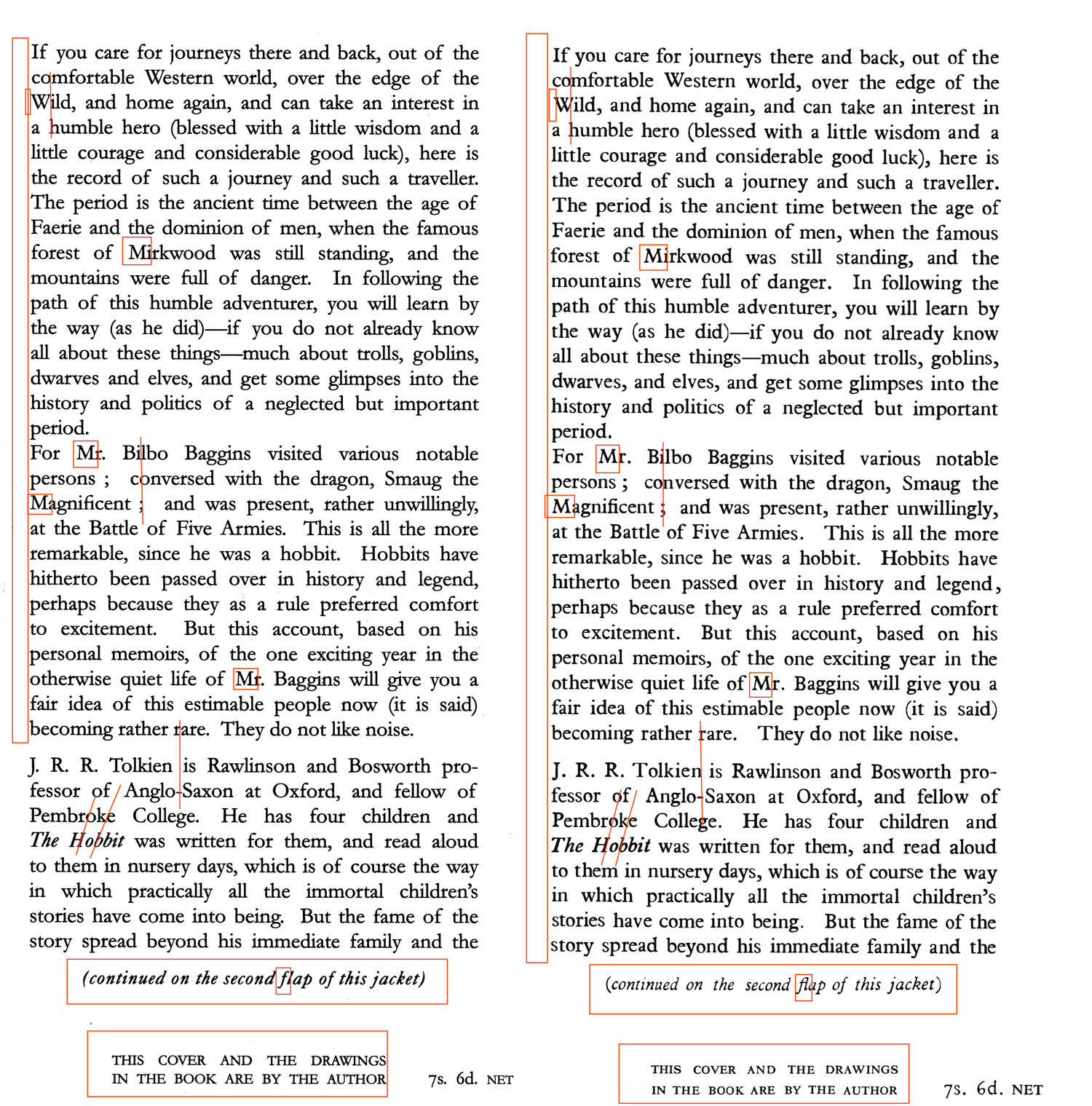 ---
I emailed HarperCollins just to let them know about the observed problems with the Kullervos. Not sure I'll necessarily hear anything back, but hopefully it will get taken on board how badly they have turned out, so - perhaps - B&L will be a bit better.
---

Morinehtar wrote:
That sounds terribly pessimistic. But I see your point, barring unnatural disasters these books will outlive us for sure.
You should see my family history :)
---

Morinehtar wrote:
So not scared of wood vapors?
The wood is all recycled and has been seasoned a long, long time ago, so is not a concern. And like I said, we aren't talking about anything of Earth-shattering rareness. In 15 years I'll most likely be underground, so they don't have to stay in good condition forever :)
1 ... 42 43 (44) 45 46 ... 144