---
I hope this is an early sample, that has been rectified, as the book is struggling with fitting in the slipcase, looks like it will burst if pushed in any further.
_________________

---

Seller: mgg1000 (13301)
Ends Sep 6, 2018 8:15:49 AM
Buy-It-Now:
£82.60

Seller: mgg1000 (13301)
Ends Aug 16, 2018 7:35:55 PM
Buy-It-Now:
£242.60
I can't believe the price on these items

Withdrawn Ex-Library Copy, usual stamps to end-papers~~Quite Good 2nd impression 2013 Harpercollins Collector's ed clothbound edition, maps to end-papers. Cancel stamp to fly-leaf and library label to otherwise blank rear end-paper, some staining to lower edge of page block, rubbing and pushing to spine ends and corners of cover else tidy and unmarked with a little page tan. Other volumes in this Cloth-bound 2013 reissue trilogy available
eBay Item #302732979621
I notice a Return of the King for £242 as well
eBay Item #401539697396
_________________

---
Abebooks seems to have removed all their listings.
_________________

---
Please be aware that the Tolkien Estate owns the copyright for these letters, so please be careful if you send a transcript, which could later be published.
_________________

---
dunedain Do you still have this copy for sale or did the Abebooks seller buy it from you?
_________________

---
This is why you should not use stock images

https://www.abebooks.com/Silmarillion- ... a=want_CM&cm_ite=readmore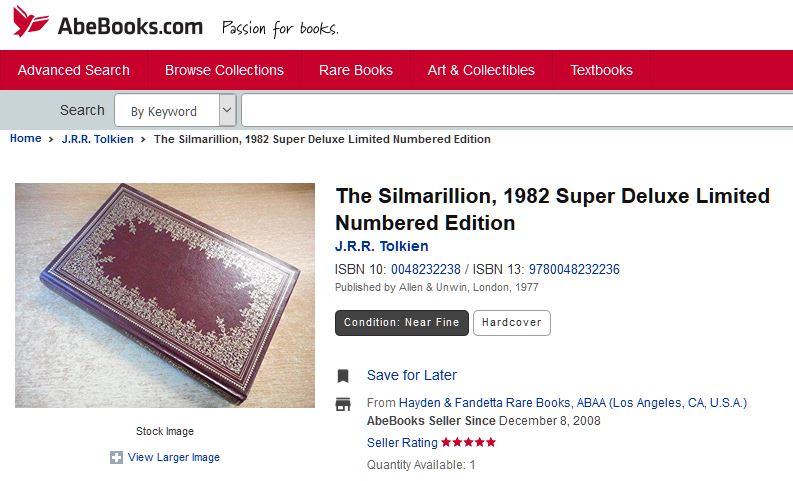 _________________

---
These are the Alan Lee signing events at Waterstones in the UK
https://www.waterstones.com/events/search/author/332510
Glasgow
Monday 27th August
Newcastle
Tuesday 28th August
Leeds
Tuesday 28th August
Manchester
Wednesday 29th August
Birmingham
Wednesday 29th August
London
Thursday 30th August
Reading
Friday 31st August (afternoon)
Oxford
Friday 31st August (evening)
Exeter
Saturday 1st September
_________________

---

Berelach wrote:
Edit: The seller just wrote back and said they will take the listing down and also that they were not too happy about the messages
So this is the description
An item that has been in the family for 4 generations.
They must be having new generations every 10 years for this to be true.
I am told it is a first edition book but the first page is missing. A collector would know what edition it is straight away.
As collectors, we did know which edition it was, and it is not a first edition.
The values for this book seem very varied so I would be open to discuss its potential value (so please send any offers across or questions for discussion)
They asked for advice on value, and they were told it is worth nothing.
It's a phenomenal book and if it could be restored would probably be worth a substantial amount of money but as explained I am not a specialist in books. Thanks for looking.
It would still be worth zero if it is was restored.
_________________

---
The illustrations in the book, are the main giveaway, as an example The Hill was the Frontispiece, up until I think the late 1960's. So this means it was on the left of the title page. If you look at the pictures, you can see The Hill is not the Frontispiece.

Additionally on the Spine, it states Allen & Unwin, not George Allen & Unwin.

Have a look at the Hobbit section on tolkienbooks.net, which goes into a lot more detail about these changes.

I think we would spot anyone who tried to pretend the facsimile is a true 1st/1st, the paper is completely different for a start.
_________________

(1) 2 3 ... 206