---
https://www.bodleianshop.co.uk/books/c ... of-middle-earth-1850.html
Considered purchase for me

_________________

---
As long as they were printed to the same quality as the older deluxe editions...
_________________

---
Pleased to be of service ! Nice to get a wee bargain....hopefully !
---
Thanks for that, will keep a weather eye on it.
---
Happy New Year everyone,
Has anyone else noticed the above edition being currently sold as pre order for £17.31 from their stated price of £25? ISBN seems to be same as Book Depository ed but BD states initial price as £40.
Have placed my preorder presuming that they will honour the price if they have cocked up....

---
Found a boxed set LotR and Guide from ABE, 50th anniversary editions for £60, and a nice 2nd edition of JRR Tolkien: Artist and Illustrator from Alibris for £20. The latter I was especially pleased to get as been trying for a while to get any copy of it and was failing miserably.
_________________

---
Thanks chaps, good advice. Unfortunately not Gilraen Bullock...
Was taken with the 2,2 set as it was my birth year... and can't stretch to 1,1's ! Will go back to the wish list and see what I was really wanting last time I wrote it down.
Always fun spending someone else's money !
_________________

---
Been too much of that, this is for MEEEE!
Am thinking of a 2,2 set from ebay but wary re seller....
eBay Item #230769086613
Any opinions?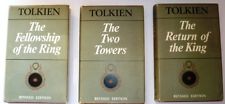 _________________

---
What would you buy if you had a spare £300 ? Have a little bit money and wondering what everyone thinks is a "good buy" !
Haven't got a first or second edition 3 vol set of LoTR yet, any ideas there?

_________________

(1)
2
3