---
Sir Alpingloin

I appreciate what you say.. any good fortune will certainly be embraced should the signature ever develop appreciation value. This of course will be a plus, as appreciation value is secondary to why it was acquired. If the signature indeed remains to be deemed fake by consensus of this forum, then it will never find it's way back onto the marketplace. It was removed from the marketplace as a fake, and will remain removed from the marketplace so long as popular belief of this forum holds it in question.

Case in point..

Jlong; "It is unfortunate that these fake signatures keep cropping up."

Findegil; "Christina and I have serious doubts about this signature."

Beren; ".. the signature, which is not Tolkien(ish) at all."

Onónion; "I will not place a bid as I am very doubtful about this."


Beleg
_________________
"I am the hunter Beleg - of the hidden people;
the forest is my father - and the fells my home."
---
Beren, Jlong & All,

I too emailed the seller early on for a larger scan of the signature, to no avail. The excuse was illness, yet the seller continued to post new and lengthy ebay listings, quite a feat for someone so bed ridden. When I pressured the seller he got testy and threatened to pull the listing, which of course he wasn't about to. Surprisingly, for the signature to be deemed such a fake it pulled in numerous bidders, 9 in all, one with a rating over 6,000 & another over 11,000.

The appalling behavior of the seller really irked me, so fake or not, I wanted a closer look and resolved to win the auction. I've since received the book, and have scanned a hi-res image into Photoshop and am no longer convinced the signature to be a fake. There are minute pen strokes and details that are very revealing in the blown up image, which can not be seen in the ebay scan.

It's my opinion that Prof Tolkien was perhaps taken by the moment and two things worked against him in this particular signing, and.. I'm sure he was completely aghast when the ink drop left his pen and blotted out his "e". The 2 factors that spoiled this signing was the pen he used, and the very course texture of the paper. The paper was course and the pen snagged on paper fibers at several points and because of the rough texture the ink flow to the paper was not consistent, this is why the double stroke on the "J". As he was signing T-o-l-k his pen tip lost it's flow (prime) and with his letters beginning to lighten, when he finished that wonderful flare in his "K", he shook his pen to prime the point again and the tip didn't stop the on-rush off ink and he obliterated his "e". Highly magnified, the signature takes on a much better understanding, the partial missing stoke can even be seen in the 'T".

I am not a hand writing expert to any degree, I'm sure there are many here who are better qualified than I to judge the authenticity of a Tolkien signature. But, to me this signature is certainly genuine, and is indeed from the hand of the master himself. I have posted a hi-res scan of the signature for anyone who's interested, or may have requested it and did not receive it. All comments welcome.

Beleg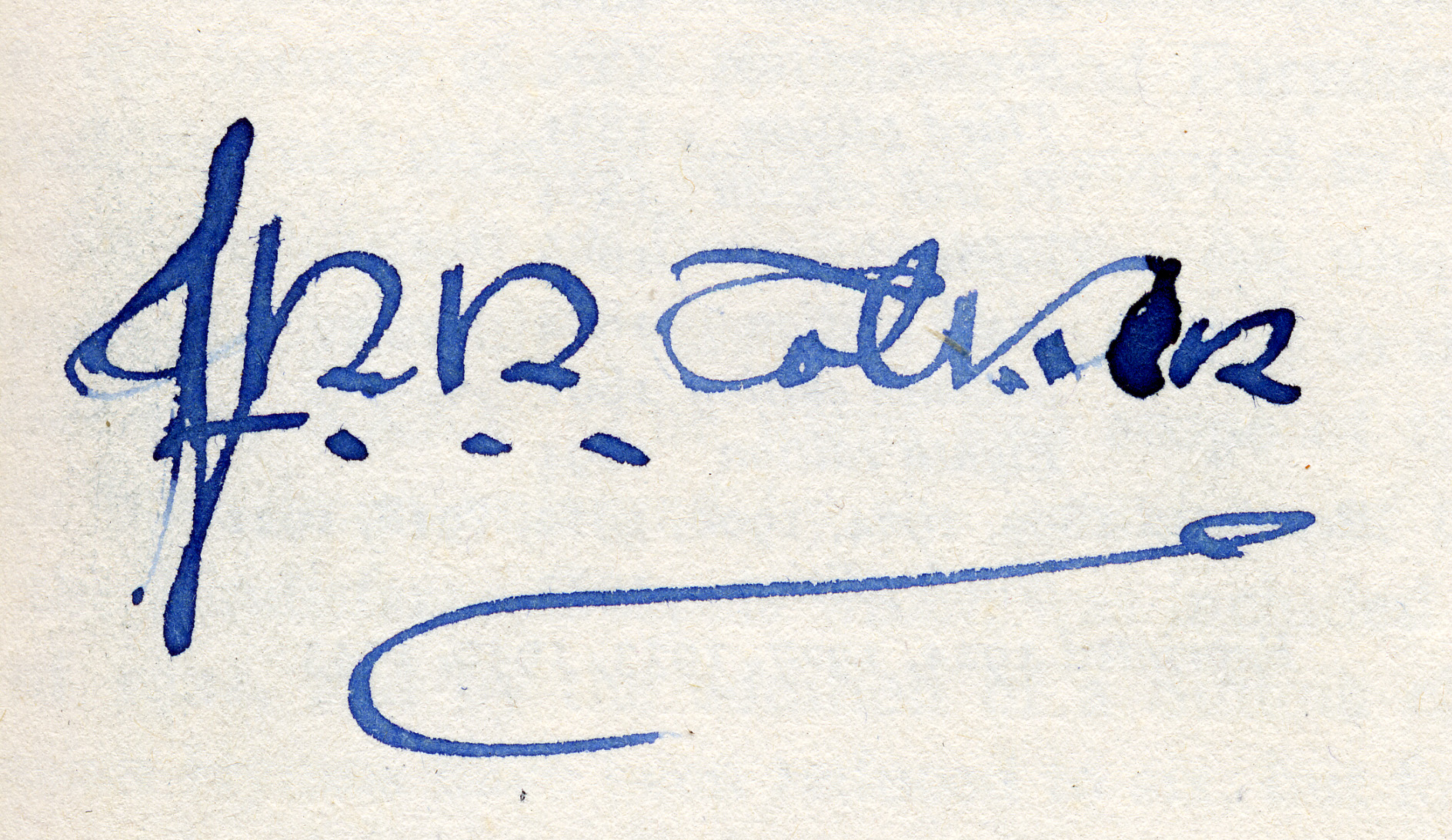 _________________
"I am the hunter Beleg - of the hidden people;
the forest is my father - and the fells my home."