---
Oh yes, I was the buyer... forgot to say that. I was surprised there weren't many bidders and thought that maybe it was because there were more of these available or sold in a different (and maybe superior) format.
_________________

---

Seller: oxfam_f3706_oxford (511)
Ended Jul 1, 2018
£77.00
[3 Bids]
I was wondering if anyone else saw
this pop up on eBay
; one of the earliest audio interviews (or
the
earliest?) of Tolkien from a 1957 radio show in Chicago. There's a smattering of info/quotes from it here and there (H&S Chron. p 527, RG p514, 516; Annot. Hobbit p8, 210; ALA Bulletin, Feb 1957, p120, etc.) but I'm curious if there are other audio copies floating around (not including the 'tape recording' stored at the Library of Congress). Oxfam was selling it on eBay and in response to my question they surmised that, "perhaps only one acetate set was made at the recording session and that either that or a copy was used for the US broadcast." Does anyone here have additional info about this they'd be willing to share?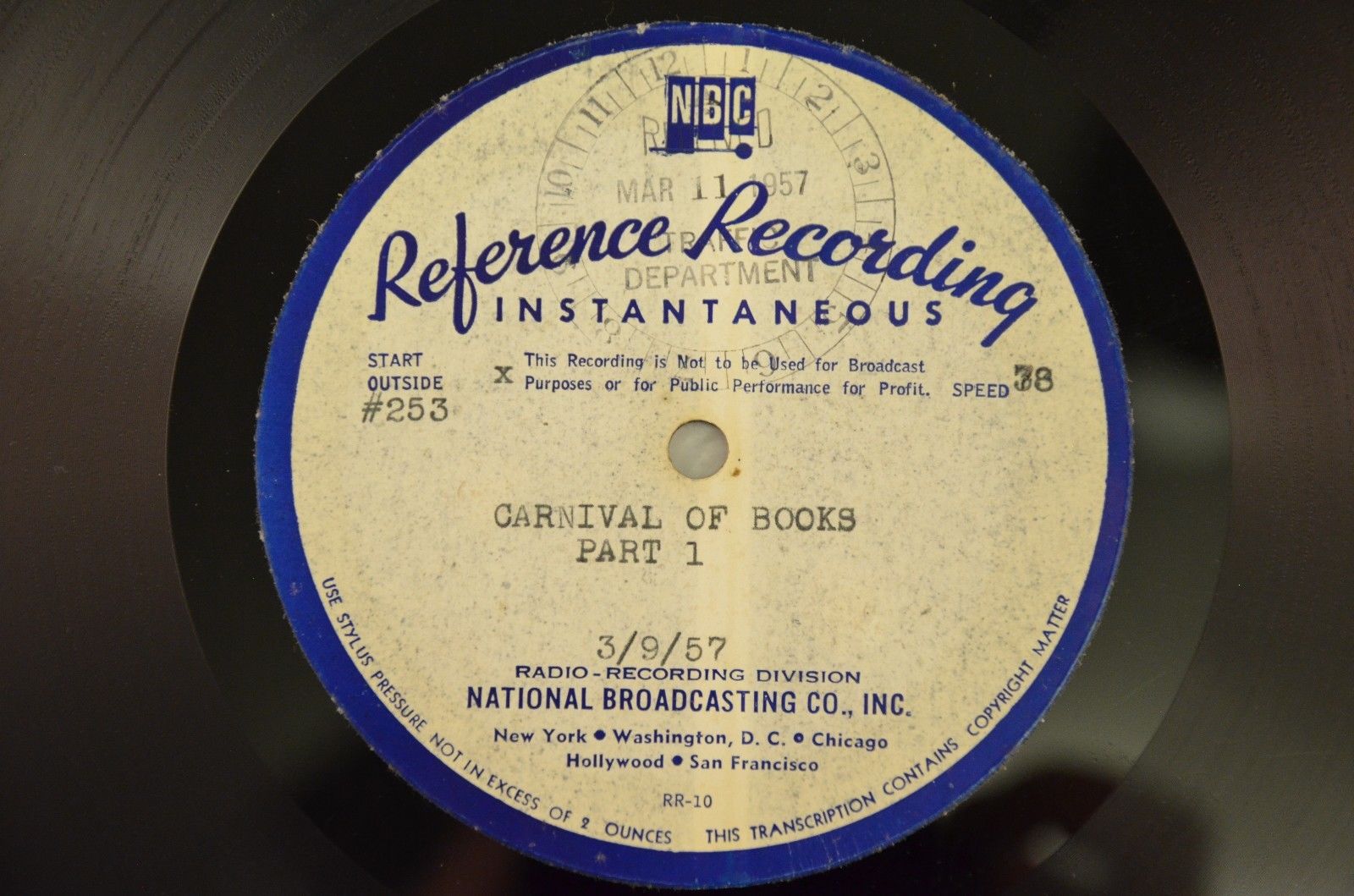 _________________

---

Stu wrote:

I must admit, the "collect every impression" thing is a bit absurd. I'm only doing it for these Hobbits (and the Longmans ones). Everything else, I'm more than happy with first and first thus. I only have one first edition set of LoTR, for example (well, two including RU), and no plans to ever expand on that!
Oh... now ya tell me!

I half agree with you. But it's very subjective isn't it? Collecting as a hobby can look absurd from an outside perspective, but if it's enjoyable...? Anyway you've heard that argument before. Personally I like collecting the Hobbits because of how those beautiful jackets look lined up against each other. I nominate that spine for best out of all Tolkien. The only others I've gone after like that are the first editions and these Ballantine paperbacks (the photo is of the first 12 printings of Fellowship and the first 10 of TTT & RotK). I bought the Ballantines because I was doing a little research project about the corrections made through these (there are a considerable amount).
I have no defense for the first editions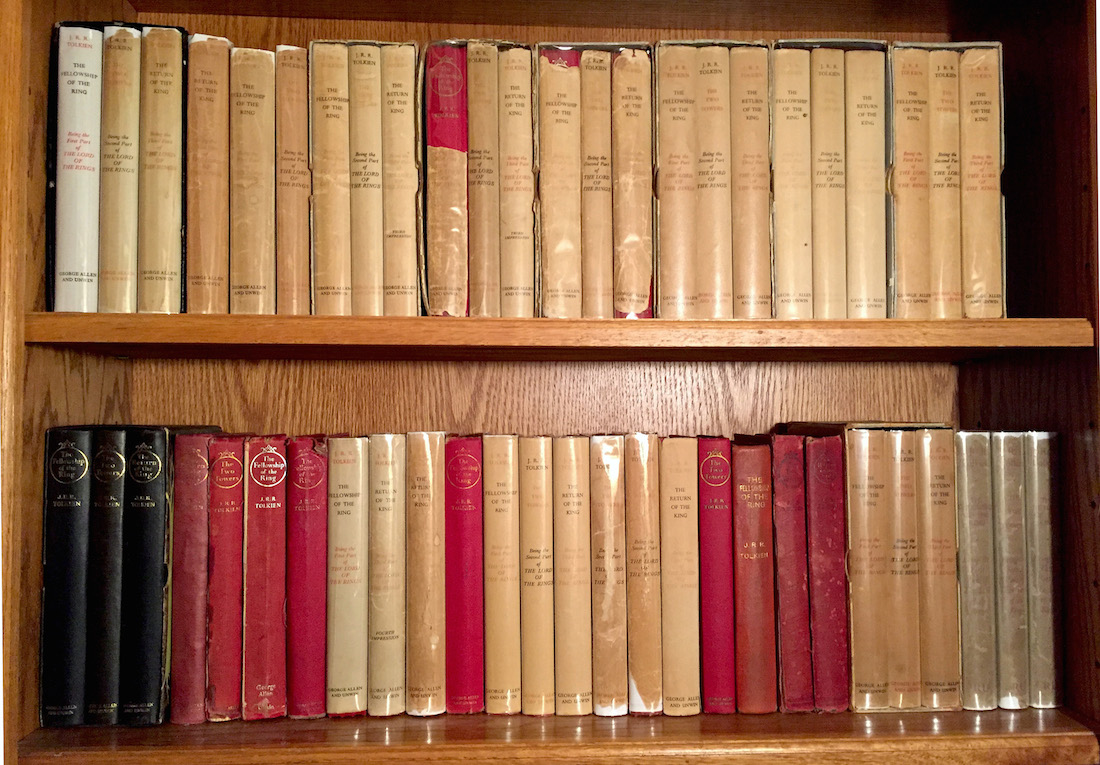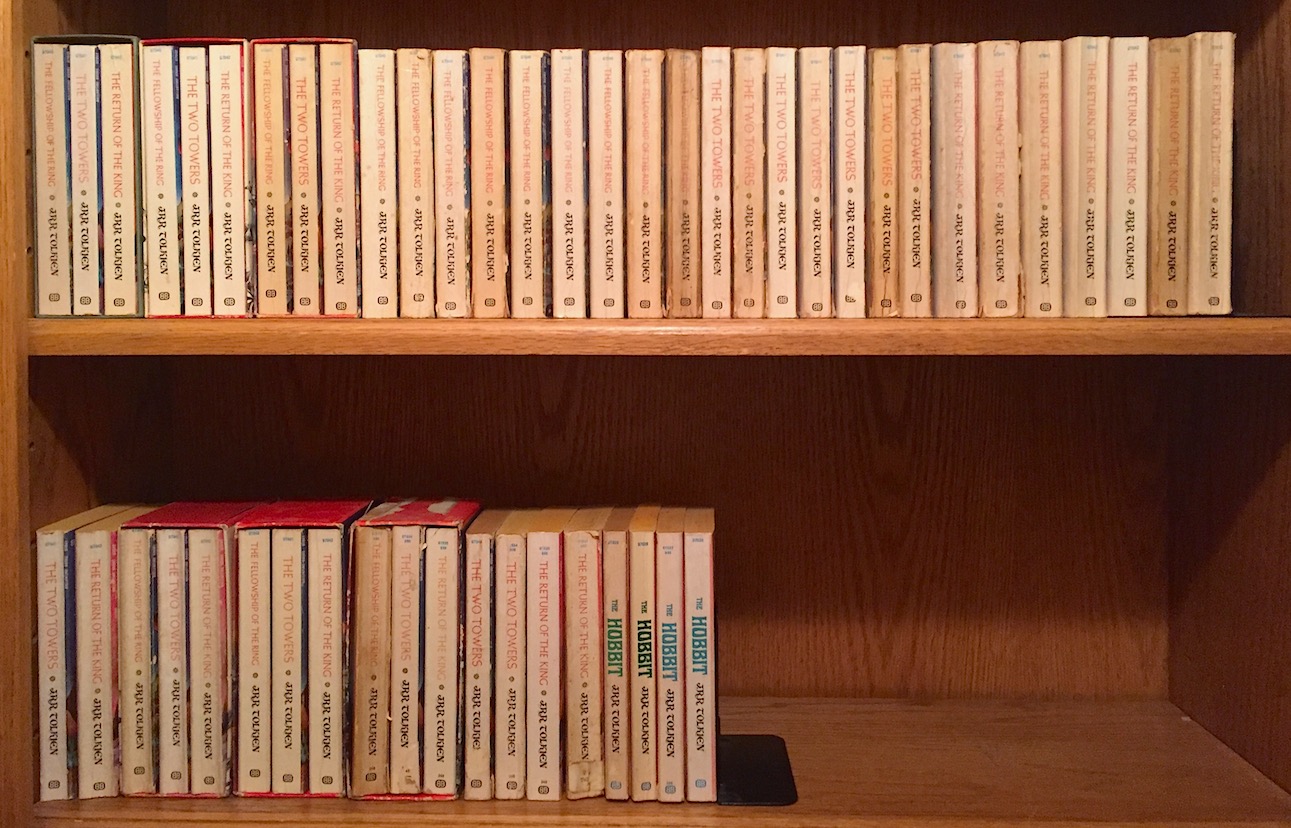 _________________

---

Stu wrote:
Your shelf is looking pretty good, to be honest! The bibliographic viewpoint is the main interest for me, but I've studied A&U Hobbits and jackets pretty thoroughly (even before physically owning them) as part of my 1st 15 Hobbits Facsimile Dustjacket Project. I don't really need them to learn anything specifically from them, I'm just after nice shelf adornments and having the "fun of the chase"! I'm also pretty narrow in my collecting, and a dozen books or so a year is just fine for me these days. Hobbits so far have run me an average £250/yr over 4 years, so keeping me firmly in the camp of "not a proper collector", as I'm sure Mark F. would say
Ha, he'd probably also say that your buying prices are falsified and that 2nd edition Hobbits aren't sold anywhere for under a grand
Non-collectors don't typically have shelves like that.
While we're on the subject, I've definitely noticed an unmistakable rise in prices, specifically over the last 3-4 years; something to do with the Hobbit film debacle maybe. Most of the 2nd editions that I decided to keep were bought around 2014-15 and aside from a 7th impression, they all cost me about £40 each, give or take £15 or so. Granted a couple don't have jackets but most are in very nice shape. Compare that to now when you rarely find any of these for under £75, even in poor condition. Point being, this has seriously interfered with my progress in matching
Trotter
!

_________________

---

Trotter wrote:

Very impressed with your collection, though in terms of what it looks like on the shelf, try out Stu's idea for your books that have spine damage, which you can see because they are on a white background, put a printout of what should be there in its place, behind the dust jacket, so you don't see the white background.

If you don't have these then please PM me or Stu for help
Thank you
Trotter
, very kind offer. Despite what I said I'm actually ok with how it looks. It's a good reminder for me of which copies to replace when I have the chance.
_________________

---
I guess one man's mess is another man's treasure

Fantastic
Trotter
!
_________________

---
That's such a beautiful shelf Stu! Compared to yours my shelf looks like a mess! I generally don't have the resources to be too picky about condition and also I guess I collect more from a bibliographic viewpoint; just trying to get them in my hands so I can study them. I threw in a few duplicates to fill it out (my US Hobbits have DJs but I prefer them on the shelf without).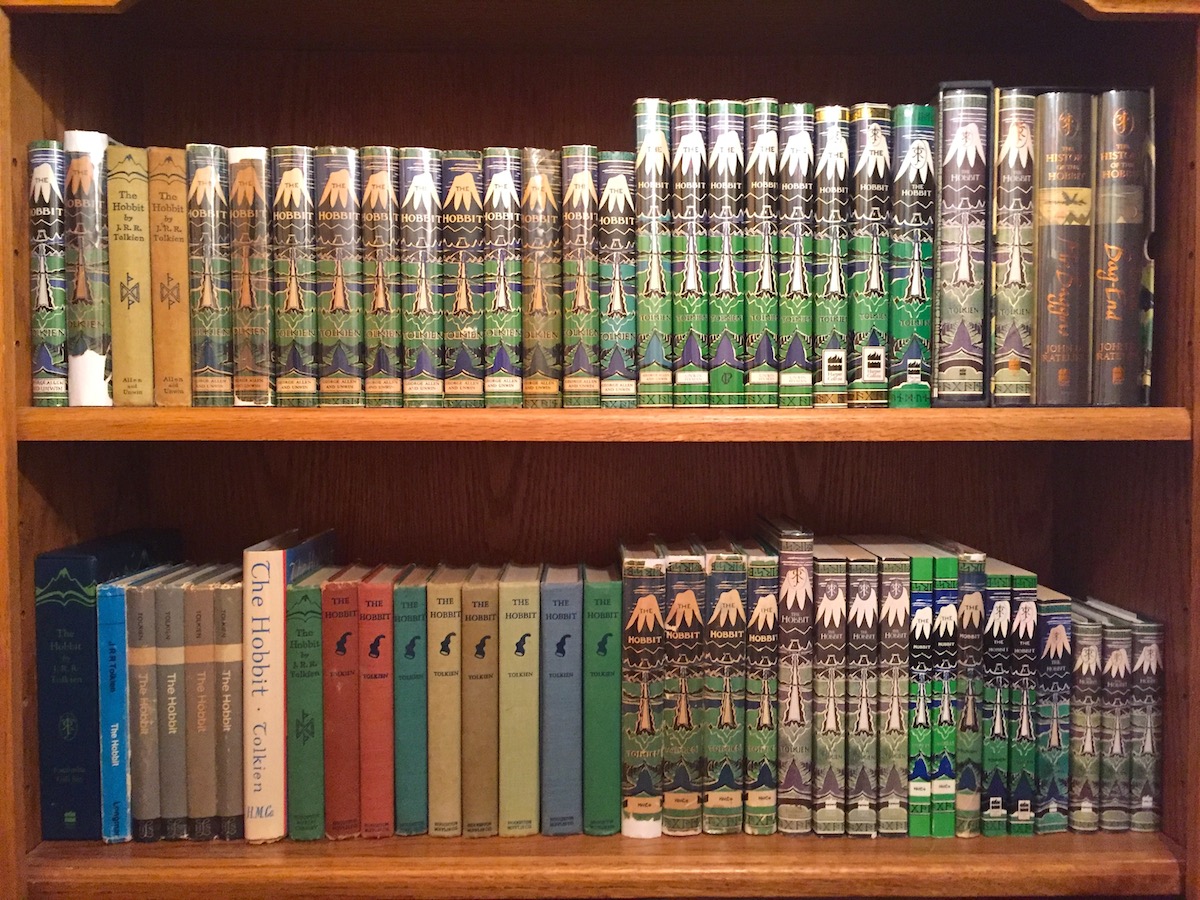 _________________

---

Ithildin wrote:
Well done, Berelach, congratulations for your great job!
It seems that Canadians have a particular liking for paperbacks?
Thank you
Ithildin
, I really appreciate that!!

It might not seem like it (if I organized things right) but it was actually quite lot of work and took me a long time, so I'm very happy and relieved that it's finally finished (tweaking aside).
And yes, they do like their paperbacks; I suppose it's cheaper to have the mass-market stuff printed nearby.
_________________

---
Thanks guys. Stu, I've seen the same but only once, probably the same listing, and I've been constantly checking eBay and collecting this info (from there and other sources) for years. It's not much to go on and I prefer to have a lot more data before making an entry, but maybe I'll throw one up with a caveat.

Thank you Trotter, I'll try and sort that out today.
_________________

---
Have just added a Canadian section here:
www.tolkienbooks.us/ca/
Not perfect or complete by any stretch of the imagination; if anyone here has any info they feel like passing along please do send me a message. Thanks!

_________________

(1) 2 3 ... 26