---
Went for £41 inclusive of post
---
I will ship anywhere -just ask. In fact, the winning bidder (so far) on one of the books is in France
---
I really need to sell this set, so if anyone is willing to give me £45 inclusive of UK post then please drop me a message on my email
abruff@live.co.uk
If you are outside the UK and interested then email me for a quote on postage.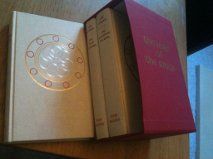 ---
Hi Stu,
Yeah I did get CoH in that manner, although that was nearly a year ago and I wouldn't be surprised if they refused now as I imagine stock is a lot lower at this point. Also, my S&G is a pretty low number which I think has some appeal.

Personally, for £400 I would just keep them and sell some of my other books. Still, might pop them on ebay and see what happens.
(1) 2 3 ... 18