---
Went for £41 inclusive of post
---
I will ship anywhere -just ask. In fact, the winning bidder (so far) on one of the books is in France
_________________

---
I really need to sell this set, so if anyone is willing to give me £45 inclusive of UK post then please drop me a message on my email
abruff@live.co.uk
If you are outside the UK and interested then email me for a quote on postage.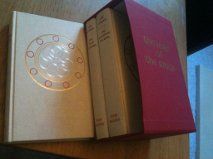 ---
Hi Stu,
Yeah I did get CoH in that manner, although that was nearly a year ago and I wouldn't be surprised if they refused now as I imagine stock is a lot lower at this point. Also, my S&G is a pretty low number which I think has some appeal.

Personally, for £400 I would just keep them and sell some of my other books. Still, might pop them on ebay and see what happens.
_________________

---
£500 for both yes - quite a decent price I think :)
_________________

---
Hi everyone,
Have fallen on some pretty tough times as of late and am considering selling my super deluxe Children of Hurin (no. 379) and Super deluxe Legend of Sigurd and gudrun (no 17), both in mint condition. Would need to clear £500 to make it worth my while, so to a UK buyer the price would be £530 via cheque, £560 via paypal. Overseas buyers would be more like £600 via paypal only. If anyone is interested please email me on
abruff@live.co.uk
Obviously a sad thing to do but needs must and all
Thanks
Andrew
---
Just one of these left now so if you want it for £20 inclusive of UK P&P or £33 worldwide then please email me
abruff@live.co.uk
---
The book set now at £750 with 4 days remaining, making me ultra happy about my £600 price tag which I paid for a sealed set.
_________________

(1) 2 3 ... 9