---
It does seem that much of the Burren Tolkien Society page has been updated since yesterday to include Facsimile in the wording. Still, I am sure they have some people registered to bid who thought it was real at first. I am sure they will make more or the registration to bid than they will on the actual book.
---
I posted a comment on their Facebook page about it too. Someone is about to be cheated very badly.
---
http://www.ebay.com/itm/Silmarillion- ... D1%26sd%3D271199598821%26
There is one on ebay right now in the US for 10 dollars buy it now.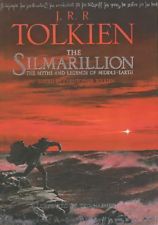 ---
There seem to be a couple floating around but not many for sale. You may try contacting people who have written articles quoting specific portions of the script or even try contacting Boormans publicist. Oddly enough, one sold at auction only 15 days after your original post.
http://www.emovieposter.com/agallery/archiveitem/10848465.html
---
According to the seller, the copyright page is wet and stuck to the other pages, so he could not post a photo to confirm it is a first impression. LOL!
(1)
2
3