Always worth checking in the Archives
By
Trotter


---
While looking for something in our archives, cataloguing archivist Aline stumbled upon an 'unexpected' item...an autograph letter from J.R.R. Tolkien to Professor Campbell, thanking him for the award of an Honorary Degree!
Centre for Research Collections, University of Edinburgh
https://www.facebook.com/crc.edinburgh ... 4275548/1558062620942719/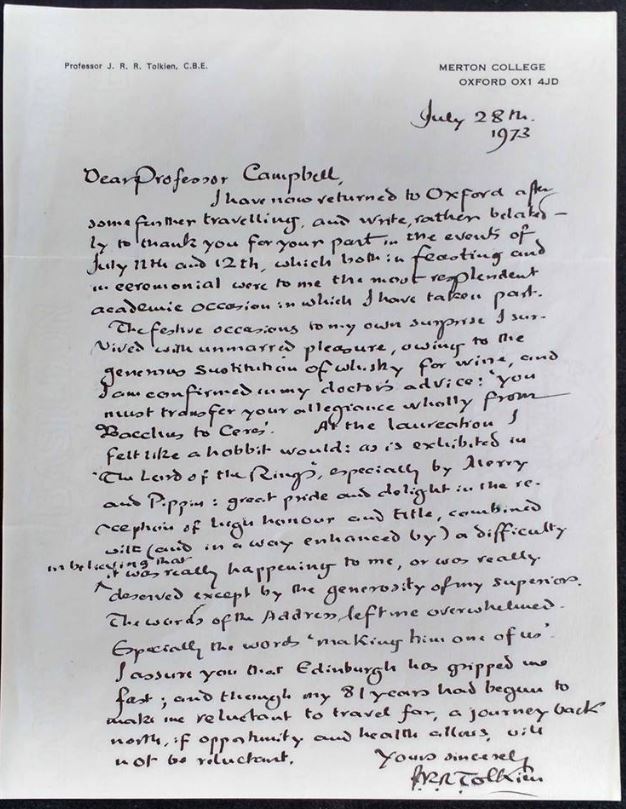 By
Jlong


---
Thanks for sharing, Trotter.
I've known of this letter for some time now. Diana Glyer and I (thanks to the kindness of the Tolkien estate) were allowed to quote from this letter in our chapter in Jason Fisher's essay collection Tolkien and the Study of his Sources:
https://books.google.com/books?id=98VQ ... like%20a%20hobbit&f=false
It is always nice to see a little known letter of Tolkien's brought to the attention of others.
_________________

By
onthetrail


---
Trotter, my apologies. I totally missed this and saw it myself just this evening so posted the info to W&C blog. But obviously as you posted it here they will know about it already. Did not mean to try and steal your fine internet sleuthing.