For sale: Tolkien: Maker of Middle-earth, 8/675, signed by all contributors
---
Hello all,
As I mentioned earlier, I have a "spare" copy of "Collector's Edition" of the catalog,
Tolkien: Maker of Middle-earth
, for the exhibit of the same name currently at the Bodleian Library in Oxford.
For more on this major exhibit, see
here
For more on the book, see
here
This in no. 8 of 675, as indicated on the limitation sheet signed by Priscilla Tolkien; and further one of only about 8 copies of the "Collector's Edition" that are additionally signed by all 7 of its contributors: editor/author Catherine McIlwaine, and authors John Garth, Verlyn Flieger, myself (Carl Hostetter), Tom Shippey, Wayne Hammond, and Christina Scull. You can see us signing copies of the book for the Bodleian in the attached photo, as well as the small set of Collector's Editions included in the signing behind us.
In an effort to defray my costs of attending the exhibit opening and (thus) the signing, and with the permission of the forum's owner, I'd like to offer this "spare" copy for sale here to serious collectors.
If you are interested in this item, please PM me with a bid. I have a reserve price in mind; as well as an "instant sale" price which if met I will accept. Otherwise, I will keep track of bids, let those who are outbid know, and close this "auction" in about a week. (And if no one bids, or no one meets the reserve, I will list it elsewhere.)
Note: total cost will include the winning bid, plus postage and insurance. A portion of the proceeds will be donated to the Tolkien Collector's Guide forum to help its operation.
Thanks, to the forum and to Jeremy!
Carl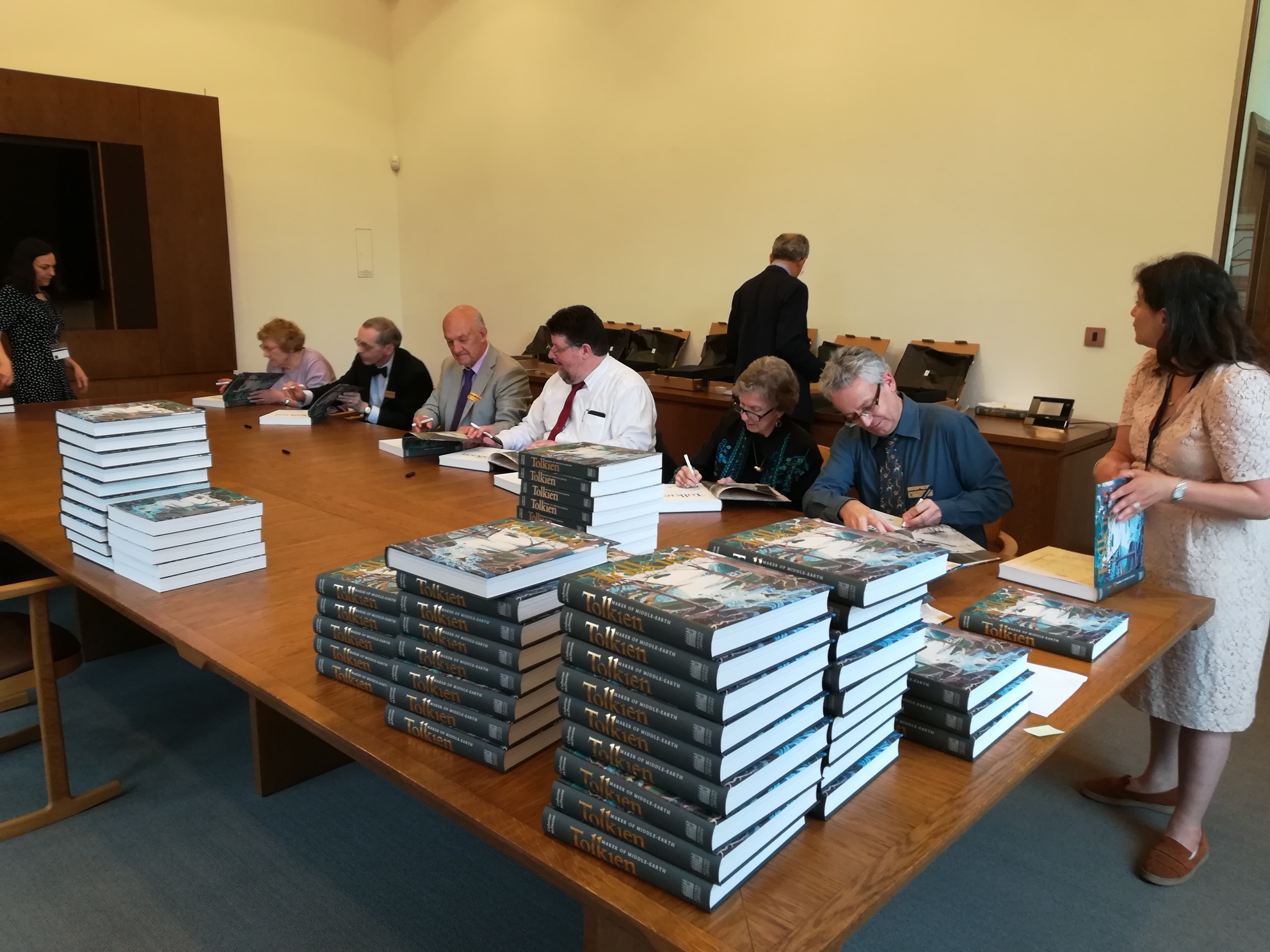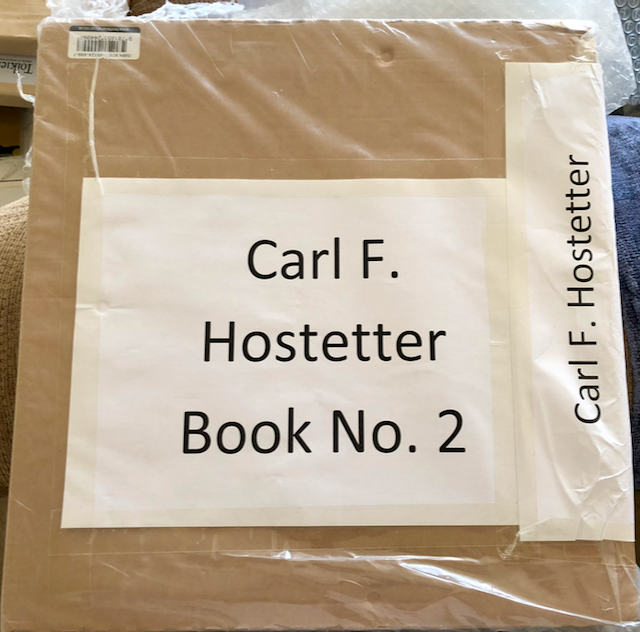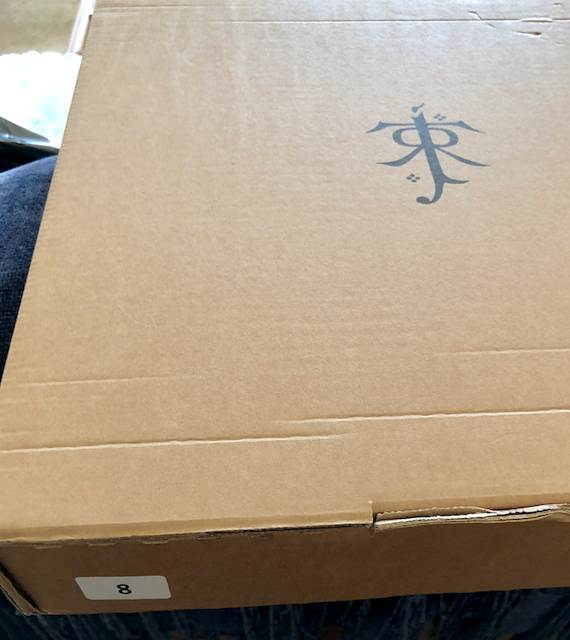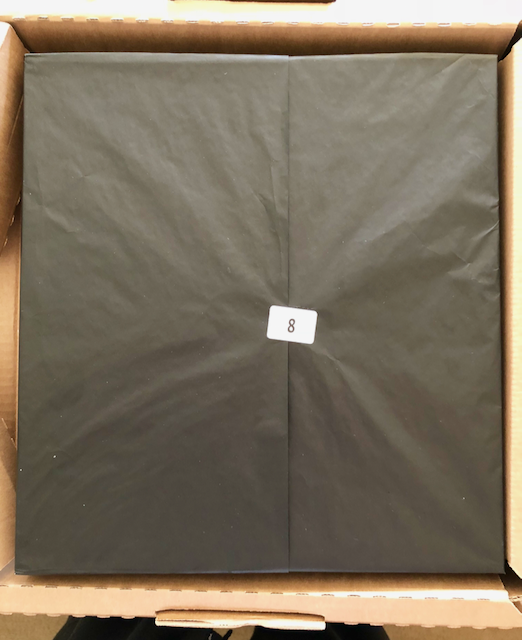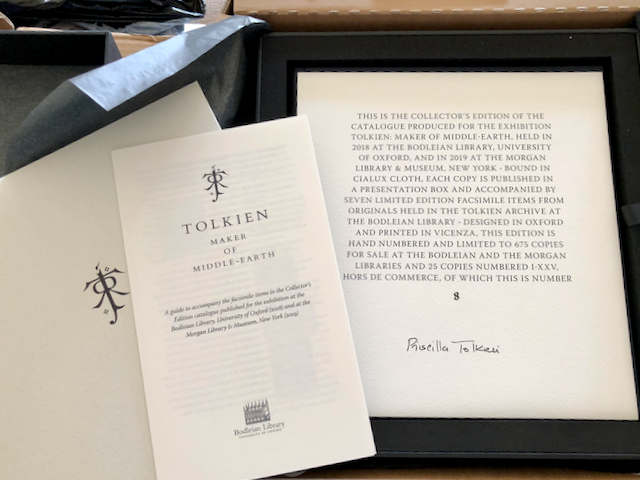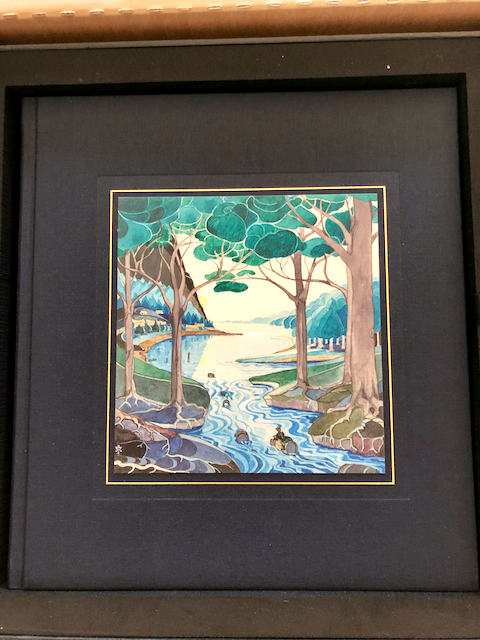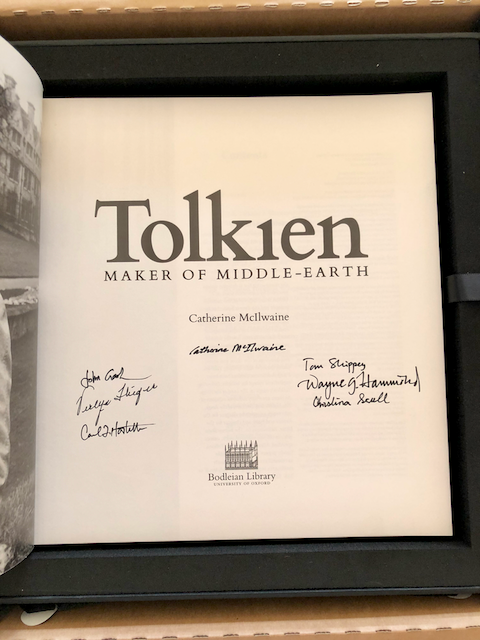 _________________

---
P.S. As a bonus, if asked, I will add (in pencil or pen, and either on the page or on a separate sheet, as desired) my transcriptions of and notes on certain readings, not otherwise included,* in the images of Tolkien's manuscripts that accompany my essay, "Inventing Elvish", in the book.
* But available
here
_________________

By
Jason Fisher


---
Holy cow, I only wish I could! I have my own costs for the trip to defer and no such treasure to defer them with, but if I hadn't attended and had the budget for it, I'd definitely try bidding on this. As it is, I balked at the price and didn't even purchase a copy of the collectors edition *unsigned*. But good luck to the bidders, and may this find a worthy home! Wonderful to see that some of the proceeds will go to help the Tolkien Collector's Guide too. Good on ya, Carl.

By
Olwe


---
I'd be delighted to bid but given the fact that I have spent way too much on this exhibition, including a copy of the Collectors' Edition, I'll keep all fingers crossed for the person who will give this beautiful treasure a new home.

And I'd like to second Jason's thanks!
By
Eorl


---
Hey Marcel, nice to see you on here after a while. Looked like you had a great time with Jeremy and the others at the exhibition.

Carl, good luck with the sale and hope this extra special copy finds a worthy home.
_________________
"Crows and Gibbets! What is
the House of Eorl
but a thatched barn where brigands drink in the reek and their brats roll around on the floor with the dogs? You are but a lesser son of greater Sires."
By
Arbor


---
Ooo. Wonderful book.
Wonderful idea!