1 ... 156 157 (158) 159 160 ... 162
---
Weird and expensive combination. This guy has loads of books in David Miller siipcases. The slipcases look nice, but they are - without exception - always too big for the books they house (really obvious in this case). One can only assume he measured on the large size when ordering. Like buying trousers when you know you are a bit fat.
eBay Item #94821122
_________________

---
Bargain.

And it is a Guild edition. ROFL.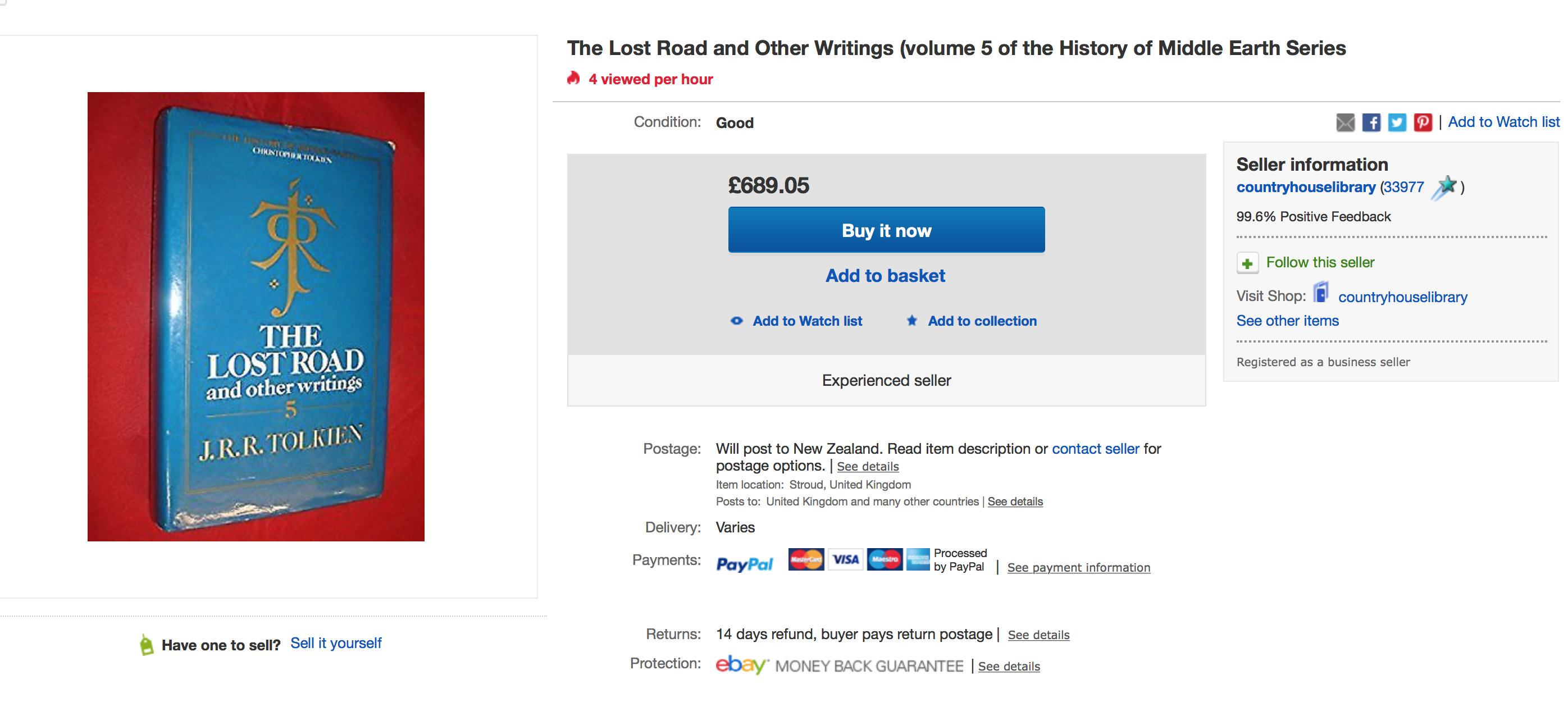 By
Trotter


---
https://www.sworder.co.uk/auction/lot/ ... lse&sd=1&pp=25&pn=1&g=-1#
Lot 63 (Books and Maps, 26th September 2017)

Tolkien, J. R. R.: The Hobbit or There and Back Again. George Allen and Unwin Ltd, London, 1937, First Edition, First Impression. With frontispiece and 9 plates or illustrations (all but one full-page), map endpapers in red and black by the author., PP310, (ii)publisher's advertisements. Original Publisher's green cloth, lettered and decorated in dark blue. CONDITION: (Original un-restored condition). Covers little rubbed; inscription to front blank endpaper dated 1937; the frontis has been, crudely coloured which has resulted in light offsetting to title page; otherwise a very good and firm copy. (Only 1500 copies were printed of this first edition, first impression).
Sold for
£3,700
Look away now if you are squeamish

I expect the buyer will cut the page out of the facsimile Hobbit and replace this page in the book, the paper would not look right if they did so, would not match the rest of the book.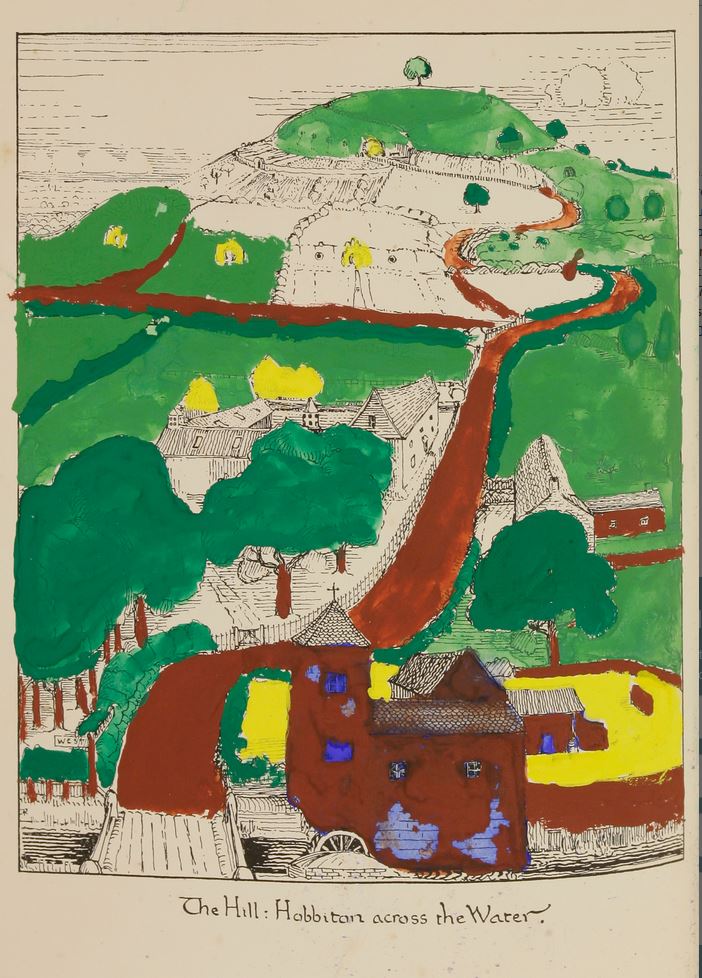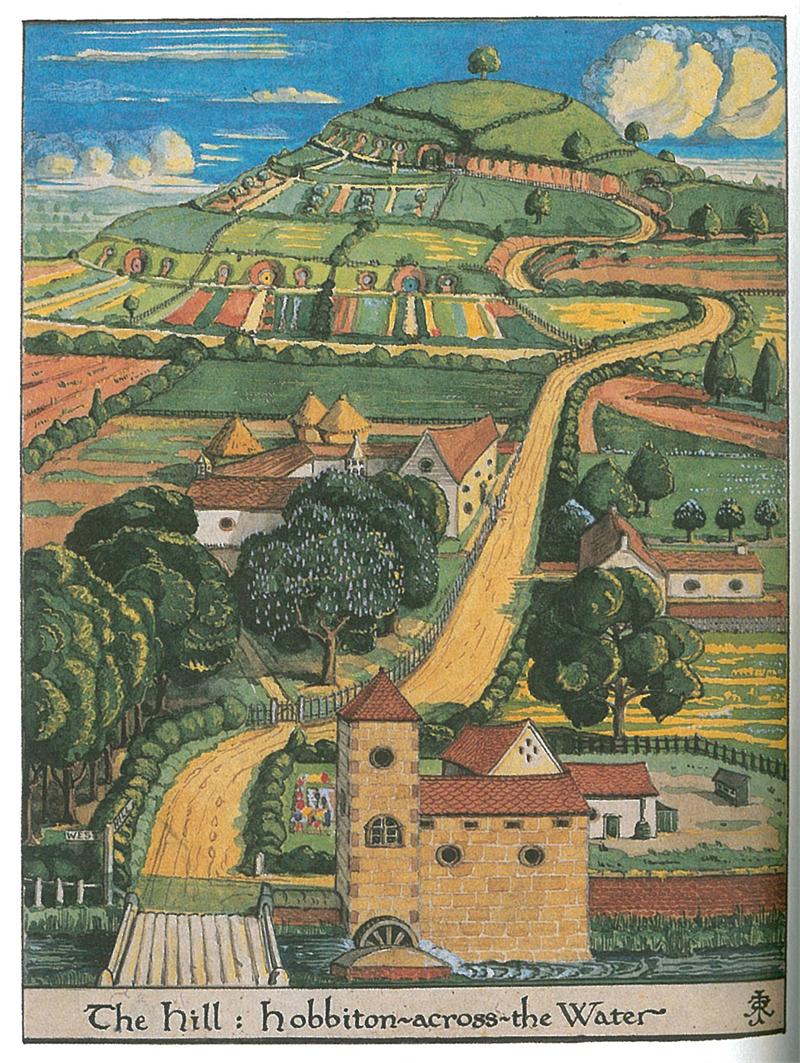 ---
Haha... I should have looked away!
---
To be honest, they could do a lot better than just replacing with a page from the facsimile Hobbit. Not that hard to source matching paper (blank pages from same-era books) and then print a scan of the facsimile page onto the matching paper and then insert that page onto the stub of the original. It would match quite well.

Not a problem, so long as it is disclosed to any future buyer, I guess. That said, I'm surprised at the price being so high for a book with this kind of damage.
---
I was so ready to bid on this auction but the seller must have gotten a request to add a Buy it Now and accepted... I wish I had thought to ask that!
eBay Item #352175375408
By
Khamûl


---
Looks far from "fine"; look at those tatty corners. Still, C$30 is a crazy low price. Seller clearly had no idea what they had.

BH
_________________
BH
You drive a hard bargain – you can have it for £10 all-in – one consolation (for you) is that you do not have to hear the cries of my children, for bread...
1 ... 156 157 (158) 159 160 ... 162