1 ... 51 52 (53) 54 55 ... 320
By
Elwë


---
Nienor was said to have fled "swifter than a deer, and tore off all her clothing as she ran." It's now quite obvious from this (most authentic) piece of art, that Tolkien really meant that she rode on the back of a swift deer and tore off her clothing as it ran (alongside her dog).

I don't understand how Christopher could have missed this during his edit of the Silmarillion. Sheesh.
By
garm


---
We've seen this sort of 'disclaimer' before:

"The work is not supplied with certificate of authenticity and guarantee (as has never been subject to assessment, evaluation expertise) and then, having regard to the recognition and similarity to the style of the author, is proposed as a copy of copyright, falsecopyright, in the manner of the author, under Article 8 of the Law of 20 November 1971, n.1062 (Official Gazette No. 318 on December 17)"

Garbage. Complete garbage.
By
Khamûl


---
Never noticed a video in a listing before...
eBay VIDEO listing
BH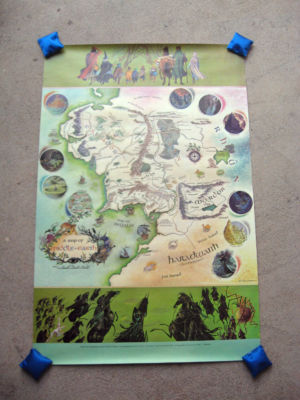 _________________
You drive a hard bargain – you can have it for £10 all-in – one consolation (for you) is that you do not have to hear the cries of my children, for bread...
1 ... 51 52 (53) 54 55 ... 320