1 ... 68 69 (70) 71 72 ... 162
---

Red wrote:
http://www.ebay.ca/itm/Lord-Films-Uno ... _Book&hash=item564d47168e

Apparently it "provides in-depth analysis of the live-action trilogy and other related films, alongside games, puzzles, and interviews with the filmmakers"

Nothing like in-depth analysis, along with games and puzzles!




A fool and his money etc. (trying hard not to fall into this category myself

)
---
If you have any Facsimile signed Tolkien books, now might be the time to sell them on eBay, £222 for a second printing 1964 Tree and Leaf

eBay Item #280982137775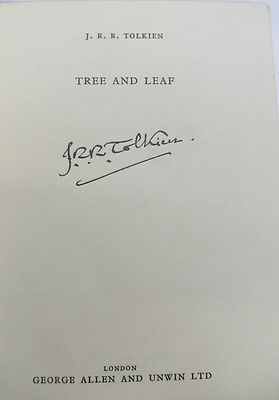 By
Jlong


---
But you would have to list the item unethically under the title "J.R.R. TOLKIEN TREE AND LEAF POSSIBLY SIGNED ?????"

It is always a shame to see things like this sold for such ABSURD prices.

Being a second impression with no dust jacket, that book sold for about 10 times the price it should have actually gone for.
_________________

---
Very sad indeed.
Can't understand though why buyers don't do some basic checks i.e. search Google, before wasting this much money on a £10 at most book?
Just tried this, typed "
tree leaf signed tolkien
" into Google and
Beren
's article is second on list
http://www.tolkienlibrary.com/press/fascimilesignatures.htm
By
garm


---
It's this sort of thing which can draw in the unwary, I think -

"There are supposedly a number of copies where a facsimiled signature is present. Personally I do not know. The only thing that points to it not be standard printed is that you can feel the indentation on the verso of the page, I have included a photo of the verso and the signature imprint shows through distinctly."

This can, I suppose, make some think it _might_ be a real signature, and worth a punt (what with signed Tolkien books being so valuable and all).

It'll be interesting to see if the new owner re-lists it at a fantastically higher price.
_________________

By
Laurin666


---
What a nice india paper edition ....... (but he might be wrong...)
http://www.ebay.co.uk/itm/THE-LORD-OF ... ks_UK&hash=item2a243bff71

_________________
Ernest Hemingway said:
"You needn't bother going anywhere else. I can tell you: you can't beat Munich, everthing else in Germany is a waste of time".
---
Sent him an email, informing him that he is definitely wrong

---
*How* much???
http://www.ebay.co.uk/itm/Tolkien-The ... Books&hash=item4abd64cf26
- wellinghall

_________________

By
Khamûl


---
I really need to sort out my contents insurance! I have hundreds of these on my shelves & never guessed they were this valuable...

BH
_________________
BH
You drive a hard bargain – you can have it for £10 all-in – one consolation (for you) is that you do not have to hear the cries of my children, for bread...
---
And they sell on Abebooks for $629.68 ...

- wellinghall
_________________

1 ... 68 69 (70) 71 72 ... 162