1 ... 182 183 (184) 185 186 ... 320
---

garm wrote:
Laurin wrote: 'I have to see what idiot is buying this piece of trash.........'

Apparently some idiot is buying it - or something like it, from the same seller:

http://www.ebay.com/itm/EXCLUSIVE-The ... ain_0&hash=item33802948f6



I bet PJ is trying to negotiate the film rights to this, as we speak.
---
I sorry but this seller should know better than to advertise this item as a 1966 or 1968
Hobbit
, when in the pictures you can see it is a 1975
Hobbit
.
http://www.ebay.co.uk/itm/TOLKIEN-THE ... ction&hash=item1e7714f279
Some very confused quotes from the seller, seems to like Capitals for some reason.
"
TOLKIEN: THE HOBBIT; UK 3RD EDITION 1966 HB DW - RARE LORD OF THE RINGS RELATED

TRUE UK 3RD EDITION 10TH PRINT

Publisher: George Allen & Unwin Ltd, 1968 (10th impression)
"
That would be 1975 (the 10th printing of the Third Edition was printed in 1975), where has 1966 or 1968 come from?

By
garm


---
Take a look at the amount of typos here -
http://www.ebay.com/itm/1972-John-Tol ... mages&hash=item27d07f5a29
- IMO this seller just doesn't give a damn about the items he's selling, nor the people he's attempting to sell to.
By
Morgan


---
author of the epic trilogy "Ford of the Ring"
By
Khamûl


---
More
eBay
bargains...
Tolkien The Silmarillion 1st/1st True Uk Hardback 1977
(
Starting bid
:
£150
)
The seller says:
This book states First Published in 1977 copyright George Allen and Unwin (Publishers) Ltd,1977 which denotes a 1st edition 1st print isbn no 0048231398 Printed in Great Britain Billings and Sons ltd and it has the £4.95 price on the Dust-jacket whilst the Export version does not have a price.The Dust-jacket has not faded at all like most copies that i have seen recently see photos 1,2,3 and 10,11 for condition.It has some very light shelf-wear and a small little colour break on the back see pic 3.Picture 11 shows the price £4.95 where it looks like the protective film has bubbled i guess the air has got underneath and caused this over time. The book itself i believe has not been read and it sits flat,square is tightly bound with fresh,crisp white pages.There is no fading or foxing present at all or any inscriptions or dog-ears.The picture on page 121 is in picture 6 and the fold out map is like new see picture 5. The book has all the misprints that a True 1st/1st has these include; on page 330 line 4 a missing full-stop after Feanor and page 352 the text Lord of the waters and King of the sea is in Italics. This book is like new an Excellent example for the Top Author of his field. Who knows where else Peter Jackson will take his films he Has done the Lord Of The Rings,now the Hobbit and there has been rumours that something will be done concerning this book. International Bidders are Welcome but Paypal Only Please
Remember: this copy has no fading "at all"! (See below)
Still struggling to grasp why I'd consider parting with 150 big ones...
BH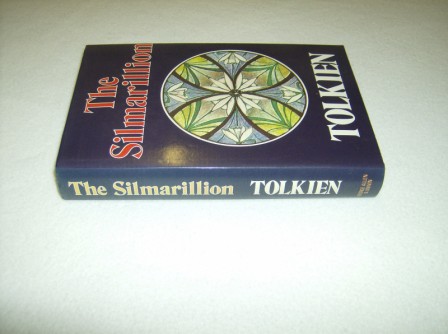 _________________
You drive a hard bargain – you can have it for £10 all-in – one consolation (for you) is that you do not have to hear the cries of my children, for bread...
1 ... 182 183 (184) 185 186 ... 320