1 ... 189 190 (191) 192 193 ... 320
By
Trotter


---

Laurin666 wrote:
Poorest Hobbit I've seen for a long time

http://www.ebay.com/itm/1938-Edition- ... tible&hash=item53f6e12354

"This book is used and in good condition"




I think the description from the seller of the following applies to both books, and
garm
's


"
by laurel on 2013/3/30 17:12:28

Blimey I hate to see an an utterly appalling copy !

http://www.ebay.co.uk/itm/J-R-R-Tolki ... em53f6f75dce#ht_244wt_912
"
"
good condition
" should be "
Crap copy!
"
---
Only $418.88
What a deal!
http://www.ebay.com/itm/Father-Christ ... ks_UK&hash=item589e3b73ee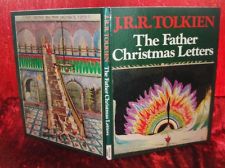 By
garm


---
Well, I can't make head or tail of the description for this map. No wonder there've been no bids.
By
Khamûl


---
This rare item was found in a first edition hobbit book purchased comic-con many years ago This book contains unique illustrations, maps, and short stories from Tolkien himself. There is also a letter to the editor regarding the uniqueness of this book and edition. Including a personal letter from the publisher guaranteeing the success of the book and its impact on future generations. This is a rare find. If you have any questions please contact me.
Yeh, I've tried; but all I get is:
i

We're sorry but we couldn't find an answer for you. Unfortunately, this seller is unable to respond to your question. We suggest reviewing the item again to see if your answer is in the seller's listing.
The seller talks about a book & a letter --but this seems to have more to do with finding the map, than part of the sale. Or is it? Who knows!?
BH
_________________
You drive a hard bargain – you can have it for £10 all-in – one consolation (for you) is that you do not have to hear the cries of my children, for bread...
1 ... 189 190 (191) 192 193 ... 320