Tolkien Signatures on eBay???
(1) 2 3 ... 10
---
Well, someone bought The Last Battle; I hope it was a good deal, but I wouldn't have bought it. I still remain extremely skeptical. From Laurel's comments, this supposed provenance seems really fishy to me.

Garm, to answer your question:
"Which book is that?"

I wasn't thinking of a book but the note on the wall of the Bird and Baby signed by all the Inklings. (See attached photo)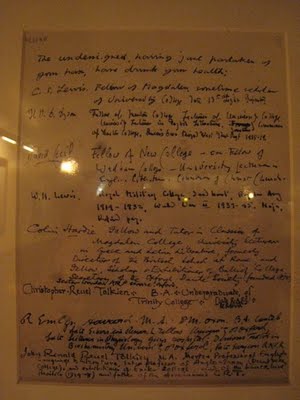 ---
Thanks for that. It's what I thought you meant; though I expect you know that this is a photocopy - probably taken from Carpenter's book 'The Inklings', and not (as the B&B would have us believe) a note from the inklings to the pub's landlord!

The note is from a letter of Lewis to Dr. Firor (12th march 1948). It's reprinted in the Collected Letters of CS Lewis Vol.II (1939-1949). The actual note is in the Bodleain Library. The book's editor, Walter Hooper, helpfully gives the shelf number.

I know of one example of a book signed by both Lewis and Tolkien and some of their friends in a group called the 'cave'. Carpenter mentions this group on p.56 of 'The Inklings'. It's a book of anti-war essays by Oxford undergraduates, published in 1938. The title is 'Would I Fight?'. It was given to Leonard Rice-Oxley of Keble College as a prize for the best reading at one of the Cave's meetings. it's signed by all eleven members present that night, inc. Elaine Griffiths. The page containing the prize inscription and the signatures was reproduced in a 1999 catalogue of the Oxford book-dealer Waterfields. See Scull and Hammond vol.2 p.959.
_________________

By
Findegil


---
Jlong and Mithrennaith's comments about the signed copy of The Last Battle are well taken. It is indeed very unlikely that Tolkien would sign one of the Narnia books, that the same copy would also be signed by Lewis, etc. Priscilla Tolkien took up a job in Bristol in 1952, but by 1958 had left there and was attending the London School of Economics, so it's no use bringing her into the question. And yes, there's that blue ink again.

We too have significant doubts about the "Higgins" letters. We've seen no evidence of Higgins, as Tolkien's doctor, friend, or otherwise, outside of the letters offered on eBay. The particular embossed Sandfield Road letterhead appears in none of the letters we've seen from that address -- that is, the address is correct, but the stamp is wholly different in its typeface and arrangement of lines -- or in any letters other than the "Higgins" letters seen online. The fact that the same stamp is used on a "Higgins" letter which refers to Edith Tolkien's death, long after Tolkien had moved from Sandfield Road, is curious, to say the least, and not convincingly explained away as leftover stationery since Tolkien typically struck through addresses when writing from another location, and at the time of Edith's death he had printed letterheads available. The style of typewriting (position, spacing, arrangement and breaks of lines) isn't characteristic of Tolkien, and in general nothing about the "Higgins" items reflects the sense of style and balance Tolkien typically brought to his typed letters. Nor did he tend to leave off dates. The signatures may look good -- with these too, though, we have our doubts -- but the rest doesn't hold together.

Laurel's comments about the provenance badly explained by the seller, and about the supposed letter to Walter Hooper, inspired us to look at the seller's other items being offered on eBay, and a very interesting selection it is. An "abstract watercolour . . . signed Francis Bacon": yes, it's signed "Francis Bacon", but is it by the well-known painter by that name, for whom an original watercolour priced at $295 for Buy It Now would be a serious bargain? The description doesn't say so in definite terms. What about a "double sided oil on canvas . . . signed Roger Fry"? An "abstract oil . . . signed Pollock"? Two ink and watercolour works "signed Aubrey Beardsley" (that is, the legend AUBREY BEARDSLEY is written in ink on a label on the back of the frame)? A letter from the King of Samoa (which could well be genuine in itself) "owned by Robert Louis Stevenson" (the only evidence for which seems to be a separate typewritten note reading FROM THE PRIVATE COLLECTION OF ROBERT LOUIS STEVENSON)? And it goes on.

Wayne and Christina
---
This item sold for over £500 to someone with more money than sense. I will give it three weeks before we see another 'exciting' item from this seller.

By
collector


---
Jlong, if you are skeptical about these "Higgins" you have not too much idea about Tolkiens life. These letters are original. Dr. Higgings was his family doctor and they gone several times on holidays to Milford.
In order to know if a Toliken signature is original you must do a very deep study on it, any other opinion are very frivolous....
---
Hello collector .Welcome to the forum.
I am sorry but you have missed the point here. We know Tolkien went on holiday to Milford and doctor was Higgins at one stage in life but why would he write letters, not post them and then leave in the loft so his cleaner/ friends could gather just before house was demolished, along with signed books? Or was the signed Hobbit recently sold by said seller a 'sleeper' book- i just cant remeber his story changed that much!
How are you so sure they are original ? You sound very informative ? Have you done deep study on it?
_________________

---
To my knowledge, Wayne and Christina remain the best authorities on Tolkien and his life. As they observe, "We too have significant doubts about the 'Higgins' letters. We've seen no evidence of Higgins, as Tolkien's doctor, friend, or otherwise, outside of the letters offered on eBay."

Collector, if you have further evidence that could prove otherwise, I'd be more than interested in what you might have to say.
_________________

By
Ardamir


---
---
Can't say I've seen a Tolkien signature with what looks like an 'X' type mark where the 'k' should be. I think it's a fake.
_________________

---
Quote -

"and of course Tolkien did come from this area."

Say no more!
_________________

(1) 2 3 ... 10