(1)
2
---
Another new Tolkien at Oxford podcast
http://rss.oucs.ox.ac.uk/oxitems/gene ... rd-audio&destination=poau
The Hobbit at the Bodleian: World Book Day

13 April 2010

Judith Priestman, curator of the Bodleian library, discusses the World Book Day 2010 exhibition, where a selection of J.R.R. Tolkien's original artwork which was used to illustrate The Hobbit, was on display to the public.
---
An interesting episode of the
Biblio File
podcast (
http://nigelbeale.libsyn.com/
) which deals with a large range of topics, author, book seller, bibliographers, etc. interviews.
This one is with Professor Iain Stevenson on the history of 20th Century British Publishing Houses and has some interesting comments on George Allen, G&AU and Sir Stanley Unwin.
Iain Stevenson has worked with Longman, Macmillan, Pinter, Leicester University Press, Wiley, and The Stationery Office. In 1986 he founded the environmental publisher Belhaven Press. He created the award winning MA in Publishing Studies at City University London and was a Professor in the Department of Journalism and Publishing there between 1999 and 2006. He is active on the governing and advisory board of the Publishers Association. Current research is centred upon the history of British publishing and the applications of new technology in publishing, especially e-books and alternatives to the printed monograph in academic and scholarly communication. We met recently to talk about his excellent new book, Book Makers: British Publishing in the Twentieth Century, published by British Library.
http://traffic.libsyn.com/nigelbeale/Iain_Stevenson_801014_01.mp3
---
Interview: Tolkien and Wales - Dr Carl Phelpstead
Caleb Woodbridge interviews Dr Carl Phelpstead, author of 'Tolkien and Wales: Language, Literature and Identity', recently published by the University of Wales Press. Tolkien once wrote: 'I love Wales - and especially the Welsh language'. In this episode, we discuss with Dr Phelpstead how Welsh influenced Tolkien's ideas about language and his fiction, especially The Hobbit and The Lord of the Rings. We also discuss Tolkien's place in the university today, and what the future might hold for the academic study of Tolkien. Dr Phelpstead is a Reader in English Literature at Cardiff University. His areas of research include Old Norse and Medieval English literature. Dr Phelpstead has published widely on Norse sagas and other medieval literature and has contributed to The J.R.R. Tolkien Encyclopaedia and Tolkien Studies. Length: 20 minutes
http://impossiblepodcasts.blogspot.co ... en-and-wales-dr-carl.html
---
From the One Ring.net
A discussion on Tolkien was held on the Irish radio station Newstalk last Sunday. Their "Talking History" program covered Tolkien's life and how that influenced his writing. Guests included Julianne Stephens, Conor Kostick, Stephen Benedict, John Garth and Simon Tolkien
---
A podcast with Tom Shippey, excellent and highly recommended.


http://news.mymiddle-earth.net/2012/0 ... erfeed&utm_medium=twitter
http://menetspecials.mevio.com/?action=embed-flash
By
garm


---
Thanks, Trotter. I've just listened to it; I think it's marvellous!
_________________

---
BBC Radio 4 - In Our Time
Icelandic Sagas Thursday 9th May 2013The Icelandic Sagas were first written down in the 13th century and tell the stories of the Norse settlers who began to arrive in Iceland 400 years before. They contain some of the richest and most extraordinary writing of the Middle Ages. Full of heroes, feuds, ghosts and outlaws, the sagas inspired later writers including Sir Walter Scott, William Morris and WH Auden. Melvyn Bragg is joined by Carolyne Larrington, Fellow and Tutor in Medieval English Literature at St John's College, Oxford; Elizabeth Ashman Rowe, University Lecturer in Scandinavian History at the University of Cambridge and Emily Lethbridge, Post-Doctoral Researcher at the Árni Magnússon Manuscripts Institute in Reykjavík.

http://downloads.bbc.co.uk/podcasts/r ... ot/iot_20130509-1045a.mp3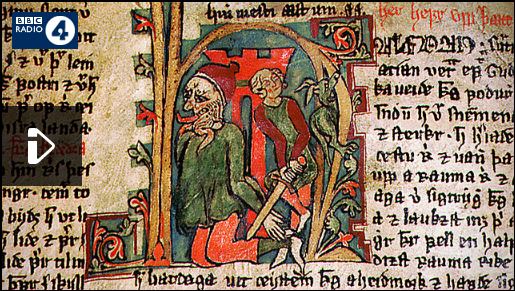 (1)
2