What do people think of this item
(1)
2
3
---
Can't afford to buy this, but I'll hopefully be able to go and have a look at it on Tuesday.
My copies also looked the same as these, sadly that was in 1963 not 2010

---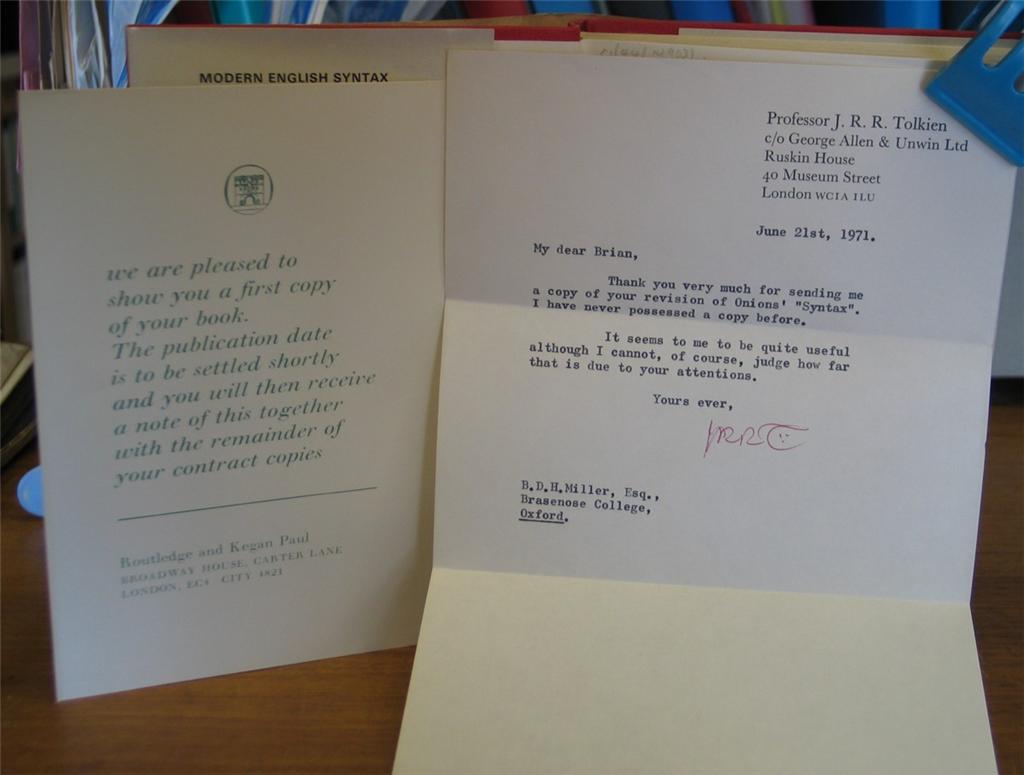 ---
I don't know any more about the notepaper (or the sig) than you do, Trotter. But my gut feeling is that this item is 'right'.


I've had correspondence with the vendor before, years ago. I think he's sound. As far as I can see, someone paid a fair price for a nice little associate item. (still a little rich for my blood at the moment, though).
_________________

By
Findegil


---
Tolkien was supplied this letterhead by Allen & Unwin, so that his correspondence would be channeled through them and he could keep his home address private. We've seen examples before. Also, the font matches that of Tolkien's usual typewriter of the period (but the deep indents suggest secretarial typing), and although the form of initials is unusual, we have no doubt that the handwriting is Tolkien's.

B.D.H. Miller was one of Tolkien's B.Litt. students, 1952-1956, working on the Middle English fabliau Dame Sirith - see Chronology, first reference p. 382, last p. 486.

Wayne & Christina
---
Thanks for your invaluable comments
garm
and
Wayne & Christina
.
I decided myself that my doubts were wrong and I bought the item

Dame Sirith
is in Middle English (1275-1300) and I can recommend that you consult
A Middle English (Glossary or Vocabulary)
by
J.R.R. Tolkien
when reading it.
http://books.google.co.uk/books?id=UH ... e&q=Dame%20Sirith&f=false
---
Cool item, Trotter.
I'd have to agree with Garm: (still a little rich for my blood at the moment, though).
_________________

---
Ah, so you bought it, Trotter? And went with your instincts; well done!

I like this piece - I've not seen many of Tolkien's letters, so the salutation 'My dear Brian' - is new to me. I'm reminded of a letter to Rayner Unwin in which Tolkien comments that he was of a generation which used last names almost exclusively. Same with the signing off; 'yours ever' - a sign of a relaxation of formality in Tolkien's later years?
And I _love_ the sig. Never seen one quite like that before, with the dots almost forming a face; and the colour is very attractive, too. A nice piece!
_________________

---
I second that. A very nice piece, indeed!
_________________

By
Khamûl


---
Heavens! Don't want to think what you paid Trotter --way, way out of my league. Maybe I should buy you a drink in Moreton...

BH
_________________
BH
You drive a hard bargain – you can have it for £10 all-in – one consolation (for you) is that you do not have to hear the cries of my children, for bread...
---
I'll probably bring it with me to Moreton, so you can see it then
(1)
2
3