What do people think of this item
1 (2) 3 4 ... 6
---
Can't afford to buy this, but I'll hopefully be able to go and have a look at it on Tuesday.
My copies also looked the same as these, sadly that was in 1963 not 2010

---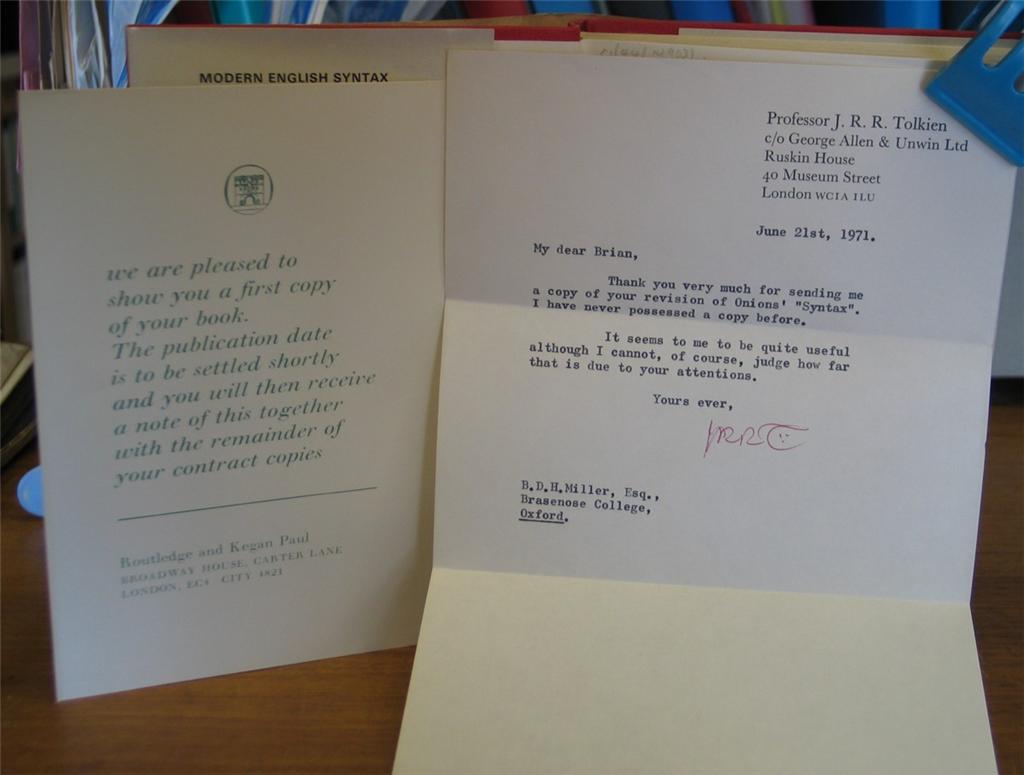 By
garm


---
I don't know any more about the notepaper (or the sig) than you do, Trotter. But my gut feeling is that this item is 'right'.


I've had correspondence with the vendor before, years ago. I think he's sound. As far as I can see, someone paid a fair price for a nice little associate item. (still a little rich for my blood at the moment, though).
By
Findegil


---
Tolkien was supplied this letterhead by Allen & Unwin, so that his correspondence would be channeled through them and he could keep his home address private. We've seen examples before. Also, the font matches that of Tolkien's usual typewriter of the period (but the deep indents suggest secretarial typing), and although the form of initials is unusual, we have no doubt that the handwriting is Tolkien's.

B.D.H. Miller was one of Tolkien's B.Litt. students, 1952-1956, working on the Middle English fabliau Dame Sirith - see Chronology, first reference p. 382, last p. 486.

Wayne & Christina
---
Thanks for your invaluable comments
garm
and
Wayne & Christina
.
I decided myself that my doubts were wrong and I bought the item

Dame Sirith
is in Middle English (1275-1300) and I can recommend that you consult
A Middle English (Glossary or Vocabulary)
by
J.R.R. Tolkien
when reading it.
http://books.google.co.uk/books?id=UH ... e&q=Dame%20Sirith&f=false
1 (2) 3 4 ... 6