Khamûl

Aug 17, 2010
2010/8/17 12:32:34 (GMT) Greenwich Mean Time, London, Dublin, Lisbon, Casablanca, Monrovia
Sorry, one last point: Andy's
PoME
wasn't worth £830 in 2007 either!

BH

Beren

Aug 17, 2010
2010/8/17 15:09:33 (GMT) Greenwich Mean Time, London, Dublin, Lisbon, Casablanca, Monrovia
In my book there is no such thing as aiming to make "as much profit as possible", in fact my rule is very tight on that matter (and I know David uses the same law in setting a price). We most of the time work with a fixed margin we aim at (that mostly includes free shipping costs, insurance and possibility for a reduction)... resulting in that when we manage to track down a very rare copy and after some negotiating pay a certain amount (mostly depending on what we believe the book can be sold for); the selling price is already set in the process. So sometimes we get lucky and are able to sell some books at a price we think is very good or lower then we would actually estimate it. But since we were able to buy it cheap we can offer it cheap. Some dealers prefer to add a lot extra, but we prefer selling and finding a collector to treasure this rare book above making monster profits. Guess it is because we truly love to 'find' books and find our pleasure in the 'hunt' and not so much in the 'gain'.

Of course, since we are collectors ourselves, we always find it hard to sell some pieces or do not think it is time yet to sell some pieces... I know Rene also follows that rule... it indeed happens we list books at prices we do not expect to sell at. An example was the Cor Blok painting Rene had listed on his website, he did not expect to sell it at the asking price, but was willing to let it go if someone was crazy enough to pay 'that amount' for it. It did however sell and both parties are happy. So does it mean this painting is worth this price? Not really, but some collectors do spent crazy money to obtain unique items like that.

As for myself, I only started selling books to be able to buy books and only made it into a 'real' bookstore because I ran into trouble with the Belgian authorities, who forced me to 'legalize my hobby' because the money involved was getting too big (this happens when buying 1st impression Hobbits ;) ). Still in the process I learned a lot and bought and sold a lot and I see my personal collection as something fluid. As for now I think it was years ago that I actually bought anything from ebay or abebooks, since I use other sources to acquire my books. While the normal book market has nearly crashed completely the top books sell just as before.

When you would decide to move into this field, here are some things that are of value. Collectors only buy the best pieces, like mostly the earliest forms possible (1st impressions or proofs), true limited editions (not the books that were released the last couple of years),...

Very important are dust jackets, for example the 1st US The Hobbit jacket is in itself more valuable then the book itself. Any flaw in the jackets can reduce the value of any book enormously.

As for signed books there are some huge differences as well. One should always look how the book is signed, is it on the title page or on the front page (huge price difference already), is the signature of the same period as the book or was it signed much later (again a huge price difference), is it an association copy or only a signature, is there a dedication,... in fact when dealing with rare books any flaw, any little abnormality can completely kill the value.

Same goes for letters,... for example I tend to stay away of typed letters and only like handwritten ones. Value is mostly determined by the content and the amount of pages. If you go on ebay you either find fakes or you pay big time, on abebooks you almost need to be a very rich person to be able to acquire anything. The only good way to acquire letters is through the smaller auction houses. But be careful, if you notice any flaw, any abnormality,... don't buy it and stay away from it. Always go for absolute quality.

The value of books... it is a very long story. For me the most valuable books are still books that mean something personal to me. Every book I have has a story and some books are there for priceless. Some books will never leave my house and not because they can be worth tons of money, but because how I personally feel about them. This is the true value of books and no money can buy it. I guess you need to be a collector to understand!

Aug 20, 2010
2010/8/20 11:24:36 (GMT) Greenwich Mean Time, London, Dublin, Lisbon, Casablanca, Monrovia

loonka

Aug 23, 2010
2010/8/23 12:07:10 (GMT) Greenwich Mean Time, London, Dublin, Lisbon, Casablanca, Monrovia
bruffyboy, interesting blog. I look forward to future instalments

Aug 23, 2010
2010/8/23 13:18:18 (GMT) Greenwich Mean Time, London, Dublin, Lisbon, Casablanca, Monrovia
On the question of Folio Society editions - it's interesting you raise the matter of the paper used in the production. This is Caxton wove paper, which is very nice and all that; but this latest ed. of the Folio LotR seems a bit, well, lightweight to me, and I think that's partly due to the paper, as well as the 'vegetable parchment' boards, which I don't much like.

The original Folio set was a very different matter; very solid, quarter bound in leather and using a superior paper, called 'Guard Bridge Silver City' which has lost none of its colour or crispness over the years.

I really like the 1990 'Elephant hide' set, with its pattern of rings on the front covers of the books. The red topstain is the colour of blood, and the head and tail bands really set the books off nicely. This ed. uses 'Monument' wove paper.

If future values are of concern to you, then the one to go for would probably be the limited edition of 2002. This, with its corresponding editions of TH and Silm, is a very nice looking set; printed on 'St. Paul's' wove paper, and quarter bound in Morrocan goatskin with sides of Indian silk. Only 1750 numbered copies of each; I imagine they sold out fairly quickly?

I like the illustrations; Eric fraser is an extremely accomplished illustrator. The pictures were actually made by the then Princess Margarethe (now H.M. Queen Margarethe) of Denmark, who loved LotR so much, she made a series of drawings based on the story and sent them to Tolkien, who was very taken with them. However, they're not really up to publication standards, so Eric Fraser was asked to 'realise' them for publication, and I think they work very well.

Aug 23, 2010
2010/8/23 17:58:46 (GMT) Greenwich Mean Time, London, Dublin, Lisbon, Casablanca, Monrovia
Fascinating stuff Garm. I think the 2002 limited editions would pretty much constitute one of my top three Tolkien editions, but those prices!!!

Aug 23, 2010
2010/8/23 21:13:48 (GMT) Greenwich Mean Time, London, Dublin, Lisbon, Casablanca, Monrovia
Out of interest -

- what would be the other two in your top three 'wish list'?

Gawain

Aug 23, 2010
2010/8/23 21:51:49 (GMT) Greenwich Mean Time, London, Dublin, Lisbon, Casablanca, Monrovia
On the subject of the Folio Editions, you may be interested in knowing that there was a Danish translation boxed set of Lord of the Rings also published in 1977 coinciding with the original Folio one which also used Fraser's drawings of Queen Margarethe's originals.

I attach some photos.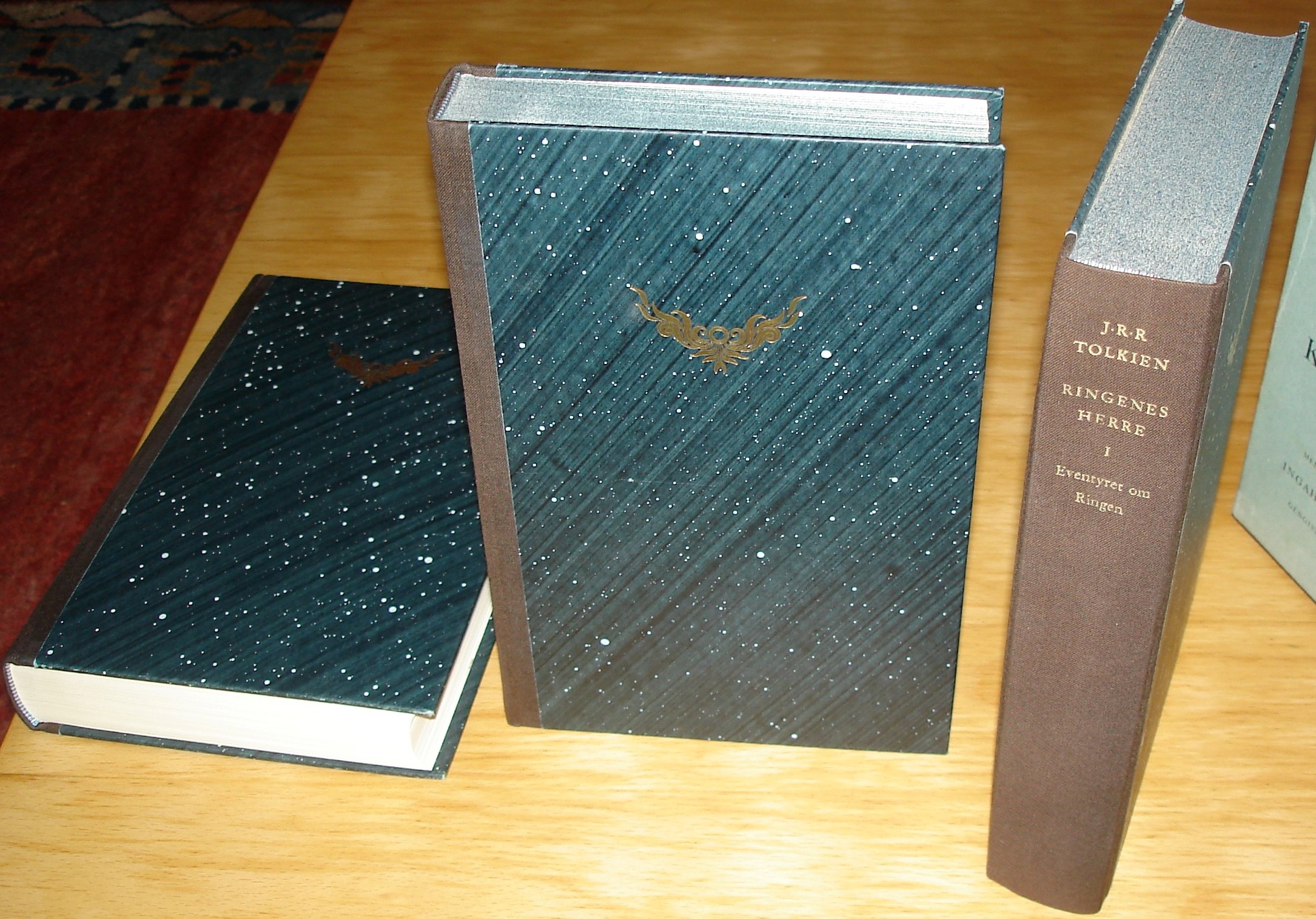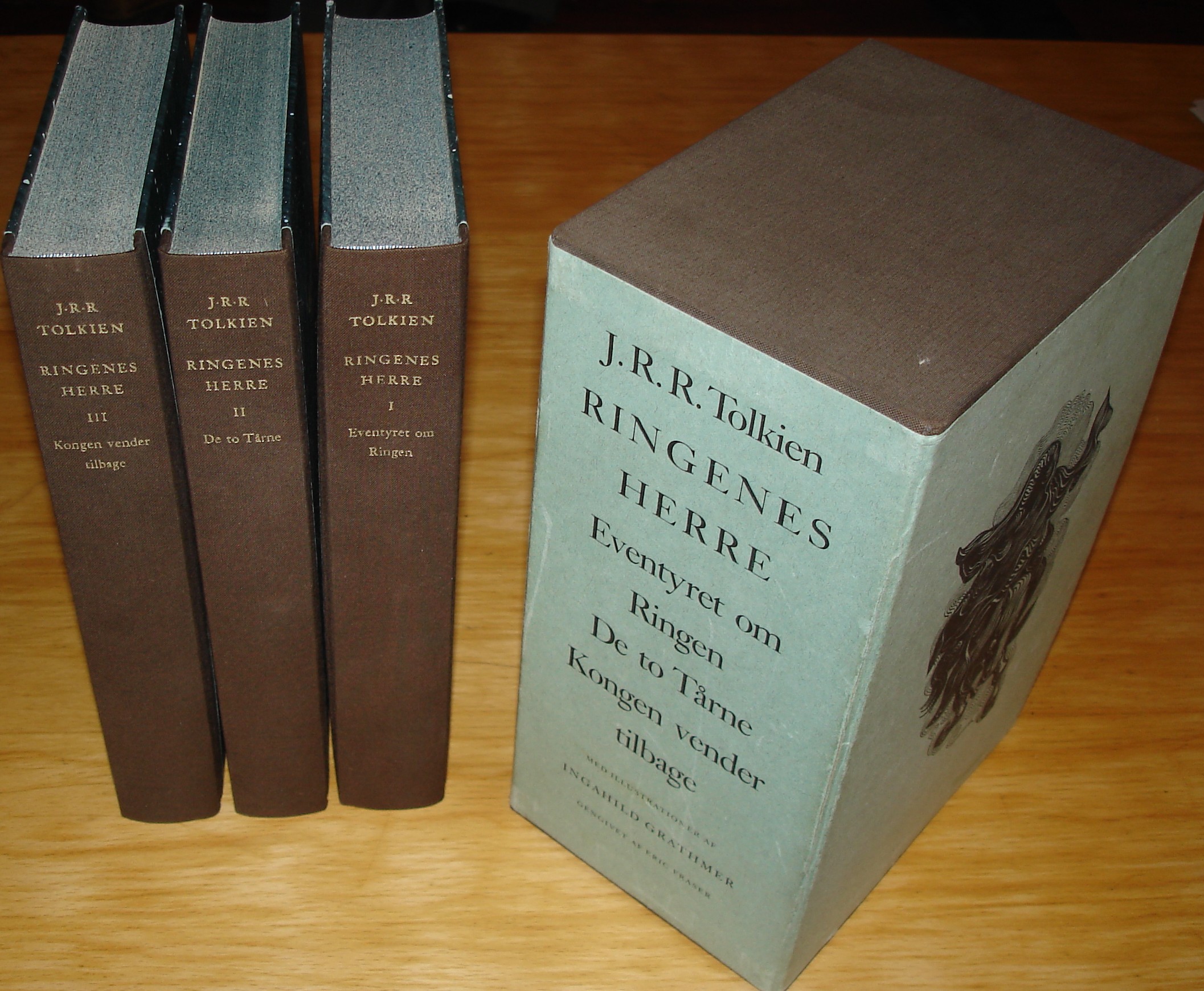 Aug 23, 2010
2010/8/23 21:58:54 (GMT) Greenwich Mean Time, London, Dublin, Lisbon, Casablanca, Monrovia
Thanks very much for that, Gawain. I'd heard of this set, but I don't think I've seen a picture before.
I don't go in much for translations, myself. (that would take up a lot more room!)

Aug 24, 2010
2010/8/24 10:19:49 (GMT) Greenwich Mean Time, London, Dublin, Lisbon, Casablanca, Monrovia
My top three wish-list (by which I guess I mean I don't have the funds for them) would be:

1) 1963 deluxe box-set with Pauline baynes art.
2) 1992 lotr green box-set signed by Alan Lee and limited to 250 copies
3) The deluxe folio editions

Yours?