1 ... 8 9 (10) 11 12 13
By
Stu


---

Beren wrote:
I'm sad that since the fake signatures somehow everything is being questioned. This person was 100% certain commissioned to demolish Tolkien's house and 100% certainly is selling the fireplace that was ordered by Tolkien according to his own wishes. The seller has been in & out of Miramar hotel and there has been speaking with members of the Tolkien family. The offer was indeed made and so far not accepted (because I do have another buyer interested in the lot, but in talks). Why always is it needed to be so negative when it comes to large amounts?
Why doubt the provenance, while all items have been in and out the news before several times. Anyways, I'm going to stop posting on this thread for the time being.
Honestly, I think this stuff is utter crap. Do we want to preserve Tolkien's toilet paper dispenser, his toothbrush, his kettle or washing machine? I mean, it was owned by Tolkien, so it must be worth a bundle, right? And it is a real historical artifact with value to a scholar, surely. Er, no. Just because someone famous owned a thing it doesn't mean it has any intrinsic value beyond the basic value of the item had it been owned by the local nobody.
Now something Tolkien produced, that was a product of his intellect - yes, I think that has value. Something he purchased and installed in his house? Nope, that's just "stuff" and it is meaningless and IMHO worthless. Every time I see that fireplace advertised, it irks me, because it feels like exploitation of ill informed idiots. No offence intended, but that is how it feels to me.
When I saw that stuff advertised some time back, I felt a cynical line had been crossed.
Stu
---
This reminds me of "
Tolkien's Gown and Other Stories of Famous Authors and Rare Books
"
Rick Gekoski
was asked very similar points when he sold Tolkien's gown.
http://www.amazon.co.uk/Tolkiens-Othe ... ous-Authors/dp/1845292391
It is an interesting book on book selling, and he was very much criticized on selling items like Tolkien's gown.
By
Khamûl


---
I enjoyed reading that book; very entertaining...
I think provenance, is really all
garm
is getting at here.
(Beyond that, I'm sure he has no interest in Tolkien's furniture!

)
BH
_________________
BH
You drive a hard bargain – you can have it for £10 all-in – one consolation (for you) is that you do not have to hear the cries of my children, for bread...
---
Khamul - quite right!

_________________

---
I'd still like to know -

"The seller has been in & out of Miramar hotel and there has been speaking with members of the Tolkien family."

Which members of the family, Beren?
_________________

---
No answer so far, either from Beren or Enotsekra. Oh, well... the latter's name has gone down the pan as far as I'm concerned; and I'm sorry to say that Beren's is getting close to going the same way.

Clearly there is nothing to connect this stuff with the Tolkiens - except the postcard, which was not written by Lin Carter. Bit of a waste of time really, but what annoys me most is the presumption that we ought to believe this rubbish just because we're told it, without any backing-up.
_________________

By
laurel


---
Sorry khamul!

Now here is a lucky find. It arrived today and looks better than I hoped. Slight crease on spine but pages tight and clean and it includes the 'friends' label.

I think for £125 is was a bargain and just goes to show they are still out there !

Think my Sil's done now bar red super deuxe edition.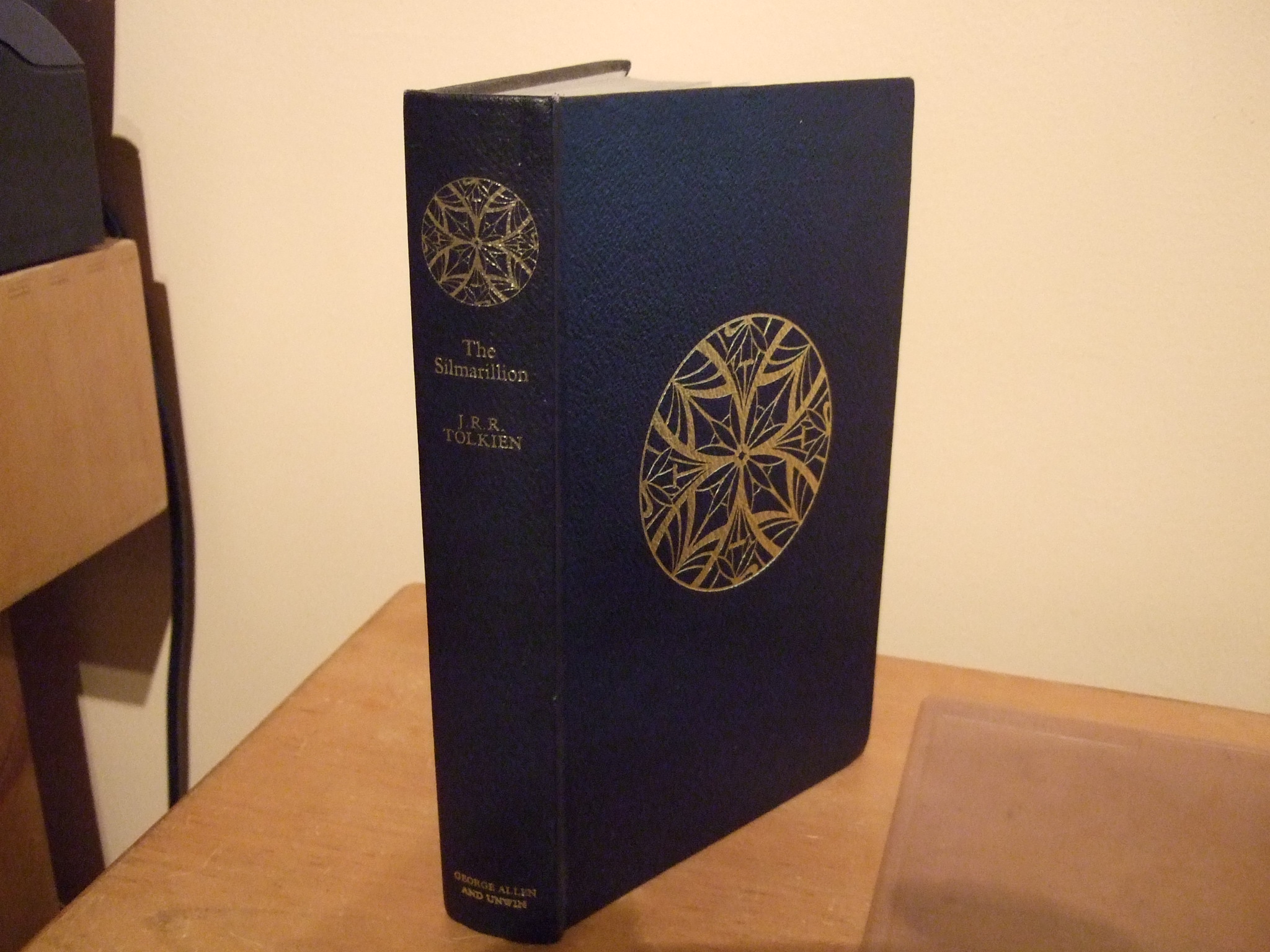 By
Laurin666


---
Congrats laurel, I was some minutes too late for this. But perhaps I have more luck with a Methuen Sil next time.
But heres another lucky find.
http://www.ebay.co.uk/itm/19077049931 ... _trksid=p3984.m1497.l2649
Though it's hard to find something these days.
_________________
Ernest Hemingway said:
"You needn't bother going anywhere else. I can tell you: you can't beat Munich, everthing else in Germany is a waste of time".
---
It appears that somebody has offered £50K for "Tolkien's fireplace", good luck on getting any provenance that it was in the house when the Tolkien's lived there.
I have no reason to think it was

He is still claiming that the postcard, valued at £795 (no indication on who valued it) is by Lin Carter, what an idiot.


http://www.bournemouthecho.co.uk/news ... __50k_bid_on_eBay/?ref=nt
---
Wasn't it 'Bruce' who offered that amount, and was turned down? I can't find the ebay page at the moment.

The cynical among us might feel that the seller is just using the non-sale of the fireplace to get an item into his local paper. I agree, he's not likely to sell without provenance - which reminds me; is Beren around?
.
_________________

1 ... 8 9 (10) 11 12 13