1 ... 35 36 (37) 38 39 ... 213
---
Well I received the Pocket Roverandom yesterday, and I'm happy enough with it. Nice cover and the paper is reasonably non toilet-paperish.

I have to say, though, I think the "novelty" pocket format is basically too small. I would have MUCH preferred an edition that matched the recent "Mr Bliss" and "Letters from Father Christmas". Those books are far easier to hold and read.
By
Trotter


---
The Hobbit/The Lord of the Rings
Delve into Tolkien's Middle-earth with this special collector's hardback boxed set. Presented in sumptuous new cover designs discover the complete story of Bilbo Baggins and the Hobbits' epic encounters with Gandalf, Gollum, dragons and monsters, in the quest to destroy the One Ring.
Pub Date:
24 October 2013
Format:
Hardback Collector's edition
(not a film tie-in



)
ISBN:
978-0-00-752293-4
Price:
£59.99
http://www.tolkien.co.uk/titles/83585 ... r-r-tolkien-9780007522934
You can see the covers in what should be final colour's on my previous post, but I have re-posted them as well.
http://www.tolkienguide.com/modules/n ... t_id=12263#forumpost12263
Thanks HarperCollins for this set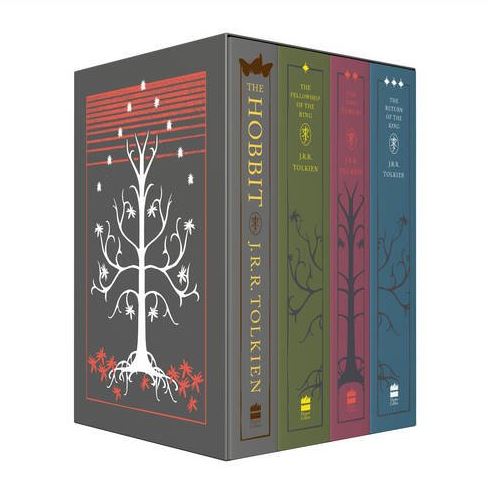 By
Laurin666


---
Very nice set. I have directly cancelled my pre-order at amazon for the separate books, and ordered the box.
Perhaps bookpeople will have the separate books also with dj.
_________________
Ernest Hemingway said:
"You needn't bother going anywhere else. I can tell you: you can't beat Munich, everthing else in Germany is a waste of time".
By
Urulöké


---
I must say that is one of the nicest boxed sets (incoporating the book spines as well) that I have ever seen for Tolkien's major works. Many kudos to the design team that put this together!
_________________
- Jeremy
---
Looking forward to this one!
1 ... 35 36 (37) 38 39 ... 213