Fantastic (magazine) November 1976
(1)
2
3
---
Just wanted to give a heads up on a quite obscure magazine (at least for us non-Americans!):
Fantastic: Sword & Sorcery and Fantasy Stories
November 1976 (Vol. 25, No. 5). My copy arrived today, and it can be found for what I regard as decent prices at Amazon.com (currently it seems like no copies are listed on eBay):
http://www.amazon.com/Fantastic-Sorce ... TF8&qid=1328011809&sr=8-3
It includes the article "White Wizard in Tweeds" by L. Sprague de Camp, upon which he based the chapter "Merlin in Tweeds: J.R.R. Tolken" included in his
Literary Swordsmen and Sorcerers
.
As in the book chapter, the article in
Fantastic
provides a few quotes attributed to Tolkien.
---
And in case you already have de Camp's
Swords and Sorcery
(
Beren
seems to have sold his
signed copy
!), you might also want to get it for pure aesthetic concern - they make a nice pair on the bookshelf, having a similar yellow letters on a black background!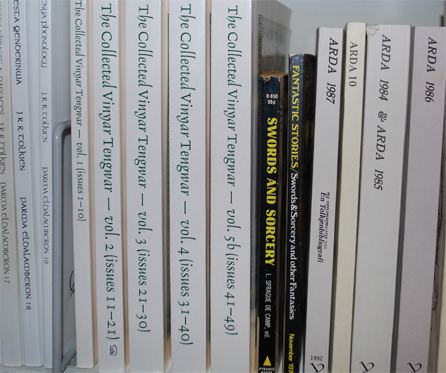 ---
no it is back again...
http://www.tolkienlibrary.com/dmiller/000971.htm
by the way... I have been trying for hours and hours to transcribe this, but it is the hardest piece of Tolkien scribbles I have seen EVER... maybe we could set up a project here and try with many people to get this done?
By
Aelfwine


---
If you could send me (Carl Hostetter) a clean scan I'm pretty sure I could transcribe most if not all of it. (I've seen, and transcribed, worse from Tolkien's pen!)
---
Ok you will send it over Carl! Exciting!
(1)
2
3