(1)
2
---
Is it me, or is this Folio Society 1st "Hobbit" a lighter shade of brown than normal?
http://www.ebay.co.uk/itm/Hobbit-J-R- ... ks_UK&hash=item19ce08904d
- wellinghall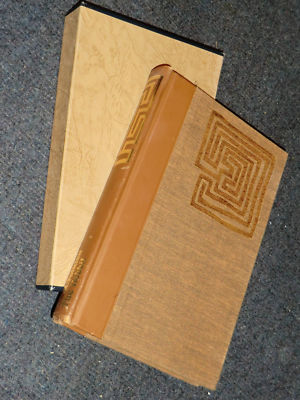 By
Khamûl


---
It's just you!

Naw, even if it does
appear
lighter, probably just the photograph, rather than the actual book; or at least that would be my first guess.
BH
_________________
You drive a hard bargain – you can have it for £10 all-in – one consolation (for you) is that you do not have to hear the cries of my children, for bread...
By
Findegil


---
We were initially interested in a Ballantine Hobbit/LR set which sold on eBay yesterday, because the photo showed it in a light metallic blue box, we don't have this set in a blue box, and long ago we had heard a rumour of a blue box. But we queried before the auction and learned that the box was actually gold, the photo had just come out wrong.

Wayne & Christina
---
i was the one that ended up getting this book, so i will let you know if it is a lighter shade or as i suspect just the lighting effect that is from the flash on the camera. The photo of this book on Tolkien books looks very much the same as well.

I bought a copy of the lord of the rings 1997 deluxe Indian paper edition with the quarter leather, which on the photo appeared to be brown, but as we know is black. I was a little anxious but the ebayer assured me it was just the flash and luckily for me it was, so i am hoping the same will happen this time.
---
Thank you, Cumbrian Dwarf; and I hope you enjoy your new book!

- wellinghall
(1)
2