Interesting eBay Auctions
1 ... 40 41 (42) 43 44 ... 78
By
Stu


---

laurel wrote:
Stu
to make you feel better
1 - I paid the same amount as you 4 weeks after you brought yours ?!?!?
2 - My selling exp tells me you could sell for that sort of figure today if you wished so not lost any money
3 check out this one - suprised no one highlighted it . It went for even more!
eBay Item #171032433908


Thanks, Laurel. Hopefully I will never need to sell it, as if this book is getting sold, it means everything else I own is likely going too!
By
Khamûl


---
Over your dead body...

BH
_________________
BH
You drive a hard bargain – you can have it for £10 all-in – one consolation (for you) is that you do not have to hear the cries of my children, for bread...
---
Set of deluxe UK books (including the slipcase it appears) for a reasonable price. Includes an Alan Lee signed Tales of the Perilous Realm.
eBay Item #111066841925
_________________
- Jeremy
By
Laurin666


---
Nice set, but shipping to Germany would be £142 and he wouldn't change shipping method :(
_________________
Ernest Hemingway said:
"You needn't bother going anywhere else. I can tell you: you can't beat Munich, everthing else in Germany is a waste of time".
---
I see he has just reduced price Laurin.
Still £142 sounds very high. It would be cheaper to send in say 3 lots

I got thinking about this dilema of postage and recent posts re costs from US and maybe i am going off piste here but couldnt we as a group get something organised between us?

Some disadvantages i know but at least then we could buy worldwide in safety of getting postage at a decent rate , no OTT taxes etc etc
Just a thought - any views ?
_________________

---
Yes, I noted also that he dropped shipping by about 33% (for me, to USA) and also took off £25 from the bidding price/BIN price. Coming closer to a really good deal for this boxed set!

Re: combining shipping - I would have no problem aggregating a couple of people's orders in the USA and then shipping an M-Bag to a foreign location, but have so far not found the right people to make the economics work out. When you combine (a) all the piecemeal shipping from various sellers to me, (b) the M-Bag costs, then (c) the piecemeal shipping from the recipient of the M-Bag to all the various buyers, it gets close enough to not be worth the hassle. For a single buyer (for example) who wants to combine a bunch of small orders to me then get the M-Bag, it would make a lot more sense. If this is you, contact me and we can discuss (and then report to the larger group if we try it and it works).
_________________
- Jeremy
---
Good points Jeremy and maybe it needs some more thought.

But i do think for right circumstances it would work.
ie say a seller refuses to post to UK from US or vice versa then in theory we could use each other (postal costs accepted) just to get that 'wish' item.

I had a good example earlier in year where seller refused to send even though I was more than prepared ot pay postage rates. A shame for him and me as it sold for less than i offered!

Recent box set is another example maybe?
This being said the hassle factor does come into it admitidly
_________________

---
Good points Laurel,

I have acted as intermediary for international shipping before (X buys something on eBay, has it shipped to me, I repack for international shipping and send it on) and I have paid friends (here on TCG!) to receive items in the UK and forward on to me as well. Also I have had someone (here again) hold on to a few packages for me as I was going to travel to the UK and could bring things back in my luggage.

I am going to move this to another thread because I want to get more feedback from regulars.
_________________
- Jeremy
---
Back on topic:
Reasonable condition "Bilbo's Last Song" poster from the 1970s (Pauline Baynes artwork) on eBay right now at a good price.
eBay Item #
www.ebay.com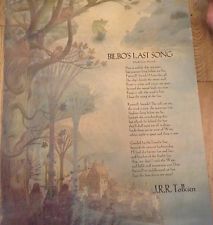 _________________
- Jeremy
---
£525 for the recent Ted Nasmith Sil
Well done if anyone here won it- a nice book.
Nver know it might be number 1 !
_________________

1 ... 40 41 (42) 43 44 ... 78