Interesting eBay Auctions
1 ... 76 77 (78) 79 80 ... 147
By
Khamûl


---
And I have a spare set too...
(--that I'm still trying to flog!

)
BH
_________________
You drive a hard bargain – you can have it for £10 all-in – one consolation (for you) is that you do not have to hear the cries of my children, for bread...
By
Elwë


---

laurel wrote:
There are some good cheap LOTR first editions at moment as well
http://www.ebay.co.uk/itm/11105015832 ... _trksid=p3984.m1423.l2649

http://www.ebay.co.uk/itm/27118722998 ... _trksid=p3984.m1423.l2649




Just curious how people feel about the second set here, with laminated dust wrappers. Preserved, yes, but...... ?
By
laurel


---
Yes i noticed that. They wouldnt be for me but for someone just starting collecting Tolkien or with limited funds I dont imagine they will go for a massive amount and would be a good way to buy a relatively cheap set of first editions.
By
Laurin666


---
Not quiete sure where to post this one....
http://www.ebay.co.uk/itm/JRR-TOLKIEN ... ks_UK&hash=item2c6e1f2aa3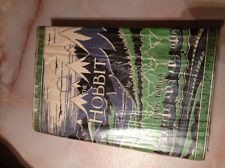 _________________
Ernest Hemingway said:
"You needn't bother going anywhere else. I can tell you: you can't beat Munich, everthing else in Germany is a waste of time".
By
Trotter


---
1 ... 76 77 (78) 79 80 ... 147