(1)
2
---
I recently sold a copy of the 1998 First Edition Hardback of Roverandom (ISBN 0261103539) on Ebay. I described it as a first printing because it had the number line: 1 3 5 7 9 8 6 4 2. I'm not a super experienced collector, but I was under the impression that this signified a first printing because of the 1. I know that most number lines go to 10 and are often in ascending or descending sequence, but I also know there are many variations among publishers. The reason I ask is that the buyer is convinced that it is not a first printing because of the absence of 10. He's insisting that a book with anything less than 10 numbers in the number line is not a first printing. This doesn't make sense to me when I look at another HC book with the number line 7 9 8 6. Why remove "10" and then 1-5? Perhaps I'm just too much of a novice. I don't have the Hammond Bibliography. Could someone enlighten me? Did I sell a first printing or not?
---
The same buyer also was also unconvinced about a copy of the 2012 HC Hobbit Collector's Edition that I sold him. I'm quite sure it's a first printing as later impressions have an indication beneath the "Collector's Edition published by..." line on the copyright page. Is this correct? Page is attached.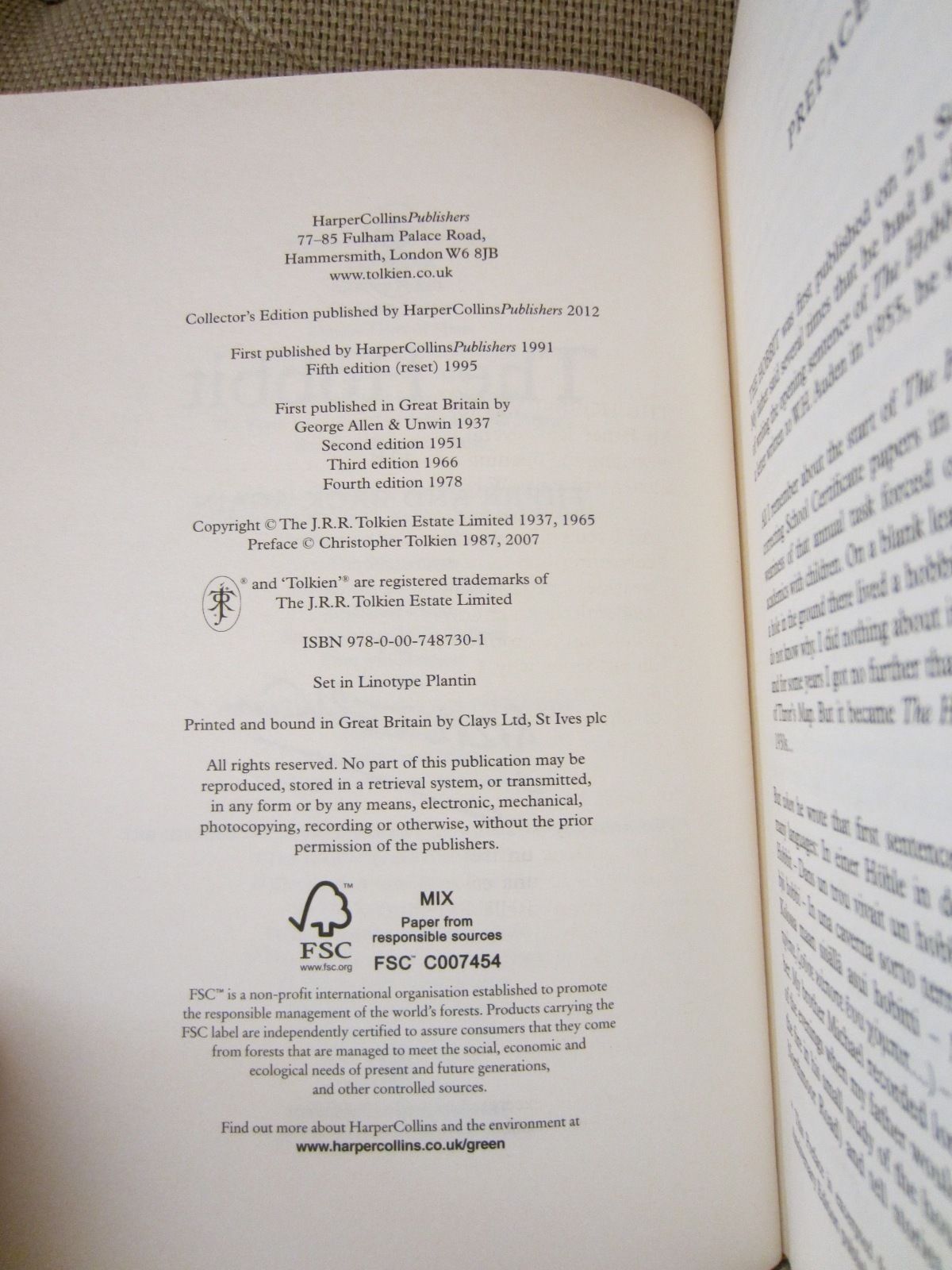 By
Deagol4


---
Both first printings. Your buyer is talking rot.
By
Urulöké


---
Agree with Deagol, both are firsts.
_________________
- Jeremy
By
Khamûl


---
Deagol
is correct.
Urulöké
is correct.
You're correct.
Your buyer is talking mince!

BH
_________________
You drive a hard bargain – you can have it for £10 all-in – one consolation (for you) is that you do not have to hear the cries of my children, for bread...
(1)
2