US 1st state 1938 Hobbit (ex-Library) for Auction
---
AMERICAN LITERARY CLASSIC FIRST-EDITION VOLUME, "The Hobbit, or There and Back Again," by J. R. R. Tolkien, Boston and New York: Houghton Mifflin Company, 1938. First edition, first state with bowing hobbit on title page and Chapter VII headed "Chapter VI". All four color and 11 black & white illustrations present. Tan boards stamped with dark blue lettering and dark red standing hobbit. Facsimile dust jacket.
Condition Report: Ex-library with library bookplate, lacking maps, discard stamps, number stamp and inked numbers to title page, remnants of rear check-out sheet, several pages and one color illustration taped, expected wear and soiling.
http://jeffreysevans.hibid.com/lot/32 ... ume-/?cpage=6&ref=catalog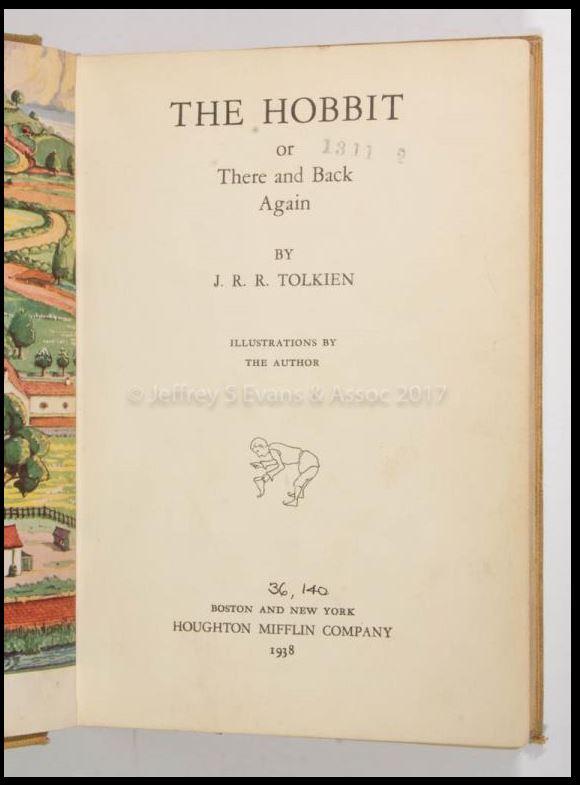 ---
Looking at this auction, I have noticed that it has four images, two of the book from 1938, and two of the facsimile dust-jacket, which looks brand new, possibly because it is.
Does the auction house think people are bidding on the facsimile dust-jacket, which you can buy on-line for $22 (
https://www.dustjackets.com/pages/book ... /j-r-r-tolkien/hobbit-the
), or the book inside?
By
Berelach


---
I think there really are people out there that believe facsimile dust-jackets are valuable, unfortunately. Either way, the auction house should know better.