By
Urulókë


Dec 1, 2020
(edited)
2020/12/1 21:33:15 (GMT) Greenwich Mean Time, London, Dublin, Lisbon, Casablanca, Monrovia
---
Scull & Hammond have a brief entry in their
Reader's Guide
(2017) in the "Societies and Clubs" section, pages 1231-2, where they note that the club was mainly for Oxford and Cambridge Dons to gather a few times a year to dine. There is a very brief note in the Chronology for a club meeting on June 2, 1951.
Johnson Rare Books
have just listed a bit of ephemera that adds a bit more colour to this event, including an interesting tidbit that fellow Inkling Hugo Dyson was nominated to join the club.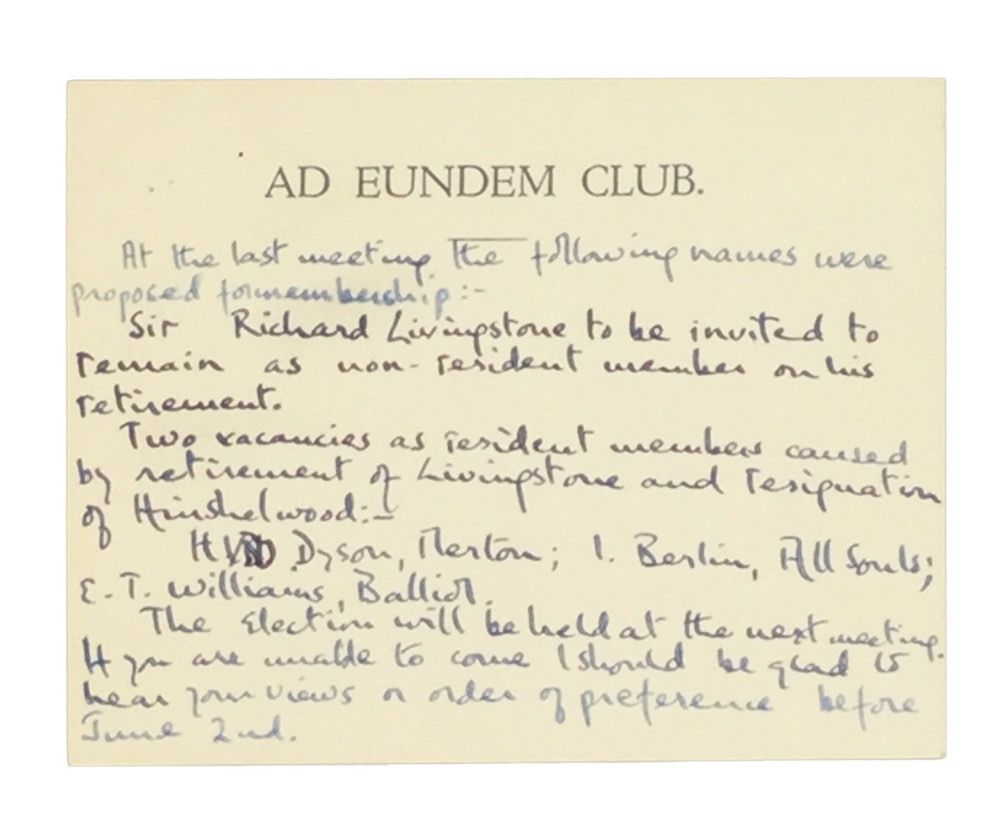 This unsigned, undated card was sent to fellow member Julian S. Huxley, and says that Lord David Cecil will be the guest of honor for the June 2 dinner, and that an election to fill two vacant seats in the club will take place during this meeting. The nominated individuals are HVD Dyson (Merton), Berlin (All Souls), and E.T. Williams (Balliol). Also noted is that Sir Richard Livingstone will be invited to remain a non-resident member upon his retirement. Also included in the listing is a response from Huxley back to Tolkien, dated 31 May 1951, where he apologizes for not being able to attend.
My thanks to Jen Johnson for allowing me to reproduce the images from their listing. The card and associated letter are
listed at $2500 and can be seen or purchased here
.
UPDATE:
Aelfwine
points out this is not Tolkien's handwriting, contrary to the dealer's listing (and my mistaken belief that they were correct).