Books from Tolkien's Personal Library??
(1)
2
---
I recently made a purchase of 4 books that are supposedly from Tolkien's personal library. I bought them from a former Tolkien collector named Greg Miller. The four books are (1) Early Middle English Literature by R. M. Wilson, (2) La Clef D' Amors by Auguste Dontrepont, (3) Anglica: Untersuchungen zur englischen Philologie by Alois Brandl, and (4) Provenzalische Chrestomathie by Carl Appel.

In 2001, Loome Theological Bookseller published a two-sided one sheet catalog of 35 volumes from the personal library of J. R. R. Tolkien. These had been acquired by Loome's from a Catholic university. Almost all were signed by Tolkien, notated by him, or inscribed by their respective authors to him, and almost all were scholarly philological studies Tolkien would have used in his research. These four books came from this sale.

The first book (Wilson) was purchased directly by Greg Miller from the Loome's sale. He bought the book himself for $100. The book is a review copy and contains a small inserted sheet typical of review copies. The book also contains the inscription "[JRRT]." However, according to Greg, the clerk at Loome's told him that the inscription on the front pastedown was, if not Tolkien's handwriting, Christopher Tolkien's. I would like to post a picture to see what you guys think. The provenance for this book seems to me pretty straightforward, but if anyone can refute or validate any of this information, I would really appreciate it.

The other three books (Dontrepont, Brandl, & Appel) are a little more complicated when it comes to their provenance. All three were originally purchased by David Miller (not Greg), an evidently well-known Tolkien collector & dealer. I do not know how much David purchased each book for (from the Loome's sale). After purchasing the books, he removed the front free endpapers of each book because they contained Tolkien inscriptions. He made bookplates out of each one and placed them in early editions of The Lord of the Rings. David then sold the three books to Greg for $100 per book. If anyone can refute or validate any of this information, I would really appreciate it. As far as distinguishing characteristics are concerned, Provenzalische Chrestomathie contains a "B. H. Blackwell LTD. Booksellers 50 and 51 Broad Street Oxford" sticker on the Front Pastedown, and Anglica: Untersuchungen zur englischen Philologie contains a facsimile of the original Tolkien inscription as well as minimal annotations that were evidently done by Tolkien.


An image of the inscription is attached.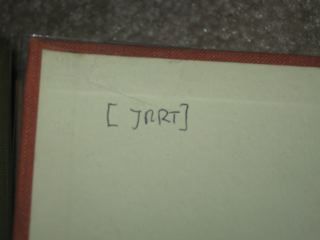 By
Stu


---
I don't mean any disrespect to David Miller, but I think it's rather sad that people butcher books, removing inscriptions in order to paste them into other books purely make a fast dollar. It ruins the original book and the volume that receives the completely-out-of-context transplant is barely more genuine than if I had written the inscription myself. Obviously, the owner of a thing has the right to do anything they like with it, but it still strikes me as needlessly destructive...

As for the "[JRRT]", looks like anyone could have written it (but I am not an expert)...

Stu
By
Findegil


---
The "[JRRT]" doesn't strike me as either Tolkien's or Christopher's handwriting. The letterforms don't seem quite right. It could easily be, and probably is, just something inserted by a bookseller. (You're right, Stu, it could have been written by anybody.) Of course, dealers like to entice prospective buyers with suggestions that a book might have added value, e.g. initials by JRRT or CRT.

I'm reminded of when I bought a copy of Oxford Poetry 1915 (containing Tolkien's "Goblin Feet"). The seller originally claimed that it was signed by two of the contributors, Tolkien and Aldous Huxley -- very nice if so. But it had already been returned by a Huxley collector, who said that Huxley's name was not in his handwriting; so it was offered to me with the deal that if Tolkien's name wasn't his signature either, I could have the book at half price. I needed only one look at "J. Tolkein" to come to a conclusion. (And a closer look, even with a small sampling, shows that both "A.L. Huxley" and "J. Tolkein" are in the same hand.)

Wayne
By
Beren


---
I'm able to confirm that the David Miller story is correct. He did indeed, a very long time ago, do take out the signatures and bind them into first edition sets. Like this one:
http://www.tolkienlibrary.com/dmiller/000140.htm
Still he stopped doing that a long time ago and think he would never do it again. A bookseller also needs to learn a lot on the road. And to be honest, back then, no one was really interested in Tolkien academical works. I even remember a sale by Maggs where a huge lot of books from Tolkien's personal library did not find a buyer. Back then you could however sell a first edition with a tipped in signature..
Still it is a sad thing that it happened, and good that he did sell them of for 100$ and not threw them away. I have to check however if these books were on the loomebooks list (sorry did not find time yet to do so).
The JRRT could have been written by anyone. And can be seen on several books from Tolkien's library. It is just a thing that was put in to retain the origin of the book, same goes for the Tolkien Library Stickers... but in the end it is always difficult to proof the origin if no real signature remains. Sadly enough a lot of people tend to fake books and try to gain a lot of money by doing so.
---
Beren, I know you have been busy with the CoH paperback release party, but have you had any time to check your records to see if these books were sold at the Loome's sale? Whenever you get a chance, if you could let me know, that would be great. Thanks.

Josh
(1)
2