I swear I've seen these smears before...
By
Urulöké


---
http://cgi.ebay.com/ws/eBayISAPI.dll?ViewItem&item=300281016708
This is a
Smith of Wootton Major
with a "signed bookplate". The signature itself looks okay to me (though it is a very small image), but I swear I have seen that exact pattern of ink smearing before - perhaps this is a copy, or I have seen copies of this? Anyone else?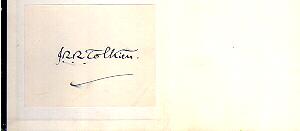 _________________
- Jeremy