Readers Union LotR on eBay
---
I have just put a Readers Union "Lord of the Rings" on eBay -
eBay Item #130679437464
- wellinghall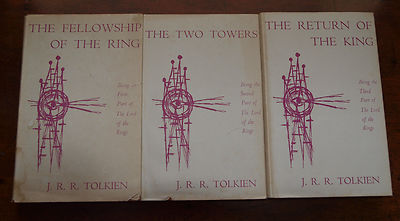 ---
Wellinghall (or anyone who has this edition),

do you remember if the books had the top edges dyed brown?

I ask, because I got one of this edition lately and I´m not sure if these are dyed or just extremely dusty and I can´t find any information regarding it. :)
_________________
- Martin
By
remy


---
Type page edges are dyed a lightish brown.

- Edit: Apologies "Type" should read "Top"
---
I see, thank you for the information.
_________________
- Martin
---
I *had* this edition, then sold it ...

- wellinghall
_________________

By
Laurin666


---
Does anybody want's to sell this set?
By
jhonsmith


---
Hello dear wellinghall..
I ask, because I got one of this edition lately and I´m not sure if these are dyed or just extremely dusty and I can´t find any information regarding it....!!!

_________________

By
Trotter


---