Question, Re: 1955 US Two Towers Dustjacket
---
Hi,

Just purchased a 1955 1st US Edition of "The Two Towers" (up to now did not have a copy with a DJ).

Anyway, I am just trying to confirm that the DJ is also a 1st Printing DJ.

Upon research I see mention of a "notch" in the letter "r" of "Towers" on the Title of the Dustjacket. However I am not sure what this "notch" should look like. Can anyone clarify?

I do see a little white triangular area cut in on the stem of the "r", but it is quite tiny. Could this be the "notch" or is it something else?

Any other unique issue points on the 1st Impression DJ?

Any help would be greatly appreciated.

Many Thanks.
By
Urulöké


---
You can see it pretty well in this image from tolkienlibrary:
http://www.tolkienlibrary.com/dmiller/images/000482a.jpg
The item description is here:
http://www.tolkienlibrary.com/dmiller/000482.htm
"The dustjacket also has the stripe on the top and bottom of the front, one of the points for the 1st dustjacket. It also has the 'notch' in the R of the Towers, which is only found on the 1st dustjacket. It does not show the gap and cufflink points that are found on the 2nd & 3rd dustjacket. So this is indeed the very scarce (1 of 1000 printed) 1st US Two Towers dustjackets. "
Hope this helps...
_________________
- Jeremy
---
Thanks Jeremy for the info.

Unfortunately, I am still unclear with regards to this notch on the "r".

Is it on the vertical stem of the "r" about half way up?

Apologies for my ignorance and blindness.

Many Thanks Again.
By
dunedain


---
Hello,

Perhaps this photo will help a bit.

David

sorry didn't work the first time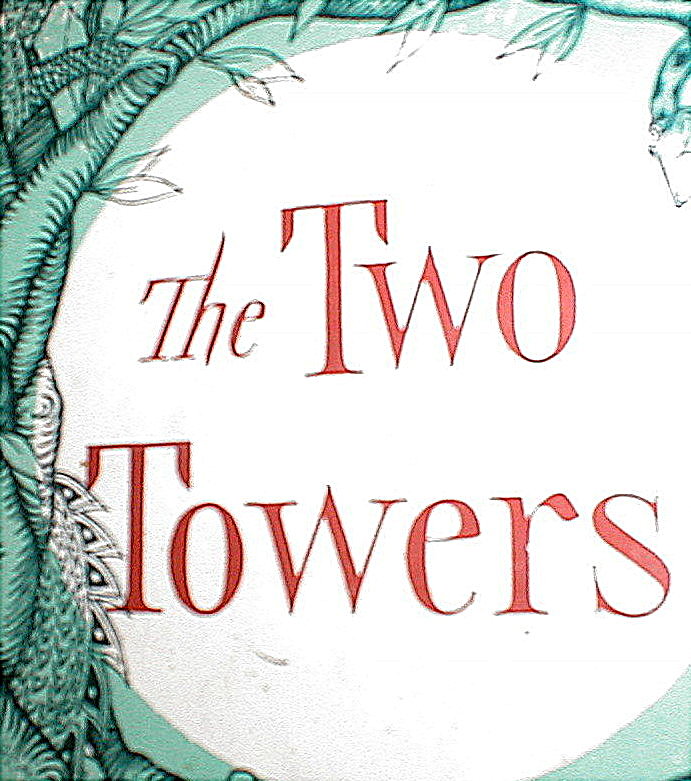 ---
Many Thanks for the close-up photo. Much appreciated.