Quality question for 2013 Collector's boxed set (H/LOTR)
(1)
2
3
By
Urulöké


---
Hi everyone (especially those of you in the UK),
I have not yet gotten my hands on a copy of the Hobbit+Lord of the Rings boxed set that came out a few months ago. I have been looking at the reviews on Amazon.co.uk (link below) and there are quite a few that call out the paper (yellowish rather than white and closer to paperback quality than a good hardcover), the small font size (to get the LOTR volumes to be the same size as the Hobbit, which has a better font size), the binding (glue rather than stitched), no fold-out maps or (possibly) other illustrations.
Can those of you with your hands on this particular set chime in with your thoughts on quality? Amazon is notoriously bad for mixing reviews of different editions together, so I want to get some opinions on this particular set from discerning collectors.
Thanks!
Here is the link to the official HarperCollins page for this set:
http://www.tolkien.co.uk/product/9780 ... %2fThe+Lord+of+the+Rings+
Here is an Amazon.co.uk listing: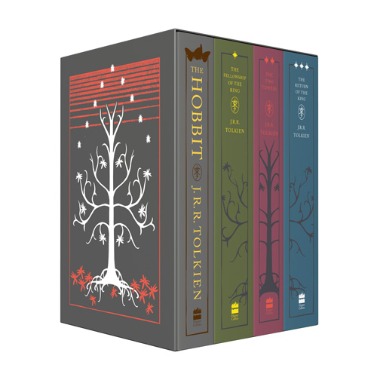 _________________
- Jeremy
By
Trotter


---
Interestingly they are not available to buy at the moment, I wonder if they are being changed.
By
laurel


---
Has anyone brought this set yet?
What is quality like ?
ie is it worth it?
By
Stu


---
The individual books are for sale in New Zealand, but not the boxed set. Quality looked pretty average for HarperCollins (i.e. about as cheap as they can get away with). Glued bindings, etc. The Hobbit that came out last year was a pretty cheap effort, and the LoTR volumes looked to be about the same. I didn't pay that close attention, though as I wasn't buying. The design of the covers and the colours are nice.

That was in Auckland (just drove the 1,600 km from Auckland to Queenstown in two days, with a 2AM ferry journey in the middle -- way too much driving for my ageing body!). I'll have a look in the bookstore in QT tomorrow and can take some photos if they have the books in stock.
By
Khamûl


---
I have this set, & would agree with the comments so far. The slipcase itself is particularly thin/insubstantial feeling. The cloth coverings (books & slipcase) don't quite rescue the set from utter mediocrity. The quality of the paper doesn't seem any poorer than any other standard HarperCollins hardback(s) though. The only real redeeming quality is the design.

BH
_________________
You drive a hard bargain – you can have it for £10 all-in – one consolation (for you) is that you do not have to hear the cries of my children, for bread...
(1)
2
3