1974 3rd/8th Hobbit Clipped/Unclipped
---
Has anyone seen a copy of The Hobbit/3rd Edition/8th Impression (1974) that is unclipped? Or were all copies clipped with a new price added as below?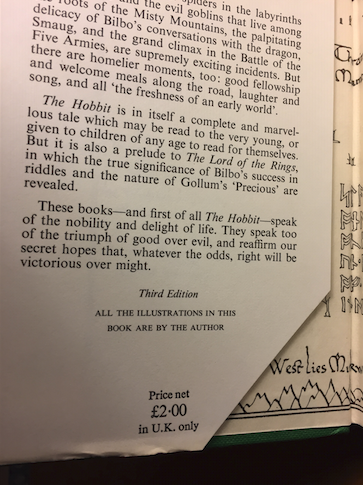 By
Stu


---
Mine, like yours, is clipped.
By
Trotter


---
I have just had a look at my copy and it is also clipped, the 7th impression is priced at £1.75 and not clipped, so it looks like they had dust-jackets left over with a £1.75 price on them, which were clipped for this impression. The 9th impression is £2.50 in my copy.

My 8th impression has a printed £2.00 label on it, so is slightly different.
---
Fantastic, thank you both!
By
laurel


---
Strange mine is unclipped with old price?
_________________

---
Thanks Laurel that's good to know