By
garm


---
A signed 1st edition Hobbit? look here:
http://cgi.ebay.co.uk/The-Hobbit-Firs ... 65%3A10|39%3A1|240%3A1308
some quotes -
1 - The signature has been penned onto chariot watermark paper from the Miramar Hotel in Bournemouth where Tolkien regularly stayed with his wife. Whilst Tolkien didn't sign many books he was reknowned as a hoarder of paper, it is obvious he was practicing his signature on this scrap which originally contained two signatures on the same piece of paper
2 - I've checked out the following list of errors cited by Wayne Hammond (Tolkien bibliographer) and all are present just to verify that this book has not been tampered with.
3 - This book is an absolute classic and with a reported 240 printed copies only out of the original 1500 produced surviving,
1 - I'm a bit suspicious of this; Tolkien praticing his signature?
2 - how (and why) would anyone tamper with the book? Seems an odd thing to say.
3 - where does the idea come from that there are only 'a reported 240 printed copies only out of the original 1500 produced surviving'? Reported by whom, and to where?
By
Urulöké


---
Posting the signature here before eBay expires the auction (for posterity).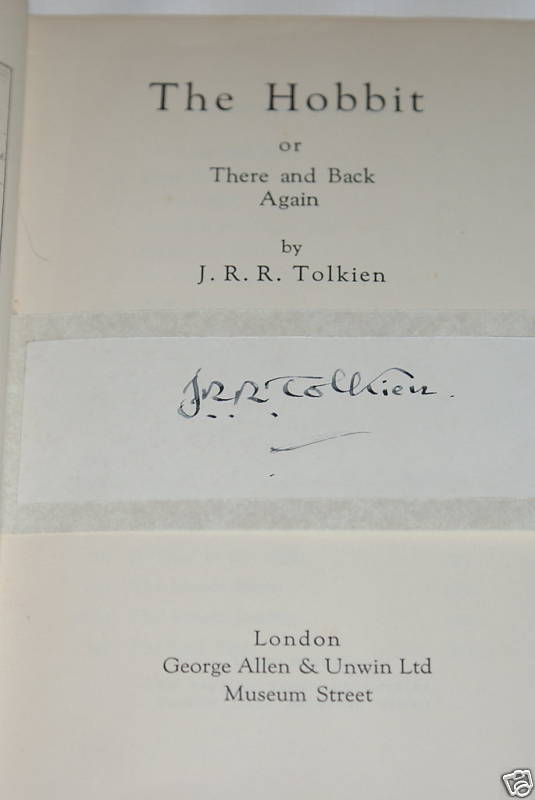 _________________
- Jeremy
By
Ardamir


---
By
Onónion


---
It's exactly the same.
Seems like the seller wanted to make yet more money on a first impression of
The Hobbit
by sticking a signature on the title page. A bit greedy, isn't it?

On the other hand, it makes it also more appealing to collectors and a first impression with a signature of Tolkien (even when it's pasted on the book) is obviously much more attractive...

_________________
'Love not too well the work of thy hands and the devices of thy heart; and remember that the true hope of the Noldor lieth in the West, and cometh from the Sea'
---
Another book spoiled in the name of making a fast dollar. If the author physically signs the pages of a book, then that's fine by me - it's what the author intended to do, but when a piece of unrelated paper is chopped up and glued into said book long after the fact, then that's just vandalism.

I really just wish people would get over the fascination with signatures (really, someone signing their name isn't that impressive a thing in the grand scheme of things). JRRT had various variants of nice-looking signature to be sure, but when these start trading in the thousands of dollars and being used as paste-ins to bump up the price of the books (i.e. the real works), something is wrong, and it's our fault for buying them...

Bah, humbug, etc.

Stu

PS. Merry Time Off Work (if you are lucky enough to not be working).
By
Trotter


---
What about if the author was quite happy for you to do this?
http://www.hobbit.ca/UK111e-signed.jpg
'If you would like a signature for "The Lord of the Rings" you can stick this in with my good wishes.
J.R.R. Tolkien 20/6/73"
As an aside does anyone know who this frequently copied letter was originally sent to, as I have a copy and it would be very interesting to know.
Happy Xmas.
Andrew
---
>What about if the author was quite happy for you to do this?

Then by my personal standards it would be entirely appropriate for that particular piece of paper to be used as a tipped in signature (I also have a facsimilie of the note that you linked to -- booksellers seem to like providing it as a bookmark). However, the vast majority of tipped in signatures were not intended for that purpose, and indeed the one in question doesn't appear to have been intended for that.

As always, the owner is entitled to do whatever they want with it, it just isn't what I would do, and seems [to me] to be pointless to make two original things less original by sticking them together.

That the market apparently values the two items glued together more highly than the two items in their original form seems like a type of madness.

But each to their own.

Stu