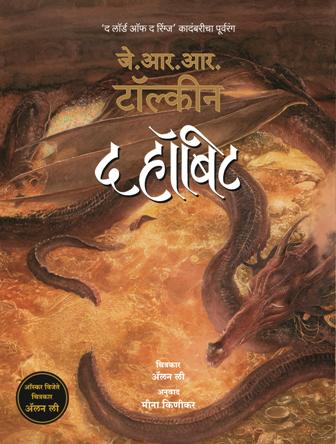 Just a month or so ago, it was announced that The Hobbit was officially available in India, translated into Marathi. For a wonderful interview with the publisher and translator, please see This TolkienLibrary.com article.
Due to the current difficulty in obtaining this book if you do not live in India yourself, TolkienGuide.com has placed an order for multiple copies that I should have in hand before the end of the year. If you are interested in obtaining a copy, please send an email to webmaster@tolkienguide.com to reserve a copy, no pre-purchase required. The price is expected to be $30 (or less if I can manage it) including shipping to the USA - slightly more if you are elsewhere in the world. Note that www.hobbithunterbookshop.com also has copies they expect to have around the same time. I will update this article as additional sources become available for this title.
UPDATE Oct 28th: The Hobbit Hunter now has copies available. Henk says "At this moment I have 5 copies of this hobbit for sale. The price is EUR 26,00 plus postage (Netherlands EUR 2,76, Europe EUR 6,89, rest of the World EUR 16,15 (yes, that's pretty high!)). The book weights plm. 800 grams. If you want to order a book, you can contact me. But, as we say in Holland: OP = OP!"
My copies are still en route, I will share further updates soon.