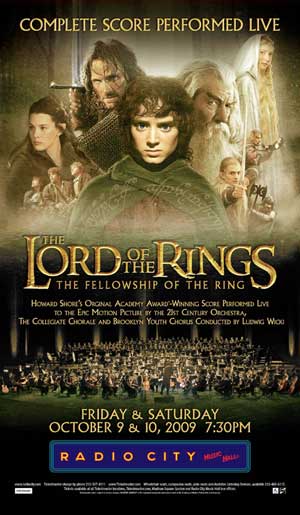 THE LORD OF THE RINGS: THE FELLOWSHIP OF THE RING
SCORE PERFORMED LIVE TO PICTURE
300 MUSICIANS
RADIO CITY MUSIC HALL
OCTOBER 9 & 10, 2009
EXTRAORDINARY LIVE MUSIC EVENT IN THE HEART OF NEW YORK CITY WITH ORCHESTRA AND VAST CHOIR PERFORMING LIVE TO THE FILM!
Tickets On-Sale NOW for This Two-Night Only Can't-Miss Event!
New York, NY — Devoted fans of J.R.R. Tolkien's classic The Lord of the Rings have read the books, they've seen Peter Jackson's Academy® Award-winning films, and now they will have a chance to experience composer Howard Shore's Academy® and Grammy®-winning score to The Fellowship of the Ring live at Radio City Music Hall on Friday, October 9th and Saturday October 10th. For this extraordinary event, 300 musicians—a 75-piece orchestra and a 225-member choir—have been gathered to perform the complete score to 2001's The Fellowship of the Ring live with the motion picture on a massive screen towering above the stage.
Switzerland's 21st Century Orchestra, under the baton of Maestro Ludwig Wicki and featuring The Collegiate Chorale, the Brooklyn Youth Chorus, and vocal soloist Kaitlyn Lusk, will perform Shore's epic score synchronized to picture. Shore will introduce each evening's performances, which take place at 7:30 p.m., in a pre-concert lecture with Doug Adams, author of The Music of the Lord of the Rings Films, and will be available to greet fans at additional events scheduled throughout the weekend.
This once-in-a-lifetime, family-friendly event, held at the most prestigious concert venue in the world, is a milestone affair not to be missed by fans of The Lord of the Rings and classical music lovers everywhere! Tickets are on sale now! Don't miss it!
Tickets available online at: www.radiocity.com (http://www.radiocity.com/events/lord-of-the-rings-1009.html) and www.ticketmaster.com (http://www.ticketmaster.com/Lord-of-the-Rings-tickets/artist/932344)
Tickets to The Fellowship of the Ring at Radio City Music Hall are available beginning on the first day of sale through Ticketmaster Charge By Phone and all Ticketmaster Outlets, and beginning on the second day of sale at the Garden and Music Hall Box Office. All tickets purchased for Madison Square Garden and Radio City Music Hall events contain a Facility Charge. TicketMaster purchases are also subject to their service charge. The telephone number for Madison Square Garden Event and Ticket Information is (212) 465-MSG1. The Group Sales number is (212) 465-6080. The telephone number for the Madison Square Garden Disabled Services department is (212) 465-6034; for the Radio City Music Hall Disabled Services department, (212) 465-6115 for tickets and information. The TicketMaster information and TicketMaster Charge by Phone number is (212) 307-4111.