Back to Auctions Home

331099607881
Seller: moremagazines (39117)
100.0% positive
Pensacola, Florida, US
Active
:
Ends Aug 1, 2014 3:36:59 PM
Category: Books:Magazine Back Issues
Buy-It-Now:
$14.40
Viewed 67 times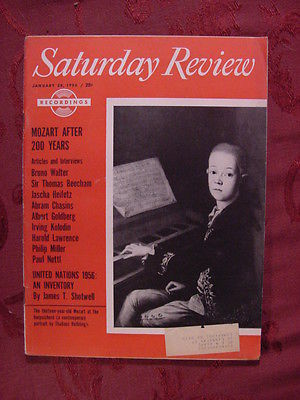 Condition: *SEE BELOW* for MORE on CONDITION and CONTENTS: Authors, illustrators, photos, subjects, ads, and MORE are listed in our exclusive *searchable* content descriptions! MORE MAGAZINES guarantees all content, condition, and fast delivery. 100% satisfaction GUARANTEED!
moremagazines Store Saturday Review RARE literary magazine! Each Saturday Review of Literature issue covers books, arts, literature, movies, ideas, music, science, poetry and much more. Many regular features and writers, most reviews are also essays on the subject at hand. Exclusive MORE MAGAZINES detailed content description, below! MORE Saturday Review magazines -- CLICK HERE! Issue Date: JANUARY 28, 1956; Vol XXXIX, No 4 IN THIS ISSUE: This description copyright MOREMAGAZINES Any un-authorized use of this description is strictly prohibited. [NOTE: This RARE issue is FULL of Mozart articles (see below), and ALSO has a good review/essay on the LORD OF THE RINGS trilogy, as noted below in the books section. "It makes our own world, once more, heroic. What higher meaning than this is to be found in literature?"] COVER: MOZART after 200 years. The Thirteen year old WOLFGANG AMADEUS MOZART at the Harpsichord. A contemporary portrait by Thadaus Helbling. The original of this painting hangs in the Salzburg Mozart Museum, in the room where the great composer was born. SPECIAL SECTION: MOZART AFTER 200 YEARS: MOZART IN "THE MAGIC FLUTE", By Bruno Walter. MOZART IN THE ORCHESTRA, By Sir Thomas Beecham. MOZART IN THE WORD, Compiled by Harold Lawrence. MOZART IN "CLAVIERLAND", By Abram Chasins. MOZART ON THE VIOLIN, By Jascha Heifetz. CASANOVA AND "DON GIOVANNI", By Paul Nettl. MAHLER, WAGNER, AND MOZART, By Irving Kolodin. FIFTY YEARS OF MOZART ON RECORDS, By Philip L. Miller. MOZART IN THE LIBRARY, By Harold Lawrence. RECORDINGS IN REVIEW, By the Editor . THE AMEN CORNER, By Wilder Hobson. THE OTHER SIDE, By Thomas Heinitz. SR/IDEAS: United Nations 1956: An Inventory, by James T. Shotwell. The Best Investment on Earth: An Editorial. SR/BOOKS: "HISTORY THROUGH THE MIND'S EYE" -- The LORDS OF THE RING, by J. R. R. TOLKIEN, An Essay-Review by Louis I. Halle. [A review, with essay, and map, of "The Fellowship of the Ring", "The Two Towers", and "The Return of the King"! 2 Pages.] Coil of the Serpent, by Dexter Allen, Reviewed by Edmund Fuller. Aspects of Love, by David Garnett, Reviewed by J. F. McCrindle. The Secret of the Hittites, by C. W. Ceram, Reviewed by C. A. Robinson, Jr. On the Track of Prehistoric Man, by Herbert Kuhn, Reviewed by Paul S. Wingert. UN: The First Ten Years, by Clark M. Eichelberger, The United Nations: Planned Tyranny, by V. Orvall Watts, The UN Record: Ten Fateful Years for America, by Chesly Manly, An Essay-Review by Lionel Gelber. The United States and Asia, by Lawrence H. Battistini, Reviewed by Harold H. Fisher. As If, by John Ciardi, Reviewed by I. L. Salomon. Hands Laid Upon the Wind, by Bonaro W. Overstreet, Reviewed by I. S. Bixler. Lincoln's Sons, by Ruth Painter Randall, Reviewed by Harry E. Pratt. Profiles in Courage, by John F. Kennedy, Reviewed by Harry Barnard. SR/DEPARTMENTS: Trade Winds, by Bennett Cerf. Literary I.Q. Literary Crypt. Letters to the Editor. Broadway Postscript, by Henry Hewes. SR Goes to the Movies, by Arthur Knight. Books for Young People, edited by Frances Lander Spain. Music to My Ears, by Irving Kolodin. Kingsley Double-Crostic No. 1140. This description copyright MOREMAGAZINES. Any un-authorized use of this description is strictly prohibited. This RARE edition magazine is COMPLETE and in VERY GOOD condition (see photo). USE BUY IT NOW to get it SOONER! DECADES of Saturday Review magazines -- CLICK HERE! Combined shipping for multiple purchases, please see our STORE for: MOREMAGAZINES Only a fraction of our inventory is listed at auction: MUCH more in our STORE! To search all listings, enter your search term(s) in the search box below then click Search: SHIPPING/DELIVERY and other INFORMATION: Specific SHIPPING CHARGES and OPTIONS are listed below, at the bottom of this page. We can keep our shipping rates low as we only cover our costs to pack and ship these items. DISCOUNTS for Multiple items for USA (ONLY) Delivery available! [NOTE: USPS does not guarantee delivery times for most deliveries! We will pack and ship your item with 24-48 hours of payment, but actual arrival depends on the mail. ALL Items are insured and guaranteed by MORE MAGAZINES.] STANDARD -- Domestic standard mail, best rate available. Delivery time: 4-10 days, but can be longer. EXPEDITED -- shipping is USPS Priority Mail. Delivery time: 2-5 days, up to 10 days in rare cases. EXPRESS MAIL -- is USPS Express Mail. Delivery time: 1-2 days, Guaranteed. [This can depend on the time of day your payment arrives. Confirm for fastest service.] CANADA/WORLDWIDE -- Actual shipping rates for AIRMAIL ONLY. ASK about multiple items. PAYPAL is preferred; Payments are accepted by all eBay accepted methods. Use the PAY NOW button to make payment or to get payment information. EBAY will also send payment information. We follow all of eBay's rules and regulations. An INVOICE will be sent within 24 hours with all relevant information as well. Shipments and notification are made usually within 1 to 2 days of receipt of payment. All magazines and ads are placed in an archival quality polyethylene sleeve, and packed with cardboard backing; Posters are shipped in tubes; All items are packed very carefully. If you have any questions, SEND EMAIL. Questions are always answered. If there is a problem, we want to solve it -- SATISFACTION GUARANTEED! Please make payment or let us know your payment plans within 5 days of the close of this sale! This description © Edward D. Peyton, MOREMAGAZINES. Any un-authorized use is strictly prohibited. More magazines at the MOREMAGAZINES ebay STORE! Search our store for any word that would be in our listings! Simply enter your search term in the search box below then click Search: Powered by eBay Blackthorne 04.00.027 On Apr-02-10 at 10:45:38 PDT, seller added the following information: Sellebrity Analytics: Monitor and improve your auction click traffic! Your browser does not support JavaScript. To view this page, enable JavaScript if it is disabled or upgrade your browser. Your browser does not support JavaScript. To view this page, enable JavaScript if it is disabled or upgrade your browser. Click Here. Double your traffic. Get Vendio Gallery - Now FREE!