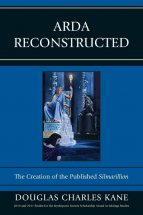 Doug Kane sends along this announcement:
I just got word from my publisher that copies of the paperback edition of Arda Reconstructed have arrived at their warehouse, and should be shipping within a week (though Amazon is still giving a publication date of July 16), if anyone is interested in a cheaper copy of the book.

It can be ordered from the publisher at http://www.rowmanlittlefield.com/Catalog/SingleBook.shtml?command=Search&db=%5EDB/CATALOG.db&eqSKUdata=1611460565 or from Amazon (for a small discount) at http://www.amazon.com/Arda-Reconstructed-Creation-Published-Silmarillion/dp/1611460891/ref=tmm_pap_title_0

I was not able to make substantive revisions, but the few remaining typos in the text have been fixed. It does have a new cover, which I like a lot.