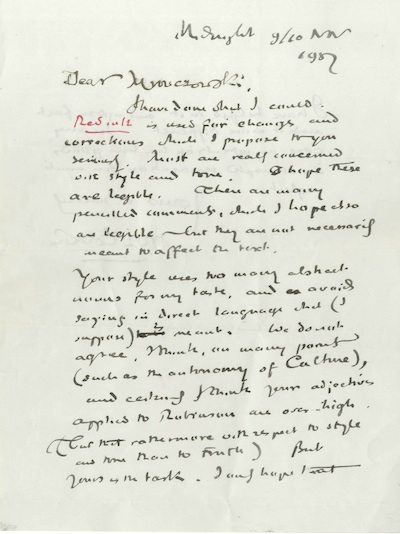 Bonhams Sale 18992
22 Nov 2011
New Bond Street, London
Books, Maps, Manuscripts and Historical Photographs, including the Property of the late Michael Silverman
Lot 182 - TOLKIEN (J.R.R.)
Autograph notes and heavily revised typescript with accompanying autograph letter about a review of Robinson's edition of Chaucer: being his suggested revisions and corrections to the review by his friend and admirer Professor Przemyslaw Mroczkowski OBE of Poland, comprising (i) autograph letter signed to Mroczkowski, about his prose style in the review, 2 pages, 8vo, "midnight 9/10 Nov 1957"; (ii) typescript of Mroczkowski's review heavily annotated by Tolkien, 8 pages, 4to; (iii) autograph supplementary sheets of Tolkien's remarks on the review, 2 pages on one sheet, large 8vo, 1957
Estimate: £2,000 - 3,000
Sold for £5,250 inclusive of Buyer's Premium
Christies Sale 3013
28 November 2011
London, South Kensington
Fine Printed Books and Manuscripts including a selection from the Malcolm S. Forbes Jr. Churchill Collection and Photobooks from the Calle Collection
Lot 258 - TOLKIEN, John Ronald Reuel (1892-1973).
Two typed letters signed and one typed letter without signature to Roger Verhulst and the William B. Eerdmans Publishing Company, Headington, 8 April 1966 - 4 December 1967, in the unsigned letter returning to publishing matters in regard to a memorial volume to Charles Williams [see previous lot], reiterating his objections to a proposed book about him by W.H. Auden, and mentioning work on The Silmarillion, adding rather tartly 'The chief obstacle to its publication is at present the mass of my correspondence'; a letter of 3 May 1966 acknowledges receipt of the Charles Williams volume; in December 1967, Tolkien writes appreciatively about C.S. Lewis's Letters to an American Lady, a copy of which Verhulst had sent him, 'I found them deeply interesting and very moving, and on certain points also to me enlightening', 3 pages, 8vo and 4to; with three related letters.
Estimate £800 - 1,200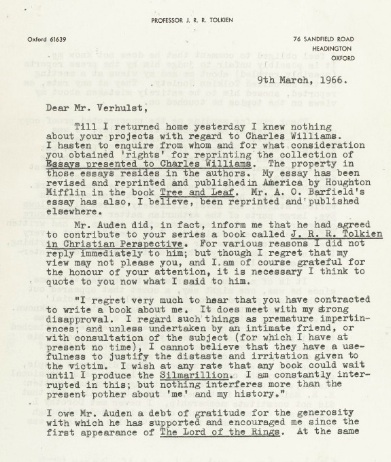 Christies Sale 3013
28 November 2011
London, South Kensington
Fine Printed Books and Manuscripts including a selection from the Malcolm S. Forbes Jr. Churchill Collection and Photobooks from the Calle Collection
Lot 357 - TOLKIEN, John Ronald Reuel (1892-1973).
Typed letter signed ('J.R.R. Tolkien') to Roger Verhulst, Headington, 9 March 1966, opposing the publication of a proposed book about him by Auden, and quoting his letter to Auden on the subject, 'I regard such things as premature impertinences ... I cannot believe that they have a usefulness to justify the distaste and irritation given to the victim', though he concedes 'I owe Mr. Auden a debt of gratitude for the generosity with which he has supported and encouraged me since the first appearance of The Lord of the Rings'; also discussing his acquaintance with the author Charles Williams, and the broader membership of the 'Inklings', concluding with a firm distinction between a proposed volume of essays on Williams and one about himself, 'a living author whose much more limited work is of quite a different sort, and who is struggling to complete his work, while time is steadily running short, without the distraction of comment or analysis which cannot in the nature of the case be well-informed', a three-line footnote in autograph, 2½ pages, 4to, envelope.
Estimate £2,500 - £3,500