Back to Auctions Home

161720374990
Seller: 3in!
(490)
100.0% positive
Bass Lake, California, US
Completed
:
Ended Jun 7, 2015 7:45:25 PM
Category: Books:Audiobooks
$11.50
[3 Bids]
Buyer: c***d (215)
Viewed 31 times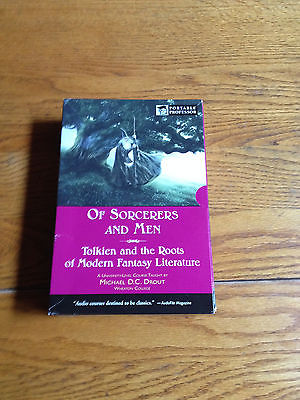 Normal 0 false false false EN-US X-NONE X-NONE Contains 72 page booklet plus 8 CDs. Part of the Portable Professor series of audio lectures. The case and booklet have some surface wear and minor bends here and there In Of Sorcerers and Men, Professor Michael D. C. Drout leads a fascinating tour of the masterworks that defined the genre, paying particular attention to the books of Tolkien, the godfather of fantasy literature as we know it today. Drout's deft assessment provides deeper insights into these beloved creations, and helps readers gain a better understanding of what makes fantasy literature so very appealing. Normal 0 false false false EN-US X-NONE X-NONE Contents: What is Fantasy Literature? - Origins of Modern Fantasy - Tolkien: Life and Language - The Hobbit - The Fellowship of the Ring - The Two Towers - The Return of the King - The Silmarillion, Unfinished Tales, and other posthumously published work - Tolkien: Criticism and Theory - Imitations and Reactions: Brooks and Donaldson - Worthy Inheritors: Le Guin and Holdstock - Children's Fantasy - Arthurian Fantasy - Magical Realism and Conclusion. Normal 0 false false false EN-US X-NONE X-NONE I'll definitely combine shipping. I'll send you an invoice at the end of the auction with the total for all items including shipping.