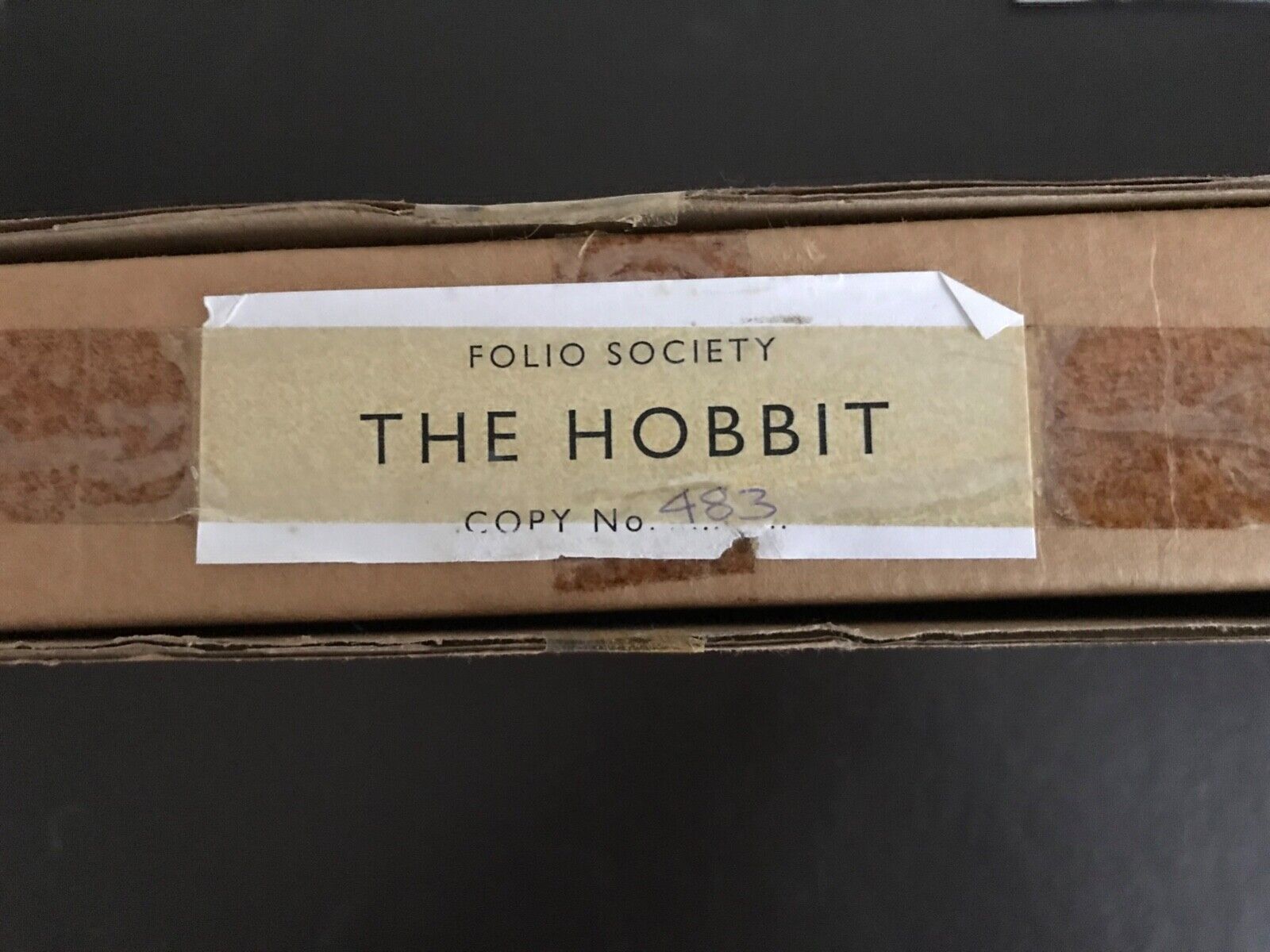 175498936358
Seller: palme.uk2013
(289)
98.6% positive
Aldeburgh, GB
Active
:
Ends Jun 21, 2023 2:41:16 PM
Category: Books, Comics & Magazines:Antiquarian & Collectable
Buy-It-Now:
£5,450.00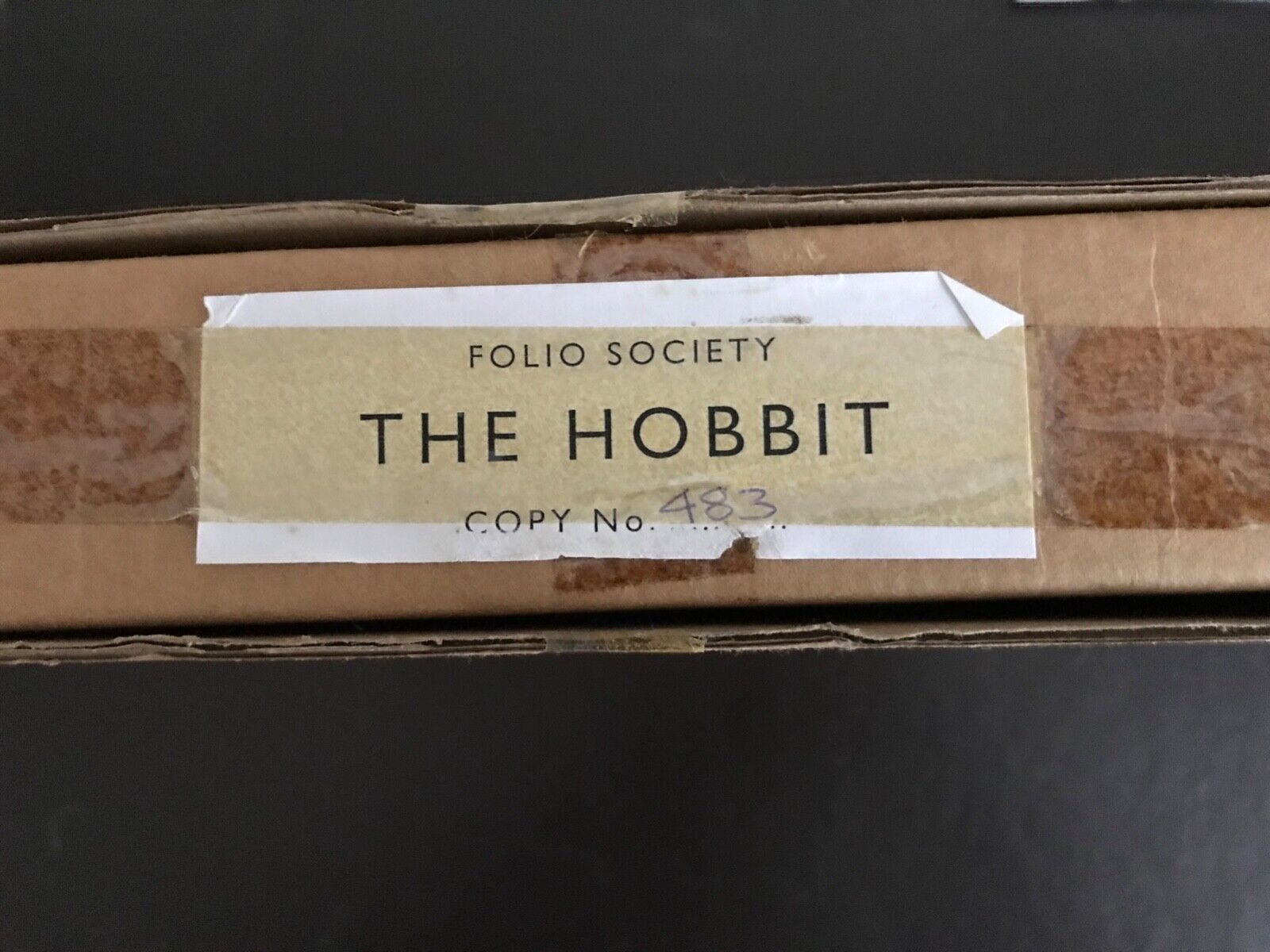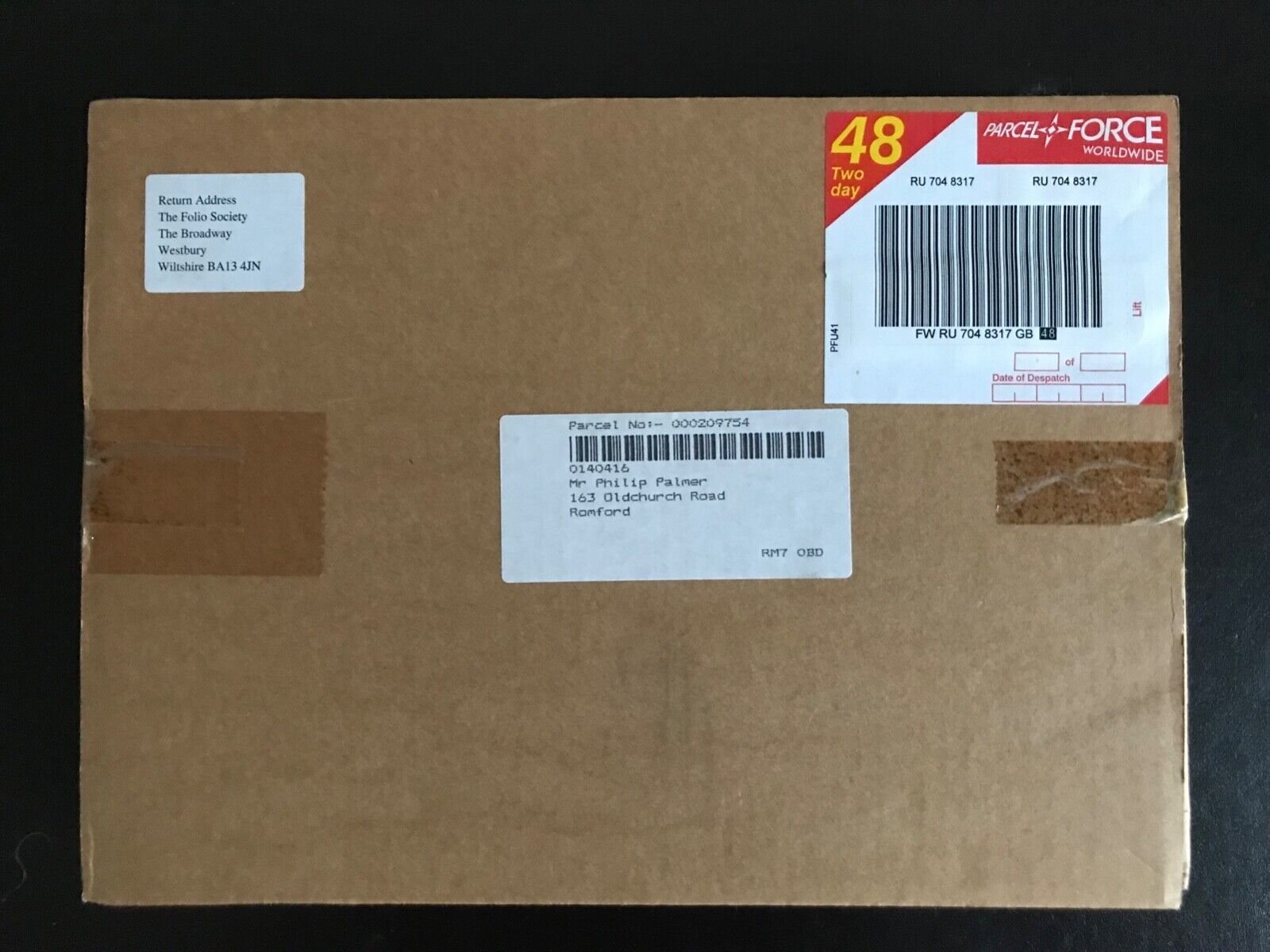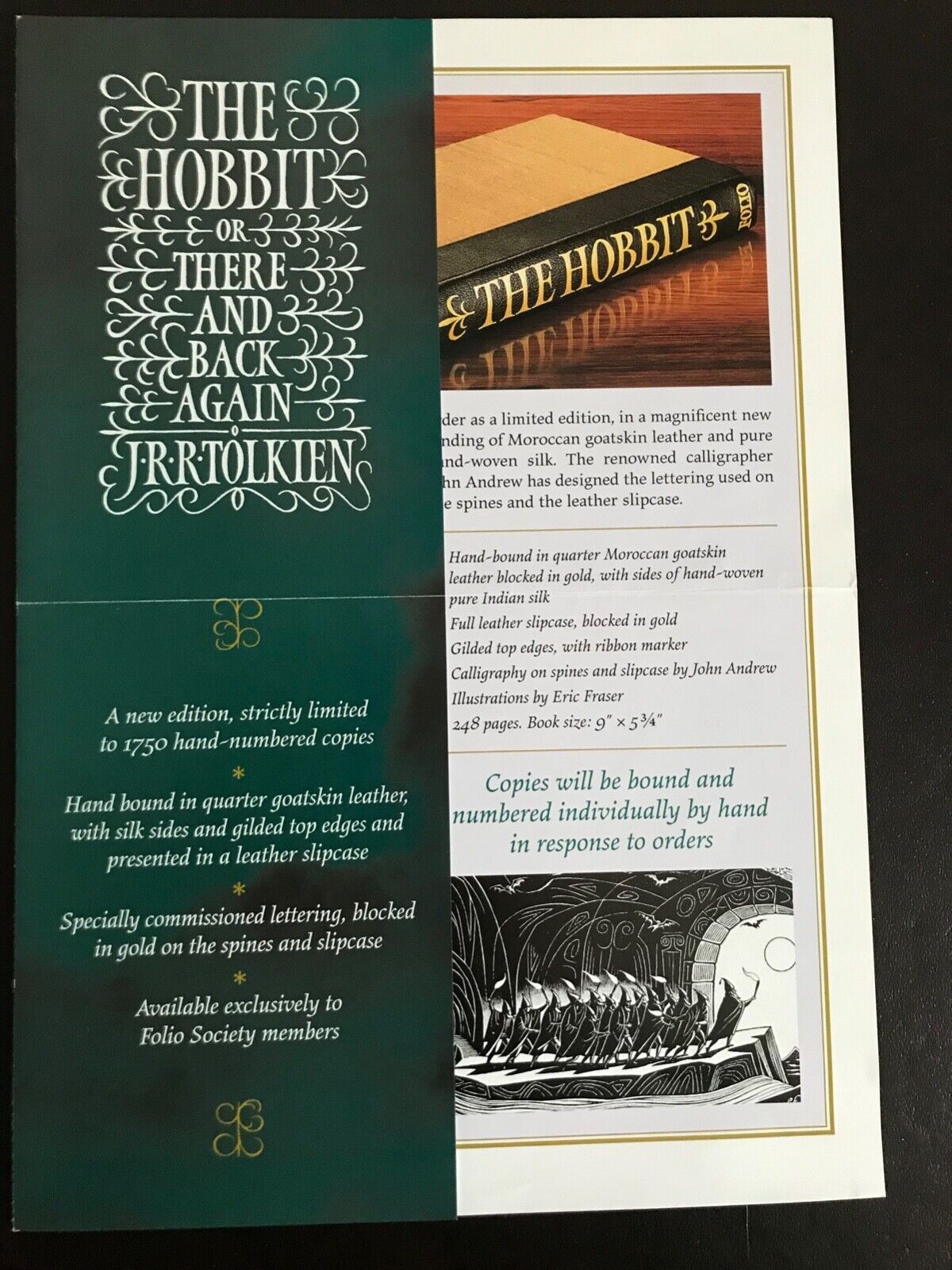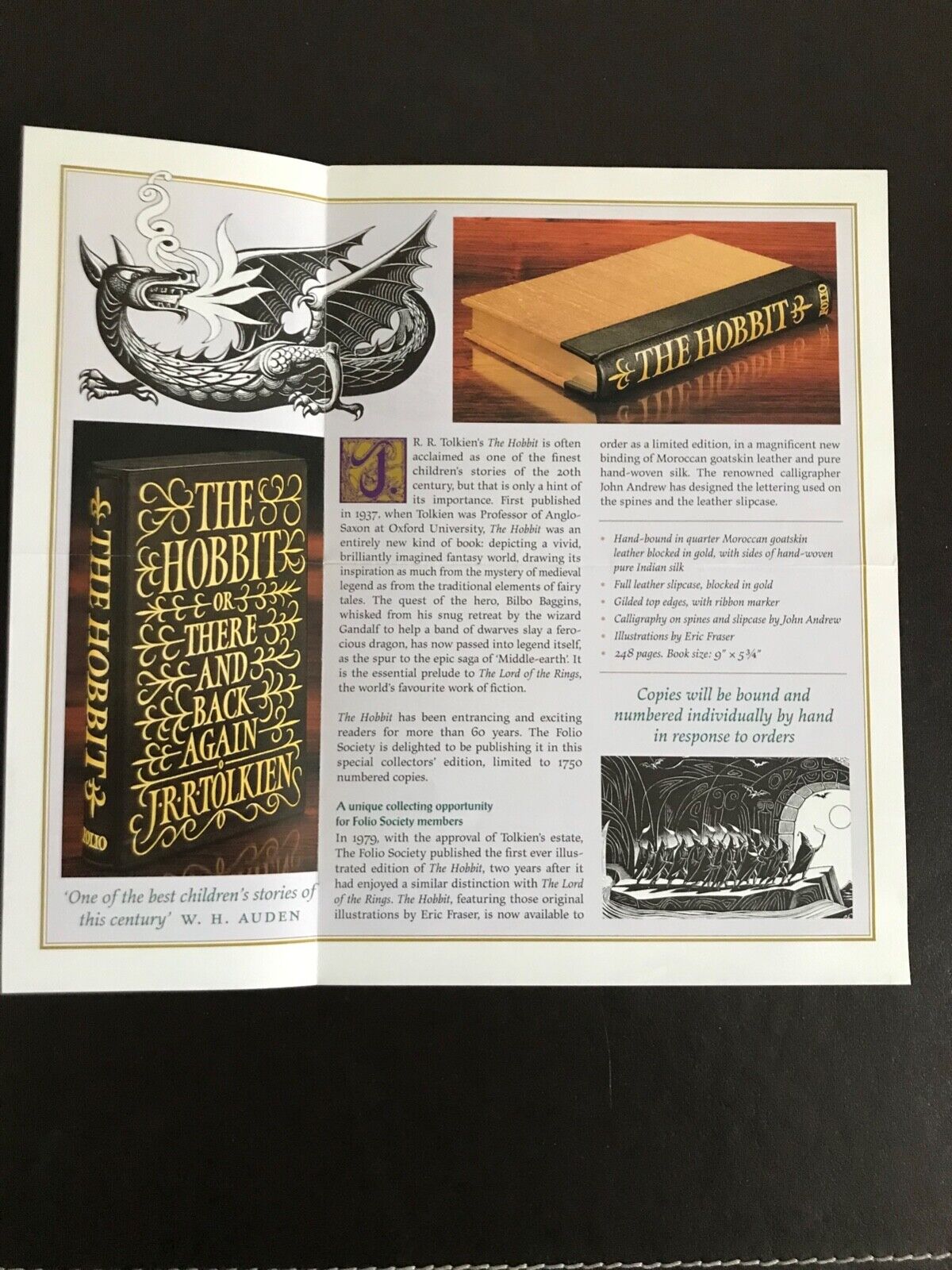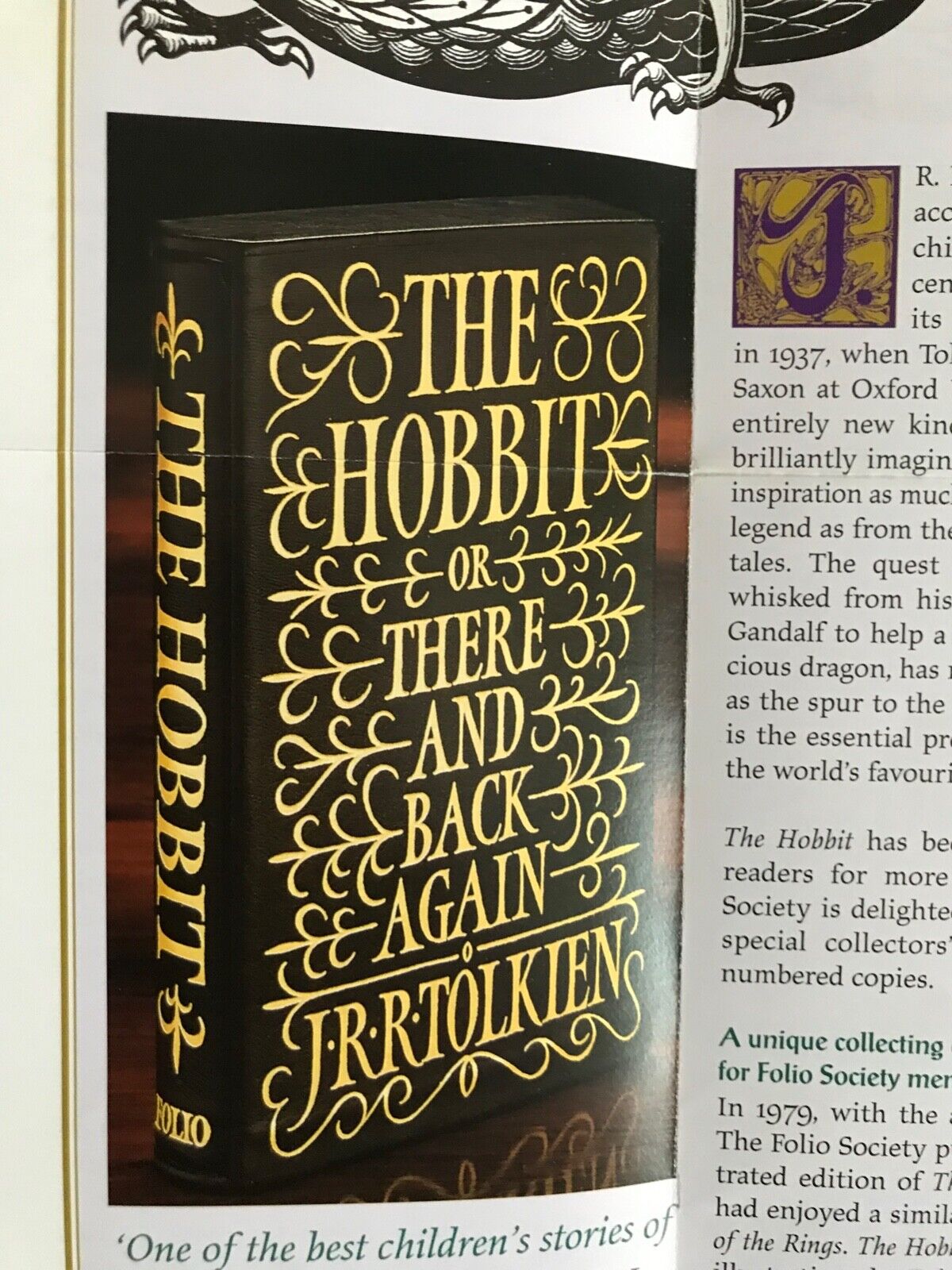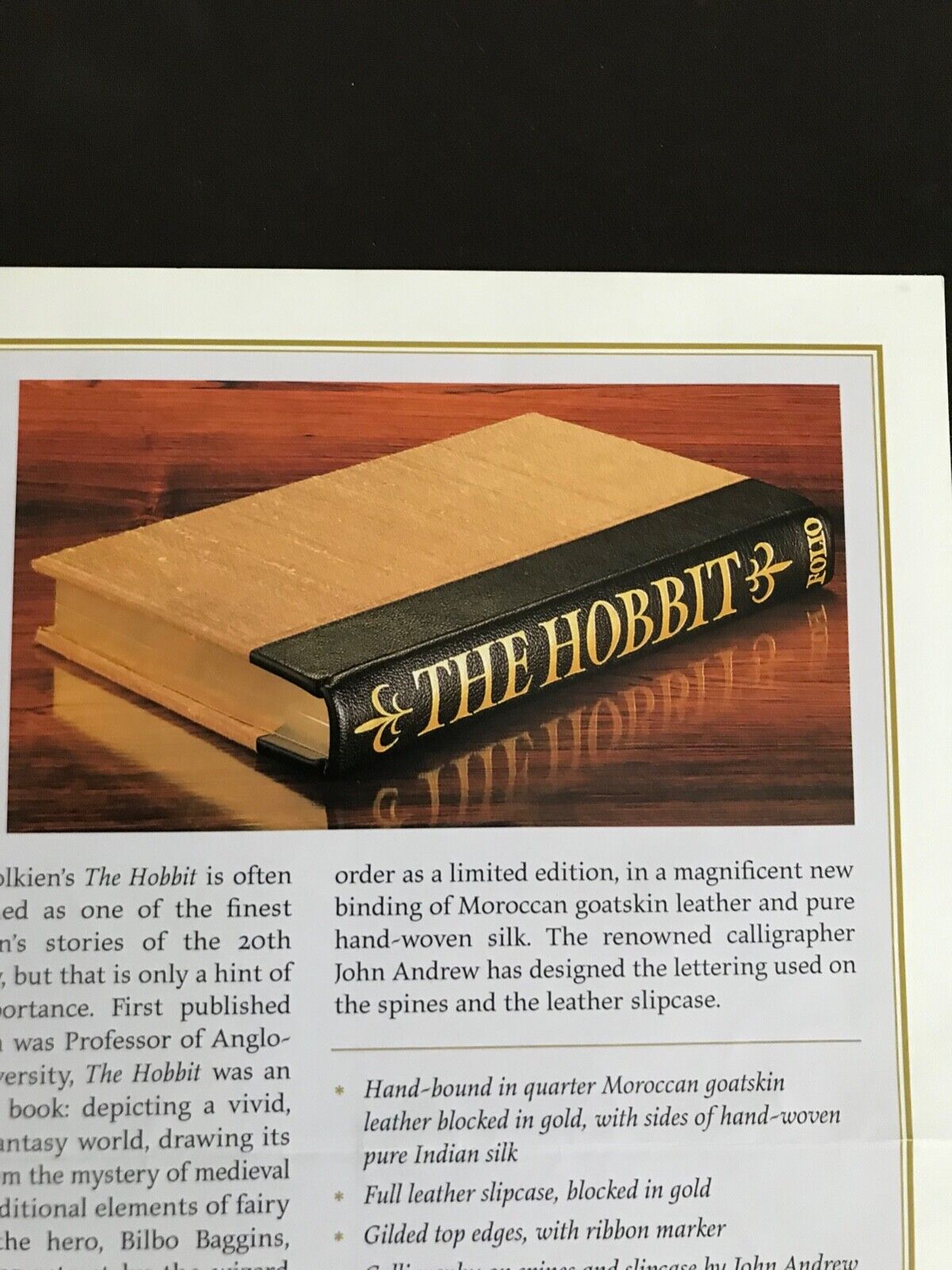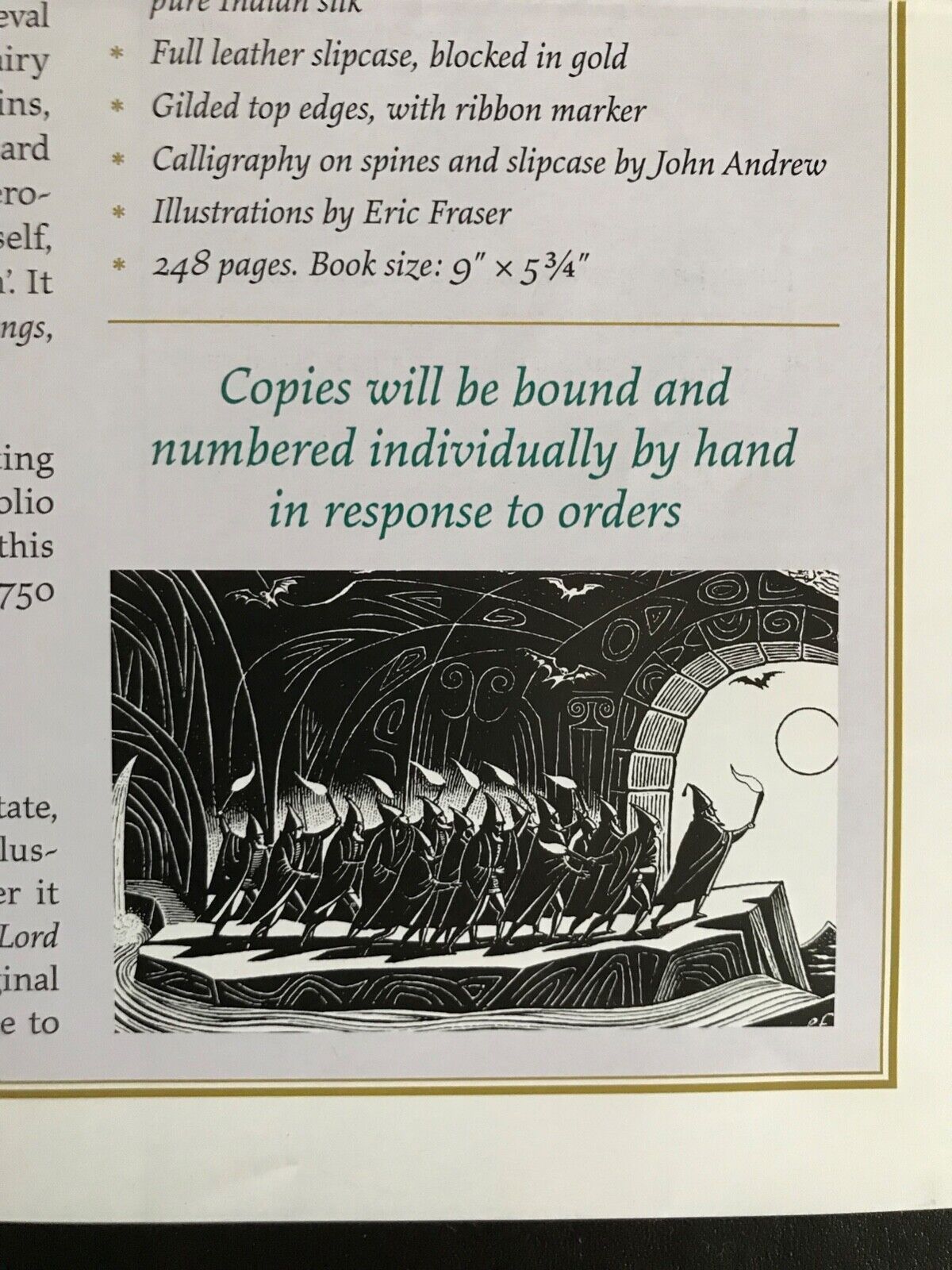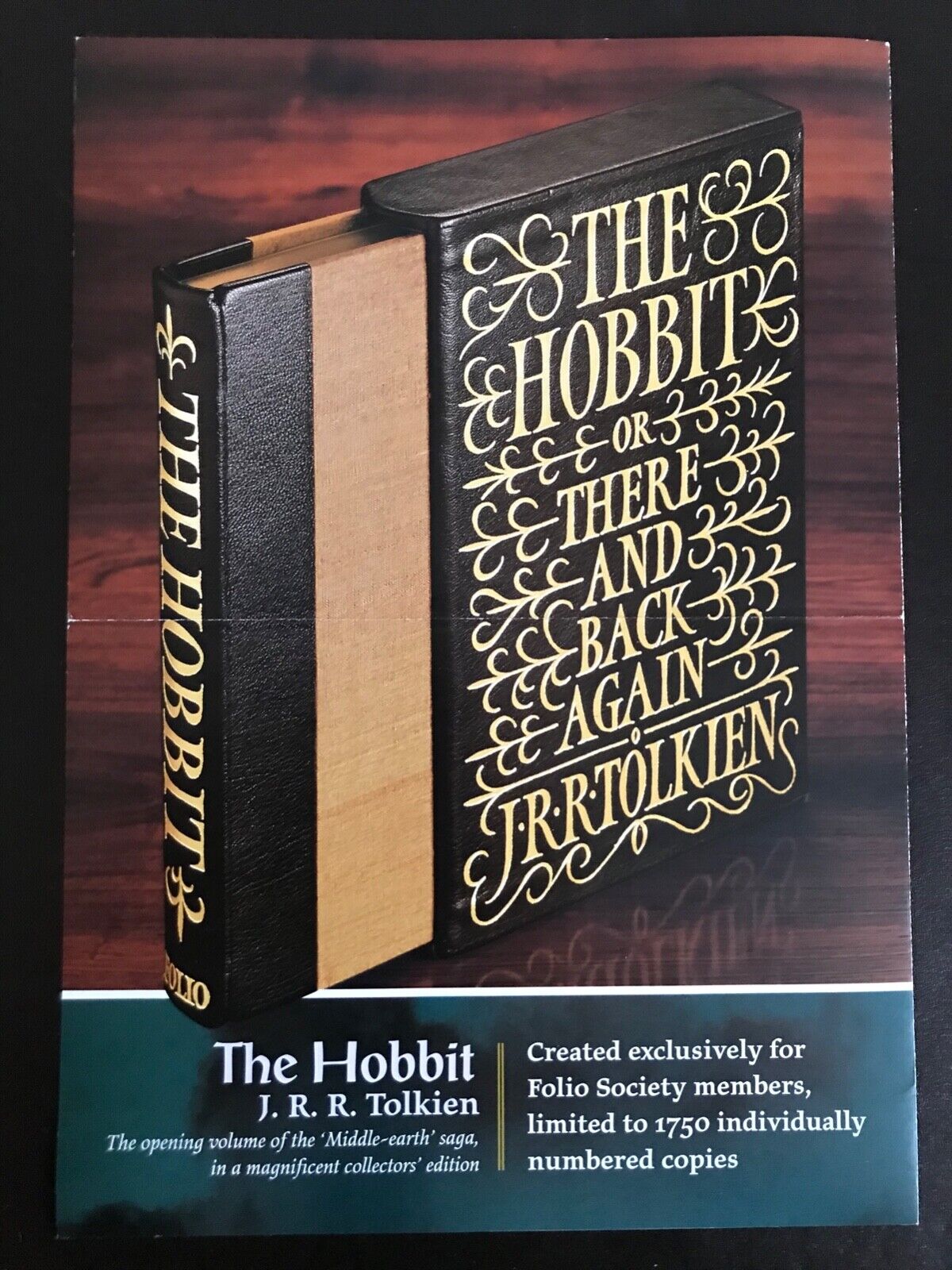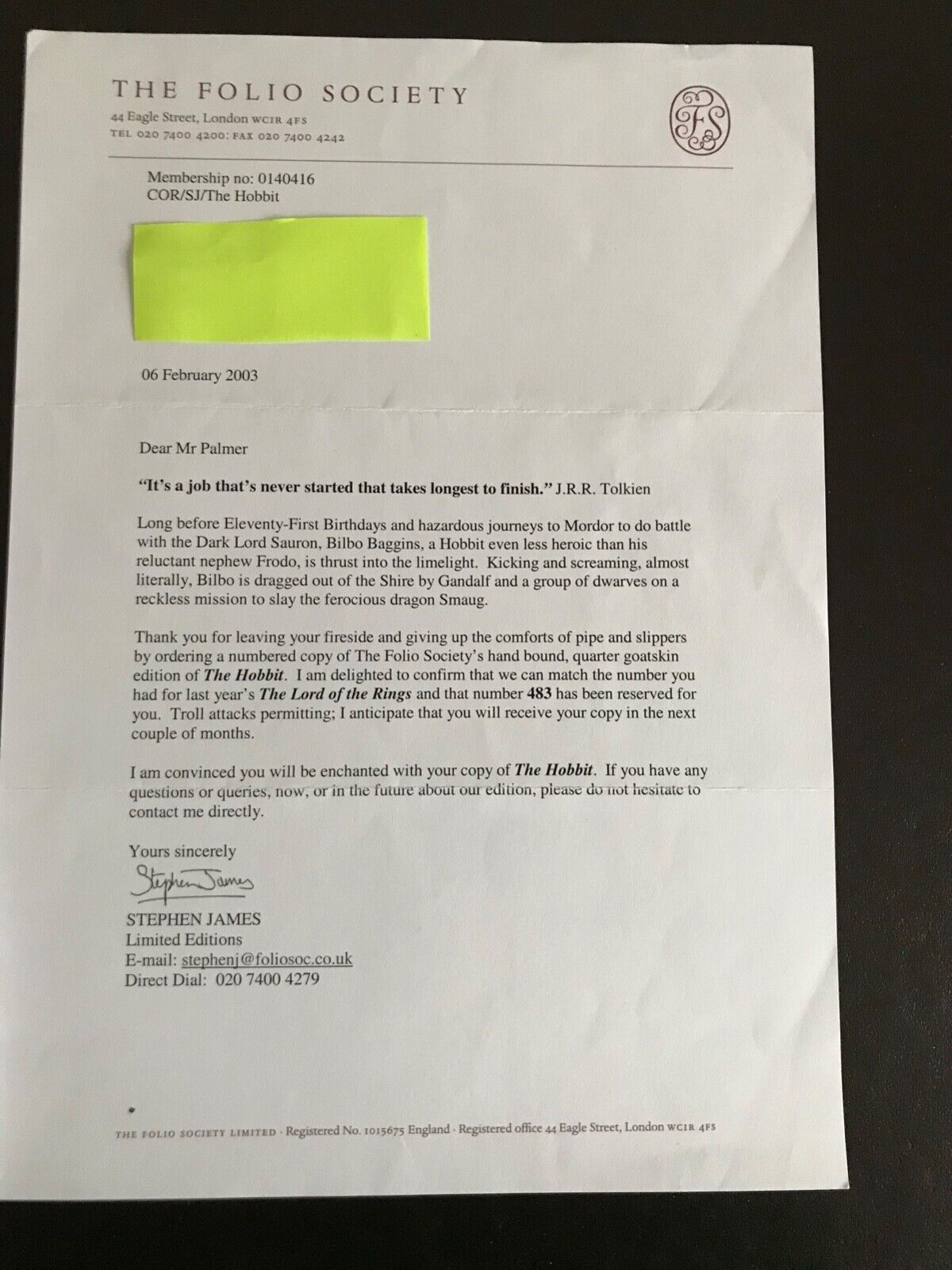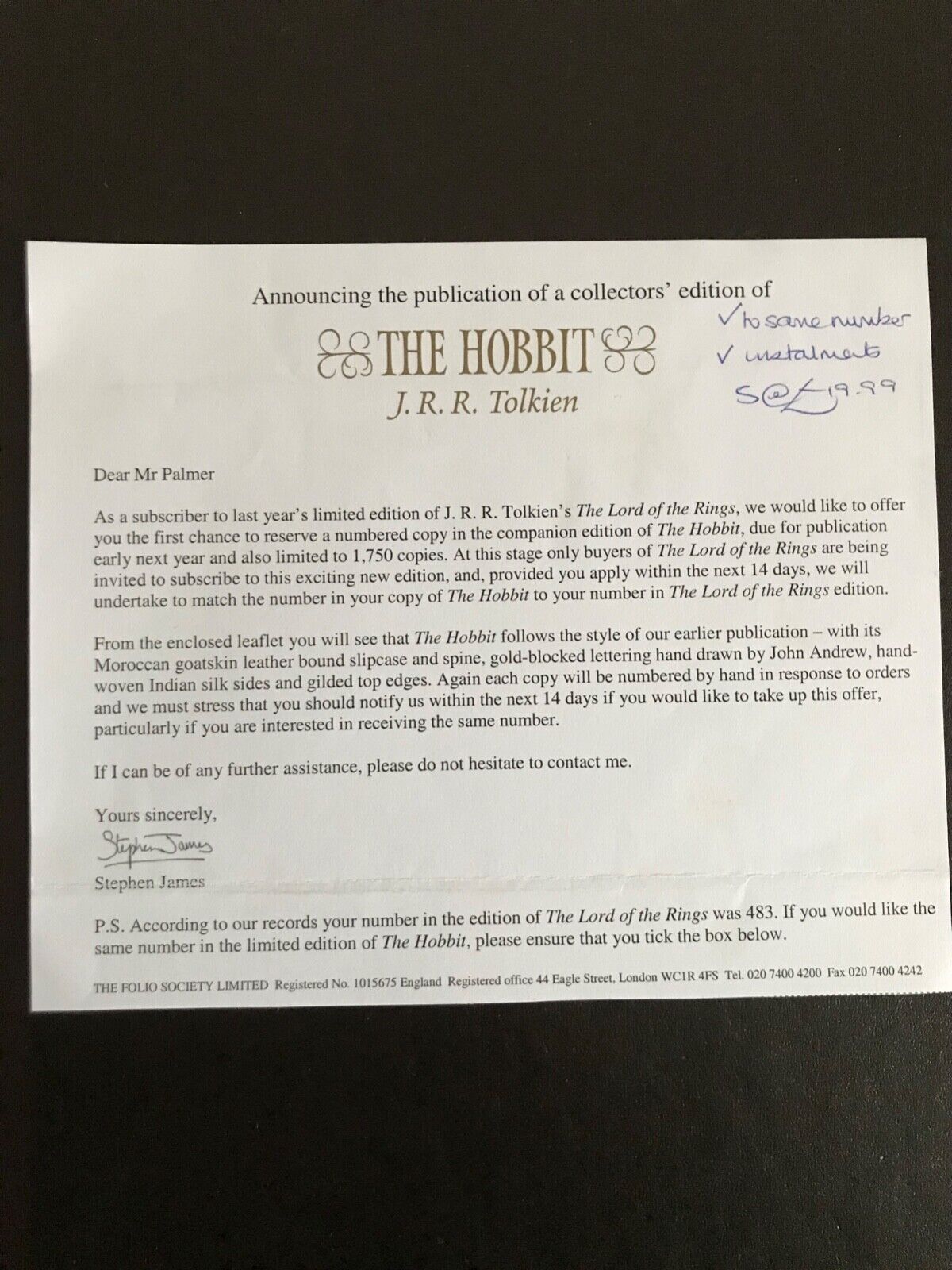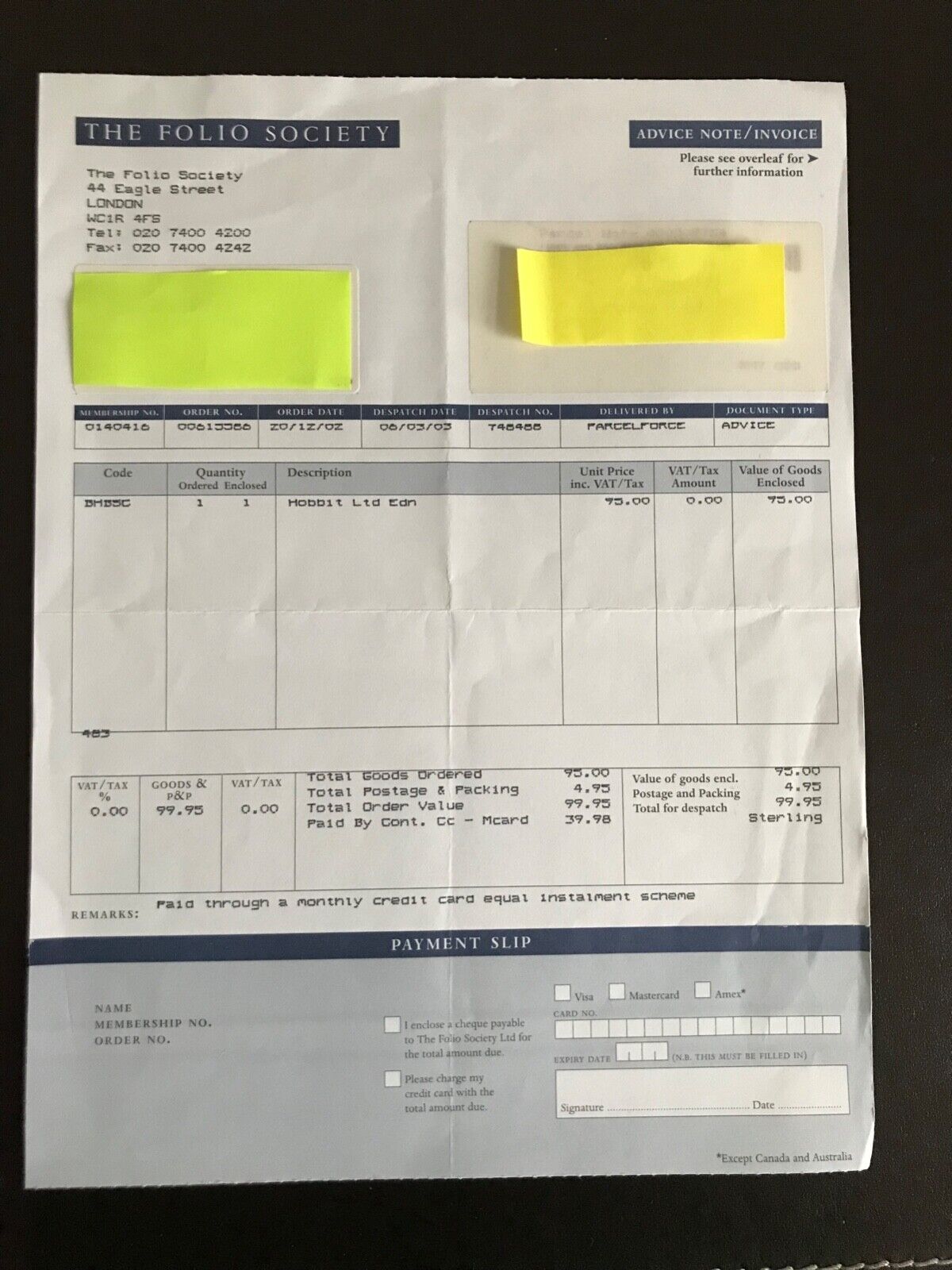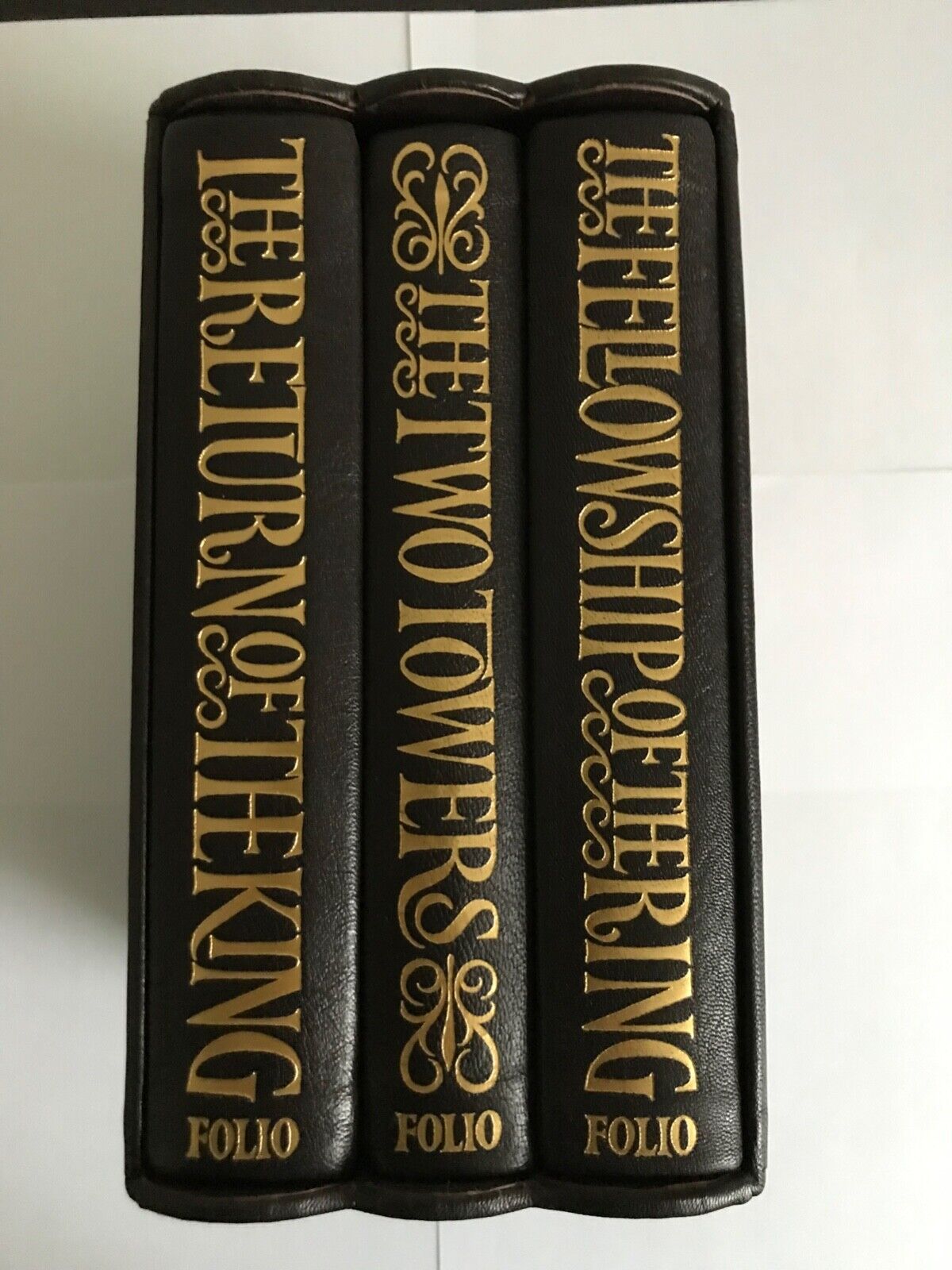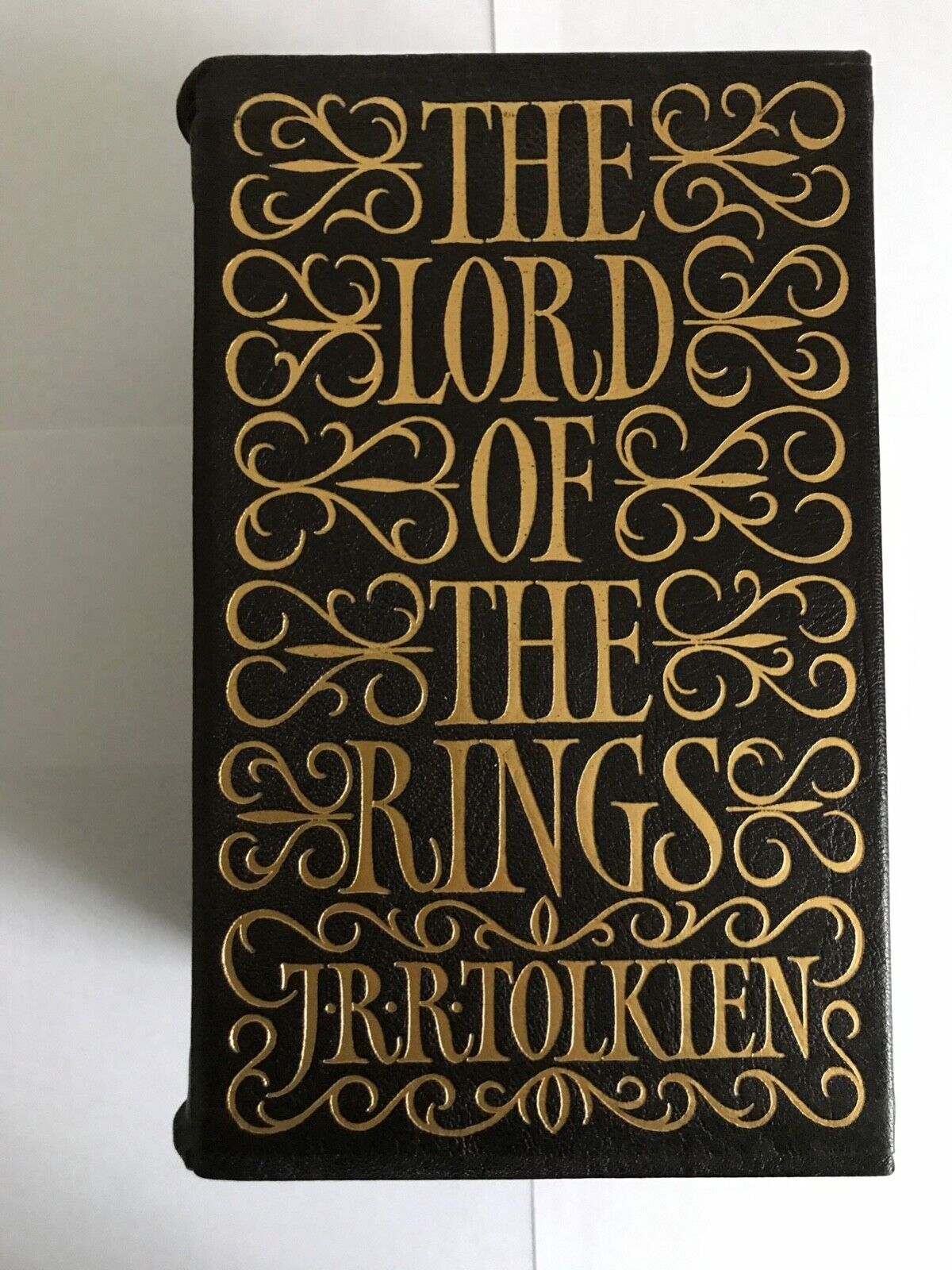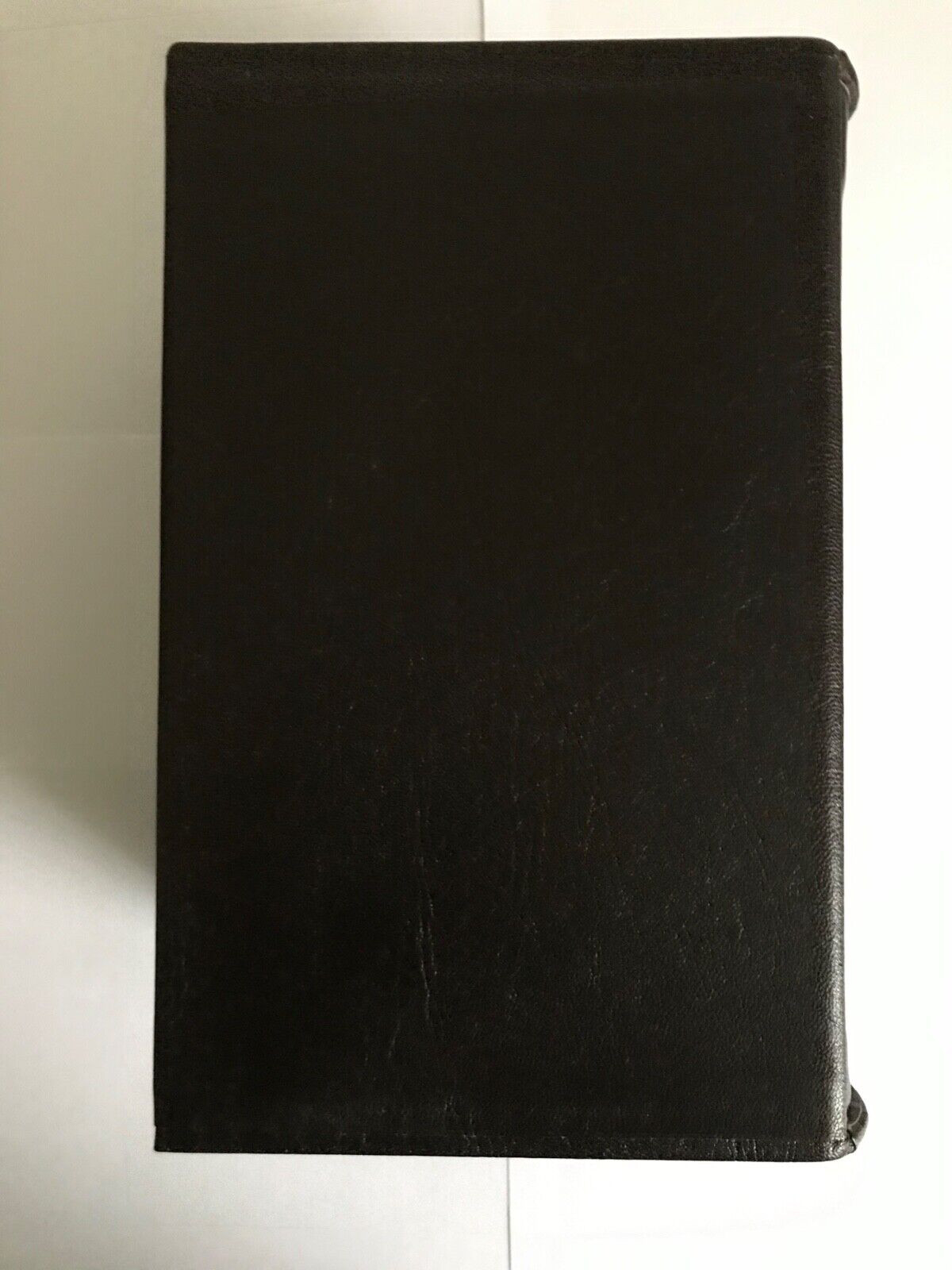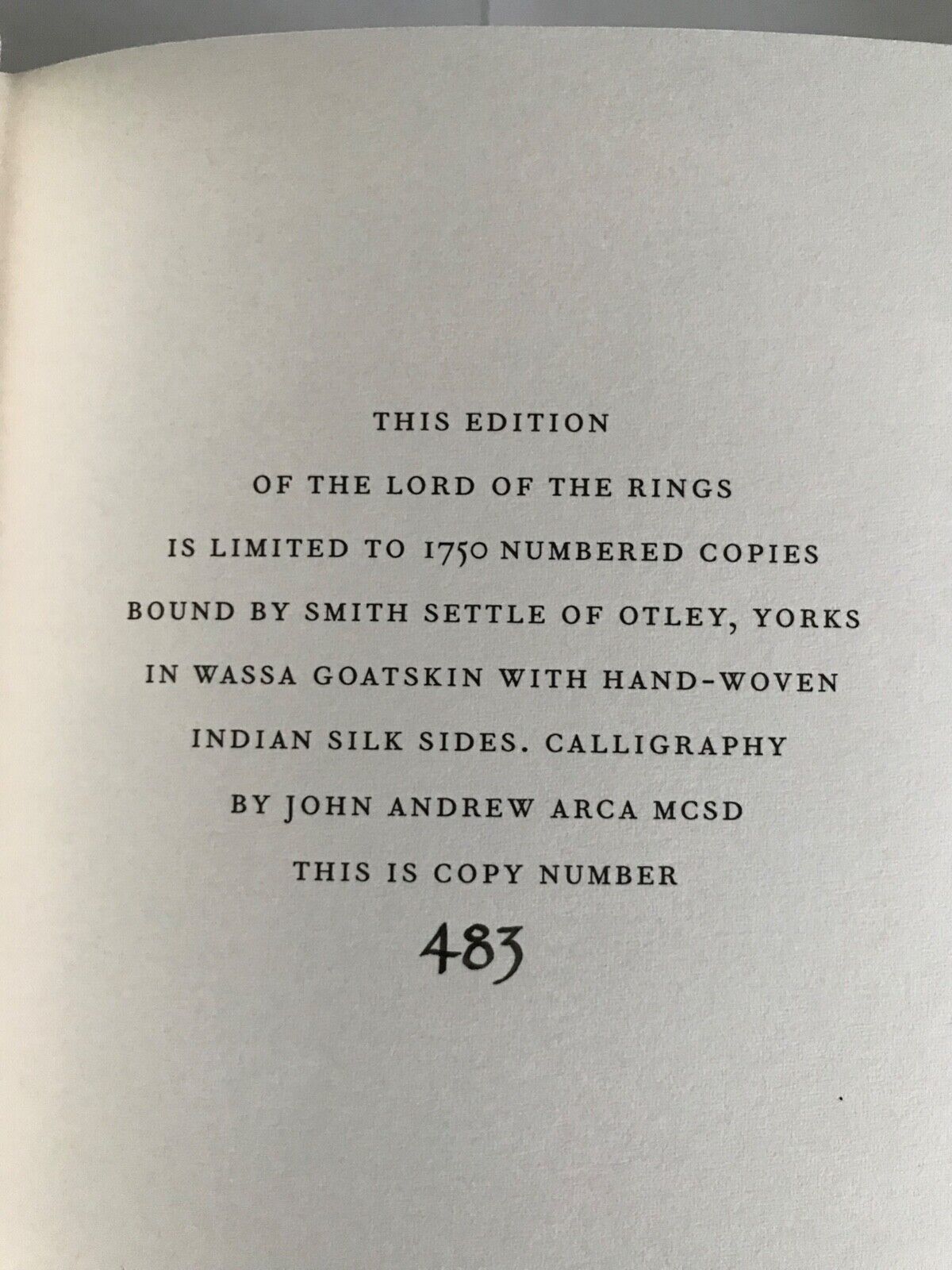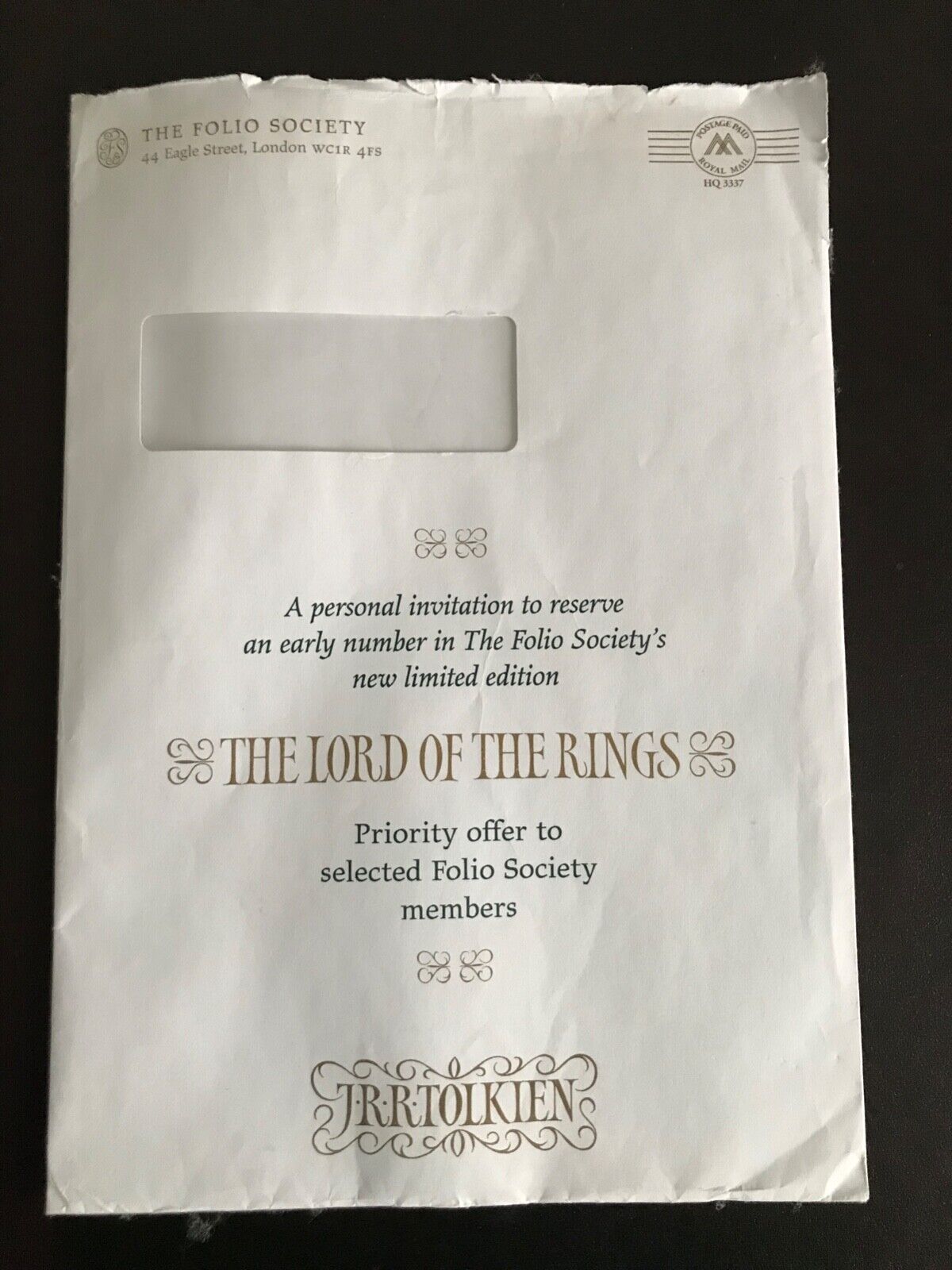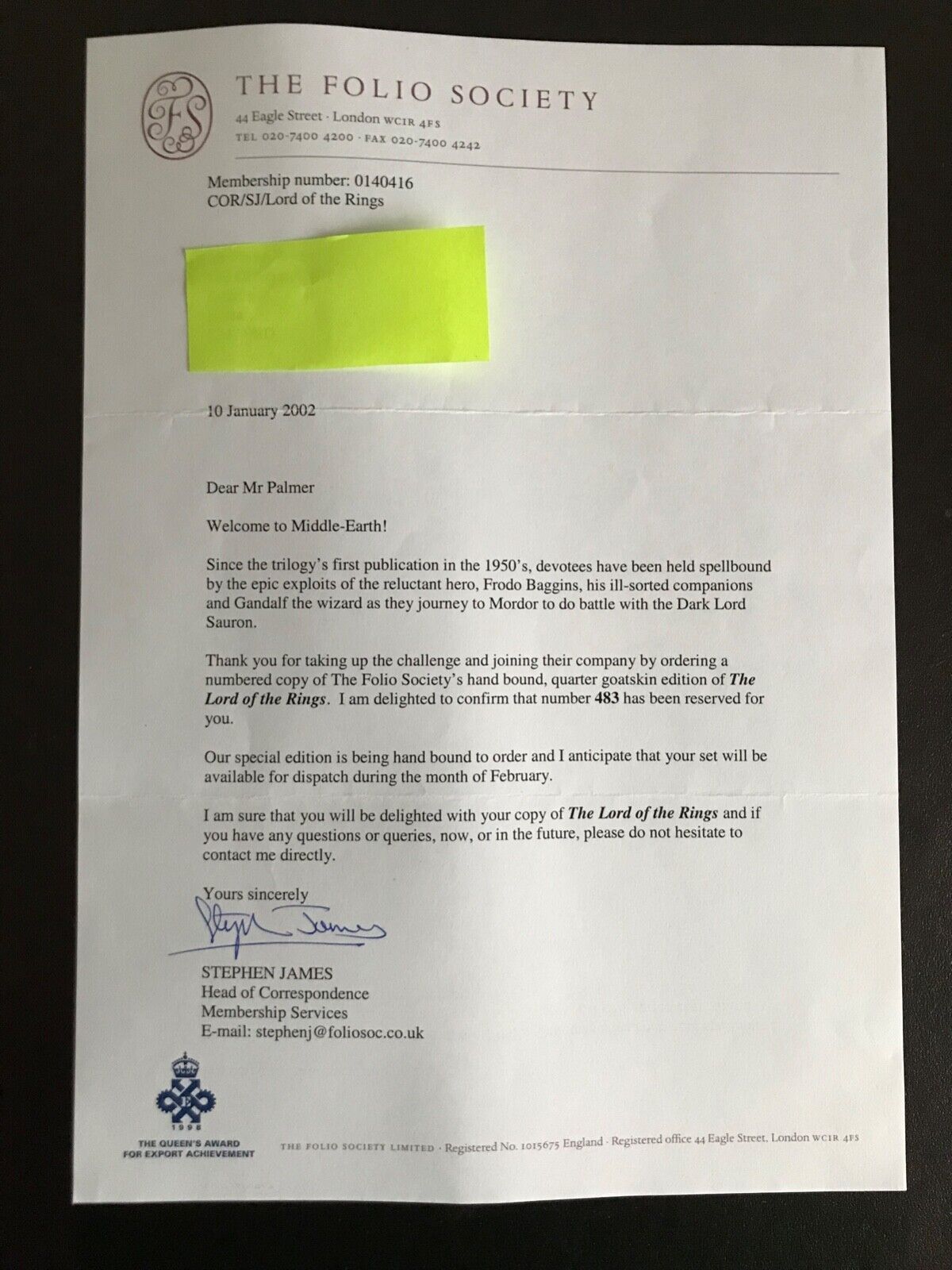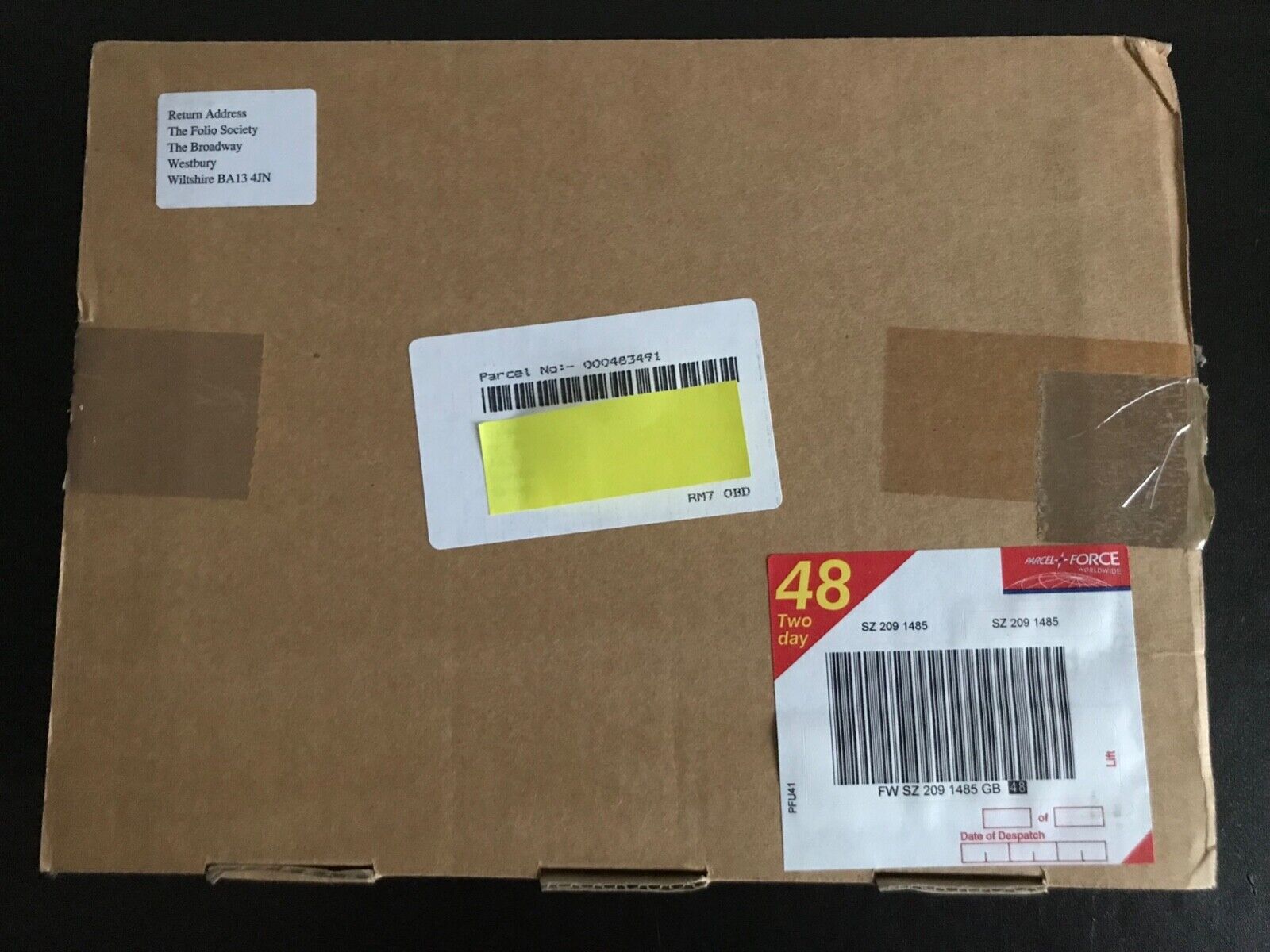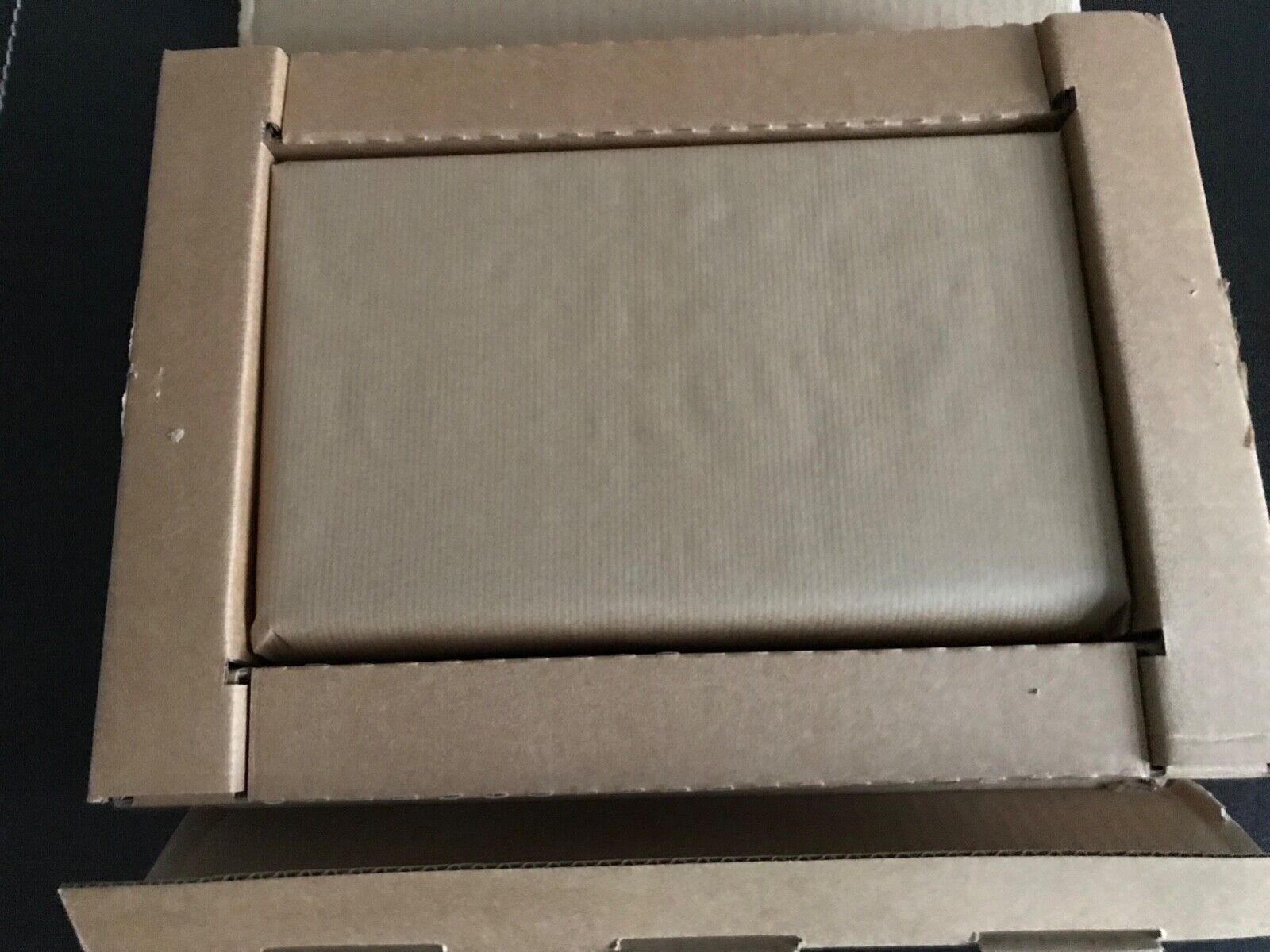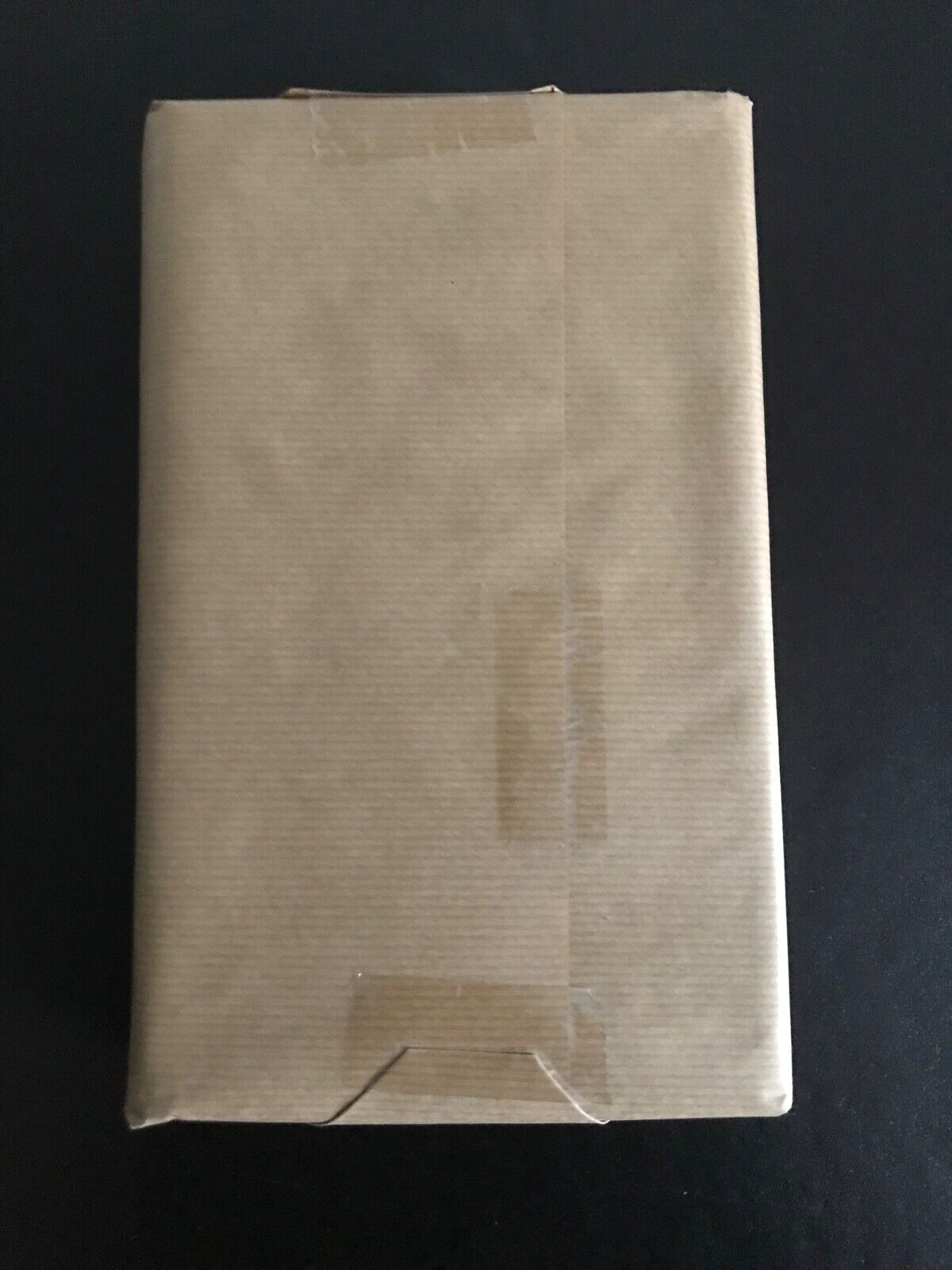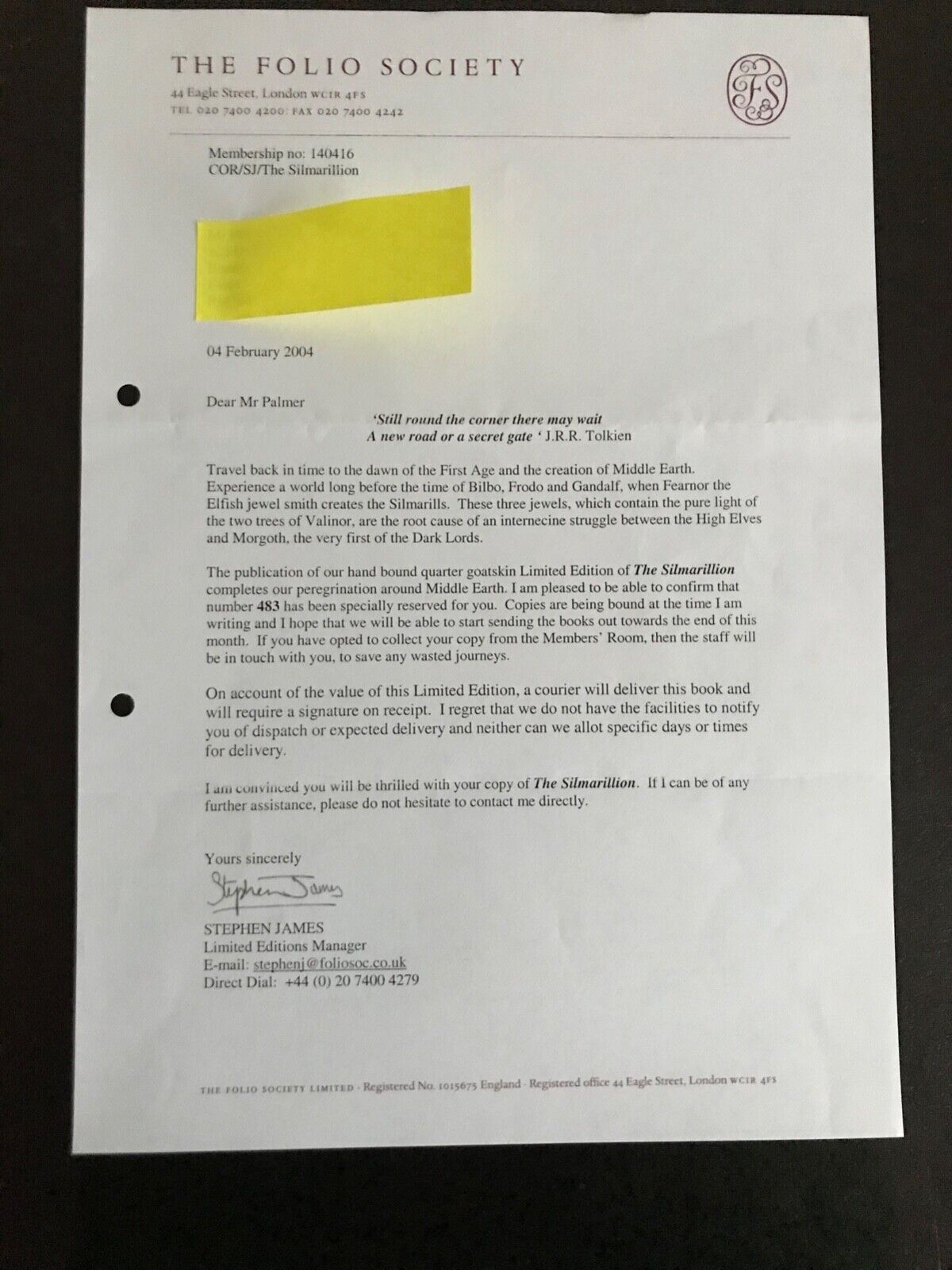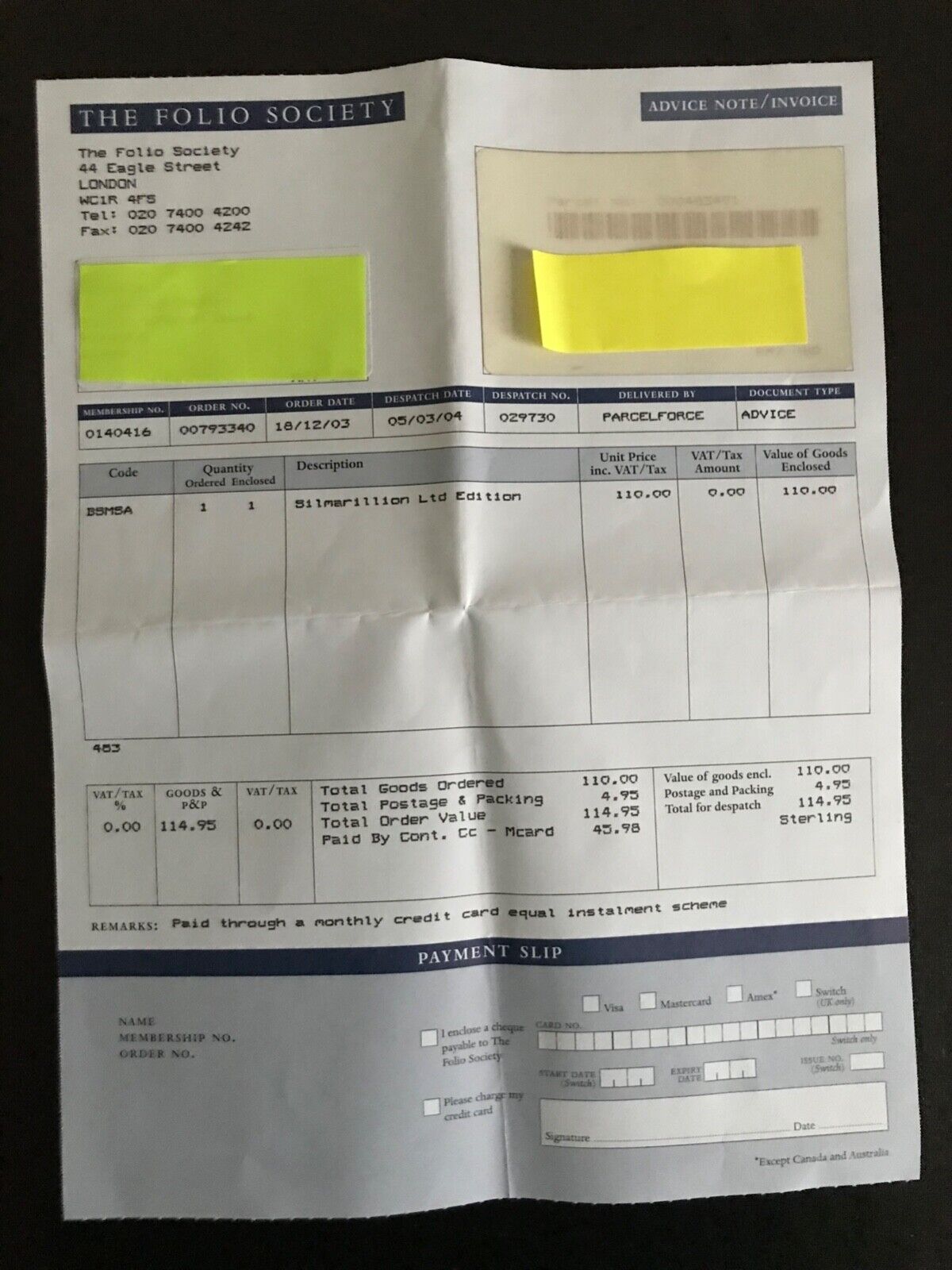 Condition: Mint to Excellent condition - see detailed description for more information.
This is a RARE set of The Folio Society publications of JRR Tolkien's The Hobbit, The Lord of the Rings and the Silmarillion each numbered 483 of 1,750. It is unusual to have each of the published books with the same number but as a Member of the Society for a number of years, details of newly published works were offered prior to general release. I took advantage of the Society's offer to have the same individually numbered volume upon publication. The Hobbit and Silmarillion are still both in their original packaging and shipping cartons. For some reason, I unpacked The Lord of The Rings, though have never read it or browsed it. The first time of opening was to photograph the edition number as shown in the photographs. I also have a number of documents for each book - more of some than others - and again, these are shown in the photographs. I will also list them here. I have provided photographs for each book/set in order. I hope that makes sense to you. As with other limited editions I am now selling on here, I bought them on trust (they were wrapped and I have never opened them) apart from The Lord of The Rings and that is why the photographs show the book wrapped only in its original paper. Purchasing this book will be a matter of trust on your part. With the books you will receive unedited (I have placed paper over my personal details for the photographs) documents and the original Advice Note/Invoices (again edited for the photographs and provide to you, unedited). I am also offering these book for International Sale for which prospective purchasers must use the Ebay International Postage system and be responsible for any and all costs associated with purchase and import. As purchaser you must also ensure that you are eligible to use the service and can import the book to your satisfaction. I cannot be held liable for the item once posted to the Ebay UK Handling Centre. Due to the weight of all 3 items taken together and the fact that The Lord of The Rings is unwrapped, I am likely to ship each Book separately. I will make the final decision once I wrap all 3 books. For UK purchasers, I will use a Signed For Tracked service - details once the sale is made. Additionally, I am placing full trust in there being no damage or markings to the books, externally or internally. Your purchase of the item accepts the book in its original form from The Folio Society having been posted to me in the UK and being posted again to you, wherever you live in the world. The item will be securely wrapped and protected during transit in order to best preserve the book in its best condition. THE HOBBIT For The Hobbit, the delivered package measures: 23.5cm x 32cm x 5.5cm approximately and weighs in excess of 1.1kg.According to the leaflet provided by The Folio Society the book is 248 pages and measures 9" x 5 3/4"it is hand bound in quarter Moroccan goatskin leather blocked in gold, with sides of hand-woven pure Indian silk.It features a full leather slipcase, blocked in goldGilded top edges, with ribbon markerCalligraphy on spines and slipcase by John Andrew andIllustrations by Eric Fraser.You will also receive:The original offer letter with a view to reserving - note that the bottom part of this letter was returned to The Folio Society The confirmation letter dated 6 February 2003The Advice Note/Invoice showing a dispatch date of 6th March 2003 andA page and a half leaflet detailing features and pictures. THE LORD OF THE RINGS For The Lord of The Rings, the books in their slipcase weighs in excess of 2.8kg before it is wrapped and protected for posting.According to the leaflet provided by The Folio Society the books are 1,328 pages in total and each measures 9" x 5 3/4".There are 3 volumes, quarter-bound in Moroccan goatskin leather, with sides of hand-woven pure Indian silk.The slipcase is bound in full Moroccan goatskin leather and features scalloped edgesGilded top edges, with ribbon markersCalligraphy on spines and slipcase by John AndrewIllustrations drawn by Eric Fraser from original designs by Ingahild Grathmer, pseudonym of Queen Margrethe II of Denmark.You will also receive:The original Priority offer letter to members - undatedThe original Priority offer envelope in which the letter came (not shown in photographs due to space)Original letter dated 10 January 2002 confirming order and showing number 483 as being reservedOriginal Advice Note/Invoice showing despatch date of 26 February 2002 THE SILMARILLION For the Silmarillion, the delivered package measures 24cm x 32cm x 7cm and weighs in excess of 1.4kgI do not have a leaflet for this book - lost at some point I presume and this is really disappointing.The two documents I do have are the original letter dated 4 February 2004 confirming number 483 has been reserved for me andThe original Advice Note/Invoice showing dispatch date of 5 March 2004. I have attempted to give you as many photographs and details as I can. Please feel free to ask any questions. I hope you will enjoy and treasure your purchase and thank you in advance for buying this spectacular item from me.